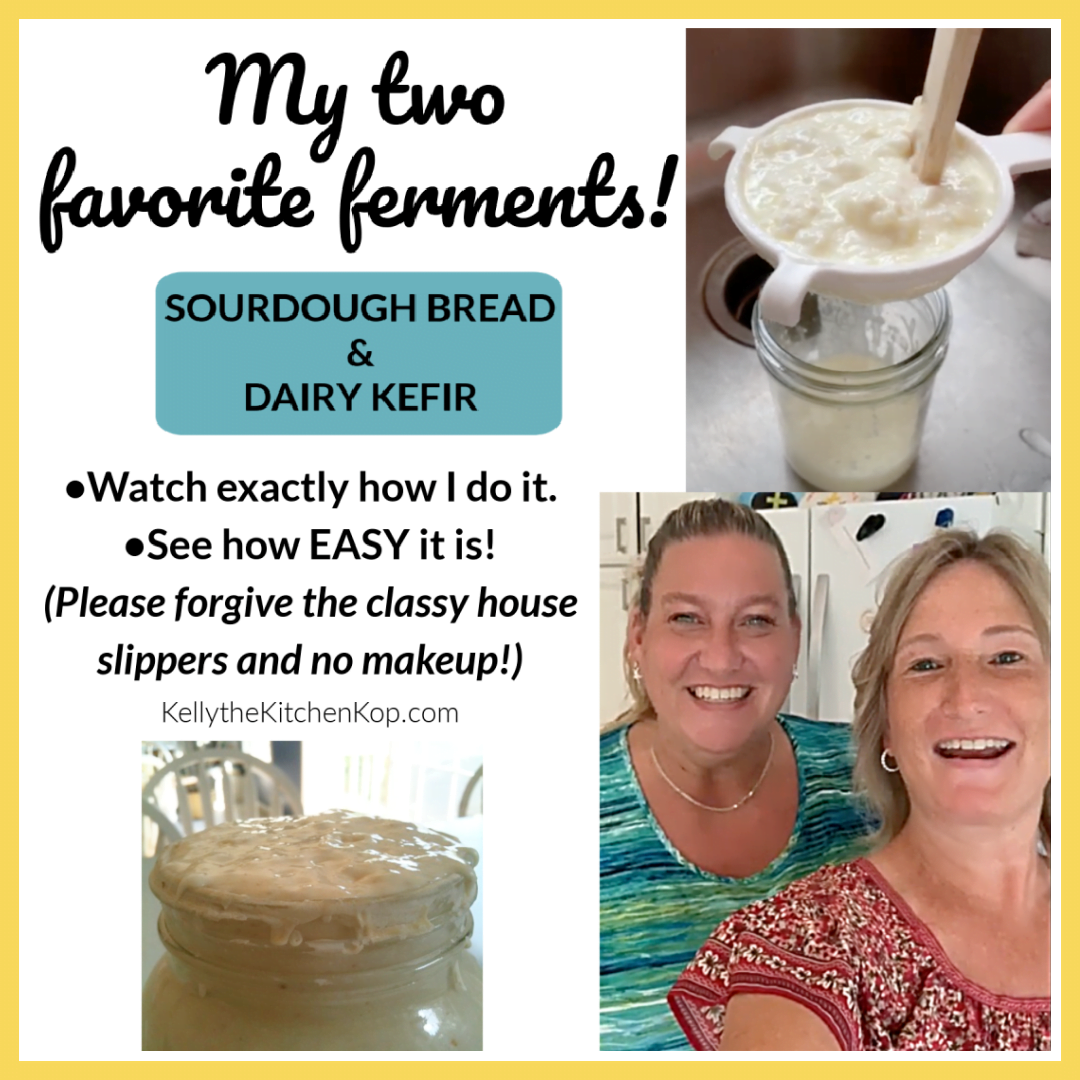 Dairy kefir and sourdough are my two favorite ferments for gut health because they're so easy to maintain–I'll show you everything in the video!
My friend Melissa stopped over the other day and we decided to just record what I was showing her so you could see too.  I can't believe how much easier this is than I used to think!
You can watch the video below (or jump here) and also find links to the blog posts with exact recipes and back stories too, but first, how do these foods help with gut health?
So many struggle with issues related to the health of their gut, because this is where our immune system resides–our digestive system is crucial to the health of our whole body, and when that's not right it leads to all sorts of problems:
Digestive system ailments
Autoimmune conditions
Frequent illnesses
Anxiety and depression
And more, because everything is tied to gut health!
How do dairy kefir and sourdough help our gut?
Dairy kefir is much better for our gut than regular yogurt, and here's why:
Milk kefir is quite different from yogurt in that the strains contained colonize the intestinal tract and don't just pass through with temporary benefit. Some of the strains in kefir are aggressive in nature too, which means they attack and destroy pathogens reasserting dominance and control of the intestinal environment.
This is why eating a ton of kefir when you have gut imbalance issues can sometimes trigger a temporary healing crisis from pathogen die-off in the gut. Eating lot of yogurt rarely causes this type of reaction as the effect on digestive health is much milder.  In addition, kefir contains a lot larger range of bacteria, as well as beneficial yeasts which combat Candida problems.  (Source)
See the comments where I answer Jan's questions:
What store milk can I use for the kefir if I don't have access to raw milk?
How do you flavor it. I know you use yours for smoothies, but what if I wanted to just drink it?
Where can I get kefir grains?
As for sourdough bread compared to regular bread…
(Copying here from my sourdough post.)
I learned many years ago that sourdough bread is the most nutritious bread in the world, and here are some of the reasons why:
The fermentation process (longer rise times with a starter and no yeast) unlocks more nutrition:
A big bonus is that you're not dependent on yeast, in case it's out of stock everywhere again like it was at the height of the Covid craziness.
Sourdough is the most traditional food:  this is the way bread was made for thousands of years!
So as you can see, there's no comparison between sourdough and other breads!
Now watch this video showing you my easy methods for dairy kefir and sourdough–and see recipe links further below:  (Video will play after the ad.)
Links to dairy kefir and sourdough recipes and back stories: