I love my new electric pressure cooker, and either I've convinced my friends how amazing it is, or they're just tired of me going on and on about it, but many of them have gotten their own now, too.  Since we're all in the "we LOVE our pressure cooker club", we like to compare and discuss all the fun things we're doing with them lately, so I'm going to share a bunch of those today.
The Best Ways to Use a Pressure Cooker for Healthy FAST Meals!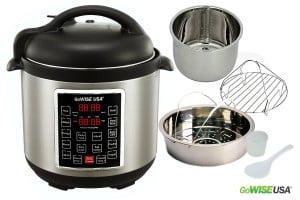 First, click here for the electric multi-function pressure cooker we have (8 quart/stainless) — or if you're interested, click here to read why I returned my Instant Pot and got this instead.  Short version:  because I needed a bigger size pot.
Neither of them have nasty Teflon (they have a stainless steel interior instead), they still clean up nicely, and can sauté right in the pot — this is especially nice for browning meat before cooking it the rest of the way, so you're not dirtying a bunch of extra dishes!  You can also use it as a slow-cooker, and make soooooo many things with it to simplify your life.  They weren't kidding when they said it's a "multi-function" machine.  🙂
This favorite new kitchen appliance saves me a TON of time, let me count all the reasons I love it…
(And scroll down for my favorite WAYS to use it and what I cook in it.)
By far, my favorite reason to love my pressure cooker is because of how I can batch-cook food for fast meals later…  Here's the thing, it's not handy JUST so you can pull together a whole meal quickly on busy days, even when you forget to get meat out of the freezer like I always do (or especially for those of you who work outside the home!), but keeping a bunch of pre-cooked food on hand has also helped me help others more lately, too; so when friends have been sick, I can quickly pull together a nourishing meal to run over to them.
If you compare fast pressure cooker meals to fast-food take-out meals — there's no comparison on the taste OR the quality of the food you're feeding your family — sourcing your own healthy meats, produce and other ingredients makes all the difference!  (Again, find healthy meat here if you don't have a good local source, and if you need help knowing which ingredients or what types of food you should and should NOT be feeding your family, get my Real Food Ingredient Guide FREE here, or get my whole book, Real Food for Rookies here.)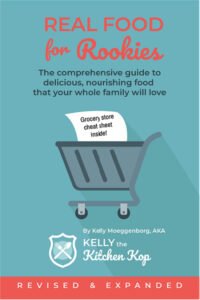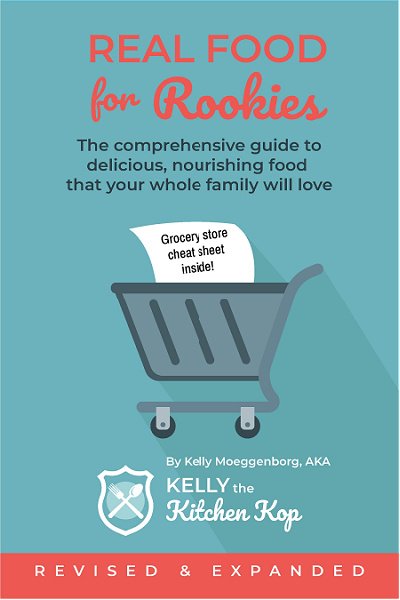 Re-heating leftovers is simple, too.  Just cover the pot and put it into the fridge overnight, the next day it goes back into the pressure cooker to heat up on the sauté or slow-cooker settings.
10 Best Ways to Use a Pressure Cooker for Healthy FAST Meals
1. Broth can easily be made ahead and stored in your freezer to throw into all sorts of recipes and make them extra-loaded with nutrients!  Click here for how to make pressure cooker broth.  (*Scroll down for ways to use all this nutrient-dense broth you have on-hand now.)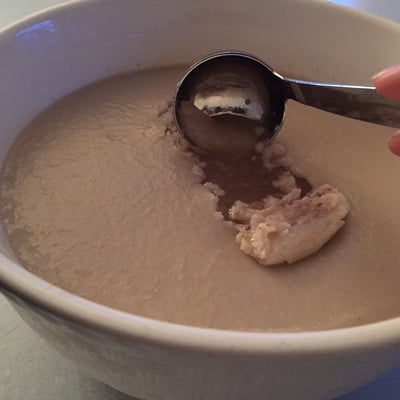 2. If you have a beef or pork roast to use up or some chicken breasts, you can cook up a lot at once, then once cool, keep the cooked meat in freezer baggies, again, to throw into any type of recipe you want and it makes for a much faster meal.  (Click here if you don't have a good local source for safe, pastured meats.)              Here's how:
I always start with rock-solid frozen meat, but if you think ahead better than I do and yours has been out of the freezer a while, keep in mind that it won't take quite as long to cook.  *Catch my new post with details:  Cooking Frozen Meat in the Pressure Cooker: Decrease Mealtime Stress! — that post explains how to cook ground meat, a whole chicken, or any meat in the pressure cooker.
If it's chicken breasts, just throw them into the pot and cover with water plus another couple inches more — I cooked 4.5 pounds all at once the other day and this gave me 4 bags full to have on-hand!
If it's a pork or beef roast, those always taste a little better if you brown it first, so I'll throw the package into the sink covered in water for 10 minutes just so it's softened up enough to brown it on each side, and you can do that right in the pressure cooker on sauté using bacon grease, ghee, lard, or tallow in the bottom.  (All traditional fats that are good for us vs. the "new" fats like vegetable oils that cause inflammation and overall make us sick.)
Once it's browned, then add about 5 cups of broth or broth + water, OR just water if there are bones in your meat, because it'll make its own broth.
How long to set it for will depend on how many pounds you're cooking, but if it's frozen and big enough to fill up a most of the pan (I'm not being exact, because so much depends on the size), which was about 4 1/2# chicken for me this time, it took 30 minutes once it got up to pressure.  (If it's not done after that, just put the lid back on and crank it out for another 10-15 minutes.)  Smaller hunks of meat will be done a LOT faster.
When it's done, pull it out onto a plate to cool for a bit, then just shred it with a fork and pick any goobers out — grizzly pieces, small pieces of bone, or globs of gook, you know what I mean.  (I'll usually put one of my DVR'd shows on to watch while I do this, or I'll listen to a good podcast.)
Then you'll have falling apart delicious meat to use for dinner that night, or for future fast-food dinners!
*Scroll down for ideas on what to do with all of this meat that you'll have on hand now!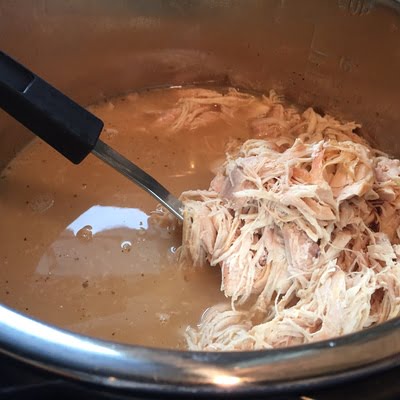 3. Because it's multi-function, this pressure cooker is also great for cooking entire last-minute meals.  This has already saved me many times and I've only had it a few weeks!  More recipes will be added to this list as time goes on, but check out these pressure cooker cookbooks in the meantime for more ideas.  My friend Megan has been cooking a lot out of this one and has found many winners:    Pressure Perfect — if you have a pressure cooker question, it'll be answered there.
4. Megan also said she loves using her pressure cooker like this (get ready for your mouth to water!):  I cook up a bunch of quinoa to use throughout the week:  2 cups water, 1 cup quinoa, push the rice setting, and it fluffs up beautifully.  Store it in an airtight container.  Then during the week I'll make a batch of Tabouli or I just mix it with different things — it takes on any flavor you want. My favorite is using a honey ginger balsamic vinegar with toasted sesame olive oil, chopped green onions, lots of garlic, fresh lemon juice, and chopped cilantro, parsley, and/or basil — the more herbs the better.  Sometimes I use chopped spinach in it too after I steam for just a very short time.
5. A reader shared this:  I cook 4 baked potatoes in 12 minutes. 6 sweet potatoes in 10 minutes.  I'll update here after I try it, but this is what I found for baked potato instructions:  Put 2 cups water into the bottom with the metal rack.  Stack up the potatoes (some recipes say with foil, others say without is fine), and cook on high pressure.  Update:  okay, here's what I did and they turned out tender and wonderful!  5 large sweet potatoes, cut in half WITH 13 regular small potatoes, add water just 'til they're almost covered, cook 12 minutes on high pressure.  Perfect!  Serve with lots of grassfed butter and sour cream and YUM.
My notes for mashed potatoes:
About 11# FILLS an 8 quart pressure cooker, but it was too full to pressure cook, so I just added water almost to the top and boiled it right in there (on saute) with my multi-function pressure cooker (don't turn it up too high and keep an eye on it so it doesn't boil over and make a mess, trust me…).  Then after straining, I mashed it in there too, added the extras (some butter, cream cheese, sea salt and pepper) and used the slow-cook feature to keep warm until serving — still only one pot dirtied!  (If you're making less potatoes for a smaller crowd, just use this recipe for pressure cooker mashed potatoes.)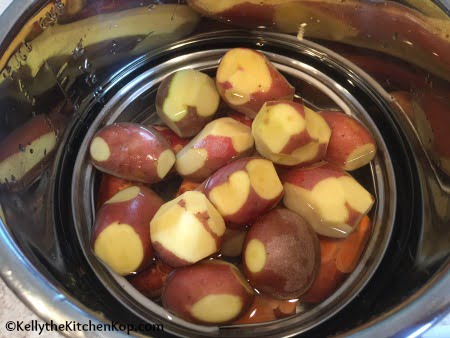 6.  How to make yogurt in the pressure cooker!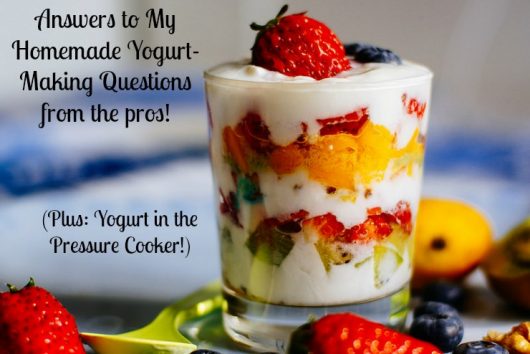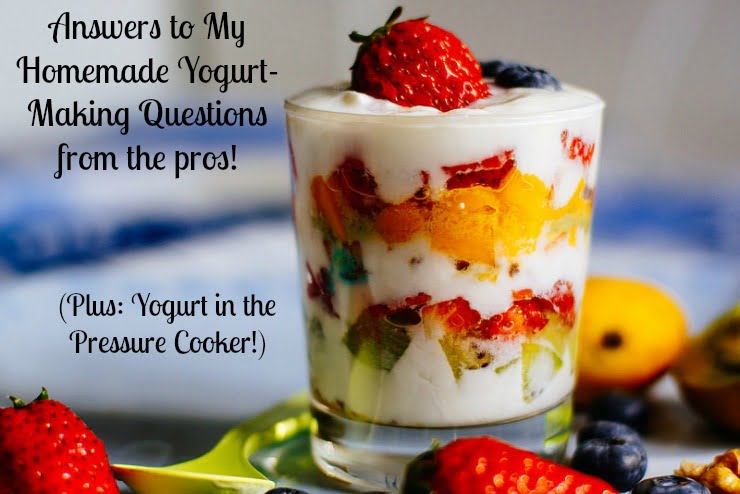 7. My friend, Randy, made this pressure cooker risotto recipe that was a hit with the whole family.  🙂
8. Try this Simple Taco Soup recipe in the pressure cooker!
9. Pressure cooker rice is perfectly done every time — the texture is fluffy and wonderful!  Just throw in 1 cup rice per 1 cup liquid — I use some homemade broth I usually have in the freezer along with water if I don't have quite enough broth.  Add a few dashes of sea salt and 2 Tablespoons of pastured butter if desired.  Cook 5 minutes on high pressure, let it depressurize, and you're done!  (That timing was perfect for 2 cups of this rice, which makes just under 6 cups cooked.  If you're cooking more rice or using a different kind, you may want to just click the rice button and let it go for the full 8 minutes.)   *I've since learned that the timing depends on the kind of rice:  a pressure cooker cookbook said for Basmati use 2 cups rice to 3 cups liquid. For Jasmine use equal amounts.  For other kinds, you'll want to google it.
10.  My friend Colleen just told me how easily she makes hard-boiled eggs in her pressure cooker:  1/2 cup of water in the bottom with the basket that comes with it.  She did 6 eggs and used the egg timer button for 5 minutes.  She tells me they were perfectly done!  Now you can make a fast main-dish salad (just chop them up and throw them on top with some salt and pepper), or make delicious deviled eggs or egg salad for a sandwich or cracker dip — what a nutrient-dense snack for your kids!  UPDATE:  I've now made up to 24 eggs at once.  Just put them in the bottom in the little basket that comes with it, add enough water to cover the eggs, seal, press the "egg" button and walk away!  Once it beeps done and depressurizes, cover with cold water and peel when cool.  Prepare to be FLOORED with how easily they peel!  Here's a video I made on how to make hard-boiled eggs in the pressure cooker.  🙂 Or watch video below (starts after the ad)
I'll keep adding more ideas as they come in…  (please share YOUR tips and ideas?!)
*What to do with all that made-ahead meat and broth you've got now?
Oh so many things…
Barbecue sandwiches using either shredded pork, beef, or chicken.  Serve with some homemade barbecue sauce and your favorite buns, grilled a little on each side with pastured butter so they're extra yummy and a little crispy.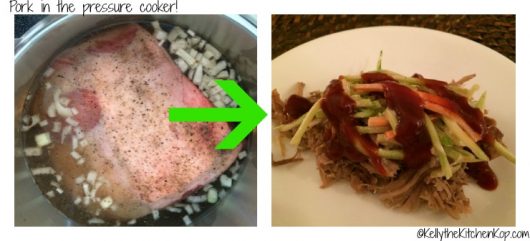 Throw some broth and meat together, along with whatever veggies you have on hand, and plenty of spices and herbs for a quick, nourishing soup.  If you're really pressed for time, throw your vegetables in and pressure cook for 10 more minutes to take the crunch out of them.  You could toss in some rice so it's even more filling and cook that for 10 minutes, too.
Take that same soup and add a creamy base to it for even more of a "feel-good" meal.   Either add cream or milk, or you could add cream cheese, OR you could make a roux — this is especially good for making a stove-top stroganoff-type dish. Here's how:

In a small bowl use water and approximately equal parts flour, my favorite is einkorn flour nowadays, or arrowroot flour if you're gluten-free, and whisk well then spoon into the soup while stirring or whisking.
Add more sea salt, pepper, herbs, and spices to season and make it taste dreamy.
You could serve it over rice or pasta for a more filling meal.  (This is our favorite pasta these days.)  You can do it all in the one pressure cooker pan, then keep it on the slow-cook setting until you're ready to eat!  Here's the stroganoff that I made last week (or click here for my complete stroganoff recipe):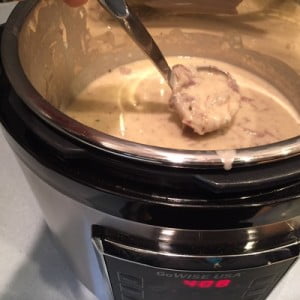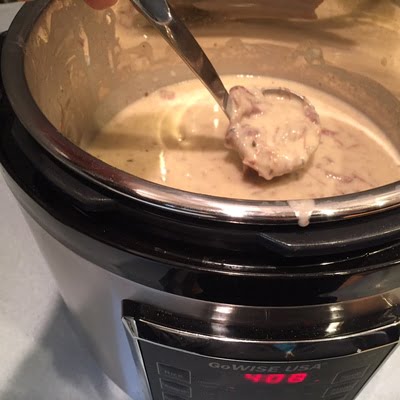 Mexican food is easy to pull together when the meat is already cooked, too:  tacos/nachos/ burritos.  Just look through these Mexican recipes for ideas.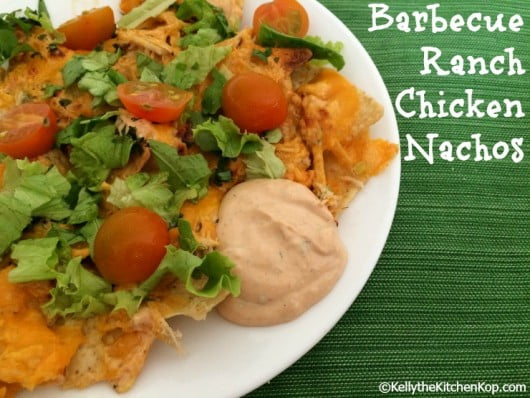 Basically you can make so many things you're already used to making, only much faster!
Please share YOUR favorite pressure cooker recipes!  As more ideas come in, I'll add them to the list above, so keep checking back.
In the meantime, for more ideas and pressure cooker recipes…
More posts you might like: