For dinner tonight I was making egg salad (with buns for the family, just plain for me, since I'm still on the home-stretch of my special diet) and decided to try 18 eggs at once in the pressure cooker so we'd have leftovers.  The most I'd done before was 8.  These turned out just as good and were still so easy to peel, it amazes me every time at how the shells slip off so nicely compared to any other way I've ever cooked hard-boiled eggs!  With my simple homemade mayo, this quick "fast food" supper took less than a half hour to pull off.  (By the way, my mayo takes only 5 minutes to whip up, and it tastes much better than ANY store-bought mayo, and with NO scary ingredients.)
Crazy SALE!
Before I show you the little video I made about these amazingly easy to peel hard-boiled eggs in the pressure cooker, I wanted to tell you that the 8 quart pressure cooker I have and love is on sale right now for $44 less than what I paid just a few months ago!
I don't know why it's on sale, and I don't know for how much longer it'll be on sale, so if you've been on the fence about whether or not you're ready to pull the trigger and finally get yourself a one, you may want to think fast.
I love the nice big size, but if you want a different size, they have one size smaller, a 6 quart; and 2 sizes bigger, a 12 quart and a 14 quart — ALL of them still cheaper than the 8 quart I bought!
Wonder what you can cook with it and how it saves time? –> Read this post: 10 Best Ways to Use a Pressure Cooker.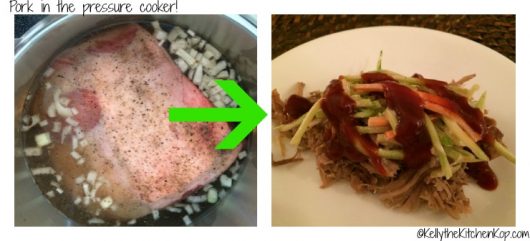 Now watch my newest video about these super easy to peel hard-boiled eggs in the pressure cooker:
Instructions:
I've now made up to 24 eggs at once and they still turn out just as good no matter how many you cook at a time.  Just put them in the bottom in the little basket that comes with it, add enough water to cover the eggs, seal, press the "egg" button and walk away!  Once it beeps done and depressurizes, cover with cold water and peel when cool.  Prepare to be FLOORED with how easily they peel!
Related: