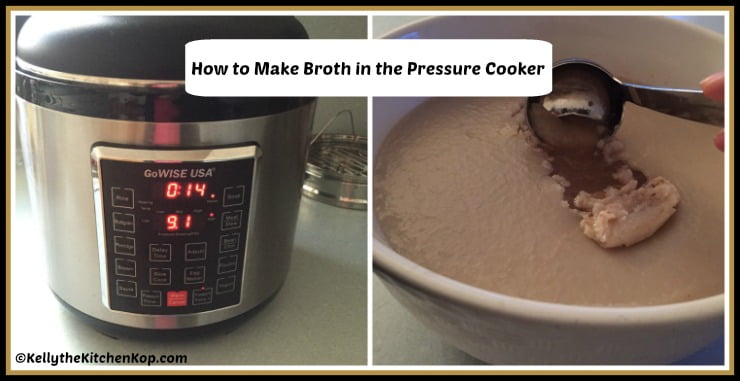 I'm loving my pressure cooker and am busy getting up more posts with tips on how to use it!  Today I'll explain how easy it is to make pressure cooker broth, but be sure to visit this post for many more time-saving ideas:  best ways to use a pressure cooker.  🙂
***Updated later to add this:  I just found out that my friend Sarah doesn't recommend making broth in the pressure cooker due to the possibility of leaching heavy metals into the food from the stainless steel pot.  However I've always made my broth in stainless steel pots!  One alternative would be my crockpots, and I do that sometimes, but not always.
Also, you may want to read this:  Are pressure cookers healthy to cook with?
You may also want to check out this post:  Bone Broth for Rookies, and here's an excerpt from my friend Jill, who wrote that post — she answers the question…
What is "bone broth" and what's so great about it?!
Bone broth truly is a superfood and it's just broth made from the bones–especially bones that have joints in them–from chicken, turkey, beef, and even pork or fish — I usually just make chicken and beef broth myself, unless it's after Thanksgiving.  You can make it with a whole chicken including the meat (or meaty beef soup bones, ribs, oxtails, or a combo), OR you can save your bones from chicken, turkey, and beef ribs/other bony cuts (or get bones from a butcher). The joints and connective tissues are loaded with collagen and gelatin, which, when dissolved in water, is extremely soothing to the intestinal tract, and actually helps to rebuild a damaged gut. Bone broths have a lot of great nutrition as well, like dissolved minerals from the bones and nutrients from the marrow, that is very easily digested and absorbed.
Pressure Cooker broth is so simple!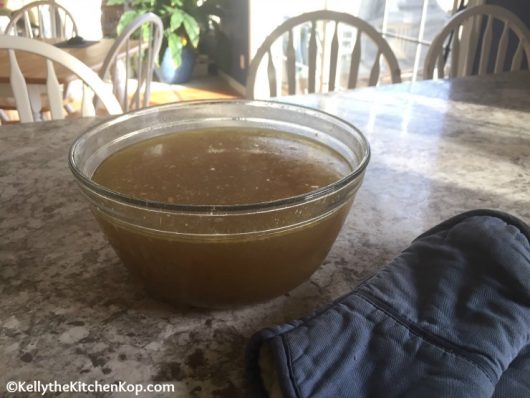 (By the way, if you just don't think you will make it or want some on hand for when you're really crunched for time, try this bone broth — it's 100% grass-fed with a bunch of gelatin, organic ingredients, and it's shelf stable!  I love keeping their beef and chicken broth on-hand for quick recipes because they make it just like I do here, and without the nasty msg-like ingredients, additives, or preservatives that store-bought has.)
Ingredients:
Bones — I get them cheap from our farmer, but you can also ask a local butcher.  Or use leftover bones from your yummy roasted chicken dinner:  How to bake a whole chicken.  OR buy some here if you don't have a good local source.
You could even use chicken feet for nutritious pressure cooker broth!  Click here for more on using chicken feet for bone broth.
A handful or two of vegetable scraps — it's okay if you don't have any, it'll still be good, but this adds another level of flavor and more nutrients.  I keep a bag going in the freezer, and add to it whenever I'm cutting up celery, carrots, onions, or garlic.  The ends, the peels, etc. all go in there, then I always have some for when I'm making broth.
Filtered water — my favorite water filtering systems are all here.  More on how much water below.
A splash of vinegar — 1-2 Tablespoons, doesn't have to be exact, here's the kind I use.
Instructions:
Are you ready, these instructions are pretty intense…  Throw everything in your pressure cooker and turn it on!
How much water and how long to cook it?
You could easily only add enough water to cover however many bones you have there, turn it on high for about 20-30 minutes, and you'll have some really nice broth, but if you're doing it, you may as well make a lot and stock your freezer!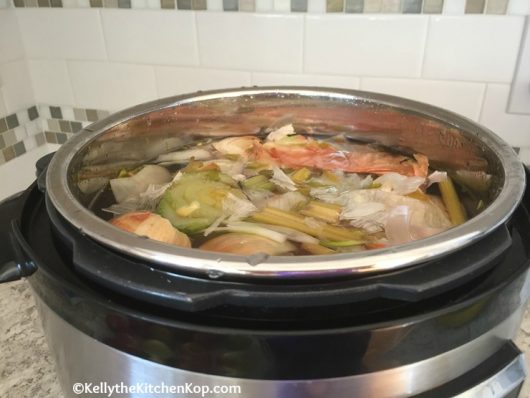 So I fill it up to the 3/5 fill line, which is about 12 cups of filtered water (the manual said to fill no more than 60% full) and then cook for 2 hours on high.
When it's done, you can use it right away, or strain it into a glass or ceramic bowl (never put hot foods near plastic or tupperware).  Let cool a bit on the counter, then put it into the fridge to cool the rest of the way and it will likely look like jello when you get it back out later!  If it doesn't, it usually just means you used a lot of water or it didn't boil down much, the beneficial nutrients are all still in there, it's just more fun to SEE it when it's all gelatinous.  Once it's totally cool (usually overnight), I'll spoon it into baggies, about 4 cups of broth each, to keep in my freezer.  It's so nice having this on-hand!  Be sure to mark them with what's in there and the date.  I also then will add it to my freezer inventory sheet.
For extra protein you could add in some grass-fed gelatin or collagen to make it even more of a superfood!
More you might like: