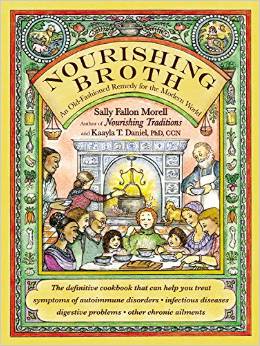 Nourishing Bone Broth Benefits and Gelatin Benefits

Unless you're really new to the real foodie world, surely you've heard at least something about how nourishing bone broth is and about the many benefits of gelatin, and hopefully you know that none of it is new information, it's traditional food at its finest.  Our ancestors knew the power in bone broth, and we must know and apply these simple skills to nourish our generation, as well.  There are plenty of tricks we can learn to make it even easier, such as what to do if our stock won't gel, and whether we should boil or simmer our broth.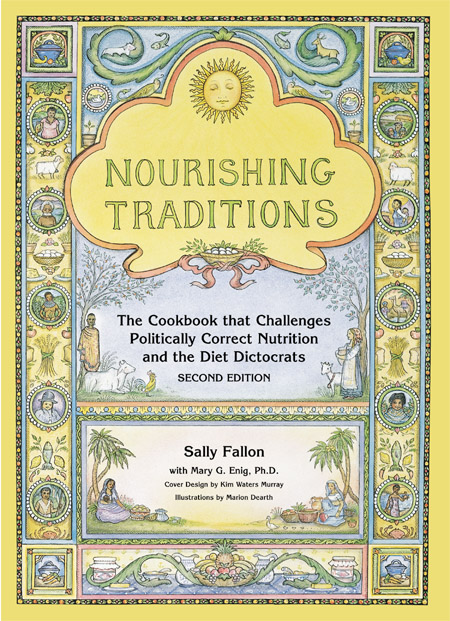 Who better to teach us about bone broth benefits than Sally Fallon Morell, Weston A. Price Foundation founder and author of the "real food bible", Nourishing Traditions, and Kaayla T. Daniel, author of The Whole Soy Story, a book for those who still mistakenly think that soy is a health food.
They sent me their brand new book all about bone broth benefits and I'm sure it will now be known as the "broth bible": 
You'll learn about the healing power of nourishing bone broth and the undeniable health benefits of gelatin, with page after page of testimonies and information on how you can help and support your recovery from Graves Disease, Osteoarthritis, joint injuries, Rheumatoid Arthritis, Psoriasis, Scleroderma, Eczema, Multiple Sclerosis, infectious diseases, cancer treatments, mood disorders, obesity, libido issues, cellulite, digestive disorders, urinary tract infections, and more, all just from consuming something as delicious as homemade broth.  It's no wonder that it is the main component of the gut healing found in the GAPS Diet.
Where do these bone broth benefits come from?  A Little About Collagen…
Collagen is the glue that holds the body together.  The word comes from kolla, the Greek word for glue, and our ancestors made glue by boiling down the skin and sinews of animals.  When we make broth, we turn skin, cartilage, tendons, and ligaments into a gelatin-rich liquid glue instead.
Cooking breaks down collagenous protein into gelatin, which provides the amino acids the body needs to make the "glue" we call connective tissue.  In the form of twisted cables, collagen strengthens the tendons that connect muscle to the bone and the ligaments that connect bones together.  As vast, resilient sheets, collagen supports the skin and internal organs, helps skin retain its youthful firmness, suppleness, and elasticity, and builds a barrier that prevents the absorption and spread of pathogenic substances, environmental toxins, microorganisms, and cancerous cells.  As found in cartilage, collagen is the secret to well-lubed and well-cushioned joints."
The book goes on to explain the benefits of broth that also come from the marrow, minerals, glycine, proline, glutamine, proteoglycans and more!
Just don't think you'll make bone broth yourself?
I now know how quick and simple pressure cooker broth is so I can make some mineral-rich broth more quickly in a pinch.  If you just don't think you will make it or want some on hand for when you're really crunched for time, try this bone broth — it's 100% grass-fed with a bunch of gelatin, organic ingredients, and it's shelf stable!  I love keeping their beef and chicken broth on-hand for quick recipes because they make it just like I do here, and without the nasty msg-like ingredients, additives, or preservatives that store-bought has.
What's Wrong with My Broth?  Is it "Broth" or "Stock"? 



Besides learning about all of the bone broth benefits, one of my favorite parts of the book were the sections that answer the common questions that are often asked, such as these (I answer some questions here and for some you'll need to get the book for the full explanation):
Is there a difference between "stock" and "broth"?
Why won't my stock gel?  (Depends on type of bones, cooking temp, how long it cooked, and more…  Hint:  using feet helps!)
Should I use raw bones or cooked? (Both are fine!)
How can we get the best flavor?
What if my broth is cloudy?
Should we boil or simmer?  (Bring to a gentle boil and then simmer on low.)
Bone broth benefits for HEALING — Can broth help with my health issue?
***Be sure to read my reply in the comments below to a reader who has been a real foodie for years and teaches others how to make stock, and she asks, "Should I still buy this book?"
Click here to buy the book:  Nourishing Broth
Here are more posts on bone broth (and bone broth benefits):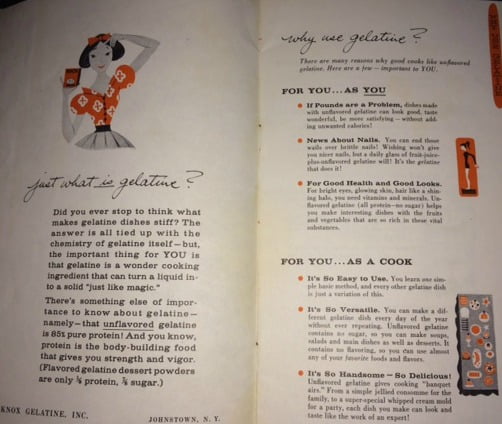 Speaking of Gelatin, Look What I found when cleaning out my Mom's house…
It's a vintage Knox Gelatin booklet I found in my Mom's stack of cookbooks.  While I wouldn't recommend that brand anymore, since it's made with gelatin from factory farmed animals, instead I buy this gelatin made from grass fed cows.
I add some to soups on the rare occasion when I'm out of my own broth in the freezer and only have organic broth on hand, or I'll add a little to sauces for extra protein and nutrition, but my kids' favorite is when I use it to make homemade jello!
Click here to buy grass fed gelatin.
More you might like: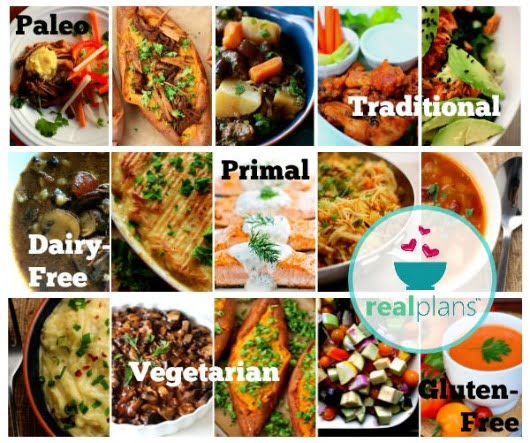 Meal Planning Help!
Sick of planning meals and answering the question, "What am I going to feed these people?"  No matter what kind of eater you are…   Check out these affordable interactive easy-to-use meal plans where the work is done for you!   Also read over my review to see what I thought of it.