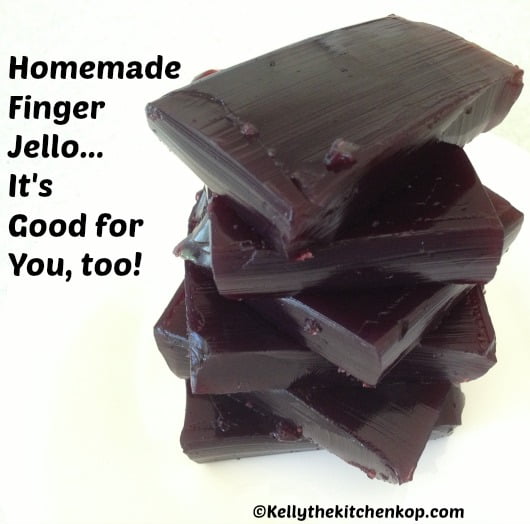 Did you know that homemade finger jello can actually be good for you?
I tried homemade finger jello last week and the kids and I were all over it.  Gelatin from pastured animals, normally found in stock made from boiling the bones, is so loaded with nutrients that it's considered a superfood.  The gelatin used to make this homemade finger jello has the same nutrients!  Mine ended up being thin in spots, only because I didn't have my pan laying perfectly even in the fridge.  Otherwise, the amounts would've been perfect.
Homemade Finger Jello
Here's the recipe for two cookie sheets (I love these: stainless steel cookie sheets).
Ingredients:
6 cups organic apple juice or another kind of juice you like, if using concord grape juice, use 1 cup of water for part of the liquid or it's too strong.  I also sometimes use pureed berries (after straining out the seeds), but you'll need to taste it to see if it needs a little sweetener like maple syrup, honey, or palm sugar.
6 Tablespoons gelatin (<– That's my favorite brand:  no MSG and it's from grass-fed cows! YOu can get  10% off with code KOP.)
For a 9×13 use these amounts:
Instructions:
Mix the gelatin into 1/2 cup of the juice on low heat, whisk until it's all dissolved.  Whisk in the rest of the juice, and pour into your pans.  If you don't like the little bubbles that will develop on top, cover with plastic wrap and refrigerate until set.  Tip, you may want to situate your pans in the fridge where they'll be setting up, and pour the gelatin in, otherwise it's tricky carrying a pan of liquid to the fridge from the counter without spilling it all over.  Yeah, trust me on this.
Here's what we make on Valentines Day with the organic juice that we found — it had just juice on the ingredient label!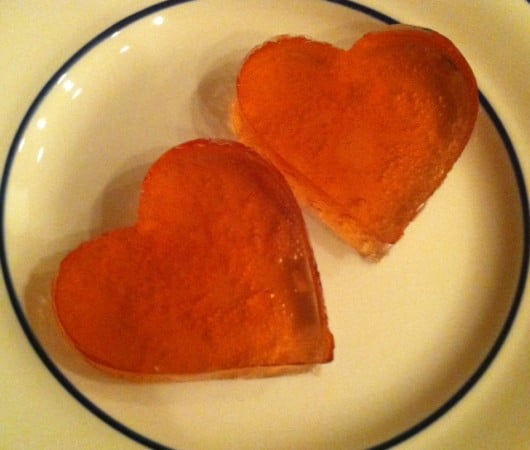 Here's another prettier picture of our Valentines Day jello: