This is a guest post from my friend, Cara, of Health, Home, and Happiness!  She writes about GAPS and has used the GAPS Diet in her own family to help her daughter with developmental delays with awesome success.  It was so successful, in fact, that they no longer are on the diet!

No longer on the GAPS Diet?!  What?!
Yes, that's right. The goal of GAPS is to actually get off the diet eventually! While that doesn't happen for all people, it does for most. Let's take a closer look at the GAPS (Gut and Psychology Syndrome) diet, and then below I'll give you some resources to help you get started.
What is the GAPS diet?
GAPS stands for Gut And Psychology Syndrome, a phenomenon that's been known, believe it or not, for decades, but is just becoming more well known in recent years.
The GAPS diet is a specific gut healing diet that is designed to:
Eliminate inflammation caused by gluten and other grains, which can inflame the gut
Eliminate complex carbohydrates, which can feed pathogenic bacteria low in the gut
Include gut and body-nourishing bone broth to repair a "leaky gut" and rebuild the gut wall
Include beneficial probiotics in food and in supplements to kill off the pathogenic bacteria and reestablish gut flora with healthy ones
In starving the pathogenic bacteria that may have invaded your gut, GAPS lessens or alleviates psychiatric symptoms such as anxiety, depression, obsessive compulsive disorder, autism, and ADHD.
In healing the gut, GAPS lessens or alleviates digestive trouble such as diarrhea and constipation.
In healing the gut, which houses a large portion of the immune system, immune-related symptoms are reduced or alleviated such as allergies (food and environmental), asthma, auto-immune diseases, arthritis, and eczema.
Click here to read one child's shocking comment after a week on GAPS!
What you can eat on GAPS:
What are GAPS symptoms? What is the gut-brain connection?
GAPS symptoms are a variety of chronic health problems, many of which are much more common today than they were before the advent of commercial food preparation and antibiotic over-use. Many families will all display GAPS symptoms, but mainstream doctors don't make the connection because they can come in so many different forms – from eczema to autism to depression.
The gut-brain connection is the most fascinating part of GAPS.
When we have pathogenic bacteria take root in our guts, from generations of unhealthy diets, antibiotics clearing out our healthy gut flora that keeps the bad guys in check, or even heavy metal toxicity, the pathogenic (bad) bacteria actually send out chemicals into our blood stream that go through the blood-brain barrier and affect our brains!
The GAPS diet works to starve these pathogenic bacteria so they stop sending out these chemicals, and replace them with good bacteria that help us absorb nutrients from our food, plug up a "leaky gut', and help us process stress.
What is the Intro diet?
The introduction part of the GAPS diet is a very strict and deliberate protocol for those experiencing severe symptoms of GAPS, or who just want to have accelerated healing. You can get the GAPS Intro Kit here. It is more strict, but is very effective!
How do you get your family to actually eat this food?
It is a change from our 'Have it Your Way!' culture to actively say 'no' to the thousands of foods (or food-like substances) available to us at the supermarket. With GAPS, you even need to say no to properly fermented wheat bread as found in traditional cultures, at least until enough healing has taken place that you can digest it again.
To get your family to follow the GAPS diet, lots of dedication to cooking and setting firm limits is a must. Many families have done it, though, so if you feel like you need to, there is hope!
I recommend starting it during a school break, or a time where you don't have outside commitments that involve food. Once you're used to it, and used to how much better you feel, it's much easier to stay on the diet. But the first couple weeks are tough for most families.
This sounds overwhelming, I need help!
Since GAPS started gaining popularity in 2009, many helpful materials have come out and provide huge support for you on this journey.
Find help here: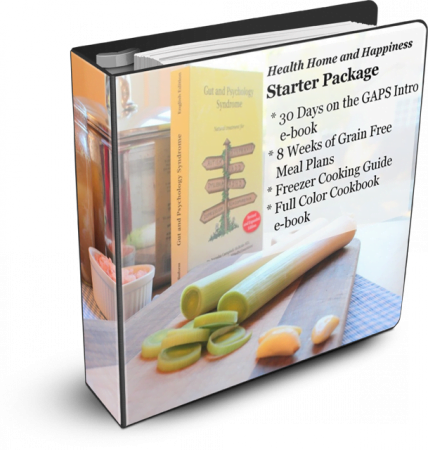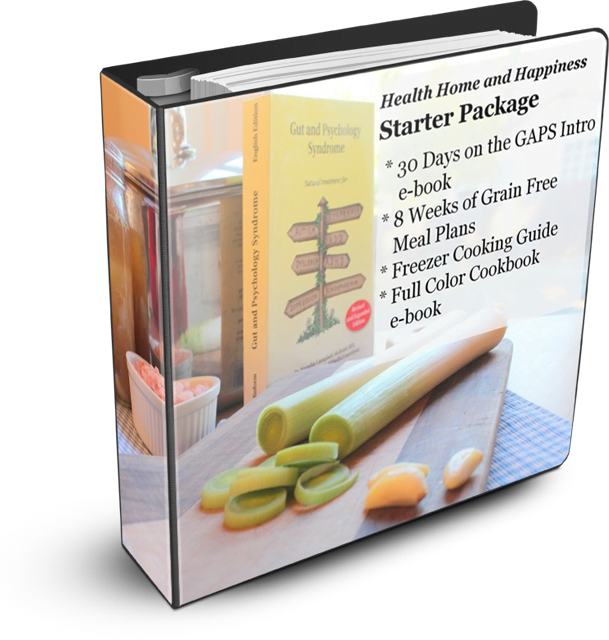 Here's Cara explaining more about what the GAPS Diet is like:
Thanks Cara for this great info/refresher on the GAPS Diet!!