I didn't know there were alternatives to reverse osmosis:  Why we ditched reverse osmosis drinking water and what we got instead
***Quick water filtering links:  
If you have a hole drilled (or could drill one), you can easily use this unit to connect to your own faucet (called "Direct Connect"), and it saves counter space.  This one filters out less than the next one though (see the chart below).
Another option to save counter space is this one that comes with a separate faucet (called "Direct Connect Plus"), which is what we use because then you don't need to waste filtered water for watering plants, etc.  This one filters out the most (see chart below).
Otherwise you could use this one on your countertop (like a Berkey but better), but you'd have to refill it however often, depending on how much water you use, and it takes a lot of counter space.  This one also filters out the most (see chart below.)
If you need filter replacements go here for replacement filters or parts.
***For all of these, use the code KOP for a discount!
Now for the back-story…
Several years ago Kent and I bought a whole-house water filter to remove chloramines (chlorine + ammonia) from our water, so these wouldn't come through our skin when showering, and also because chloramines leach metals like copper and lead from your pipes into your water!  While the amounts would likely not be as high as what the people in Flint were exposed to, I didn't want any of that stuff in our water, thank-you-very-much.  (Read more about Why the Flint water scare should be our wake up call.)
At the same time we bought a reverse osmosis drinking water filter (the kind that doesn't waste a bunch of water as it filters), having read that this was the purest drinking water you could get.  This sounds like a good thing when you consider that our water supply is full of scary stuff these days like pharmaceuticals, lawn fertilizer and crop pesticides, not to mention fluoride, chlorine and a whole bunch of other junk I don't want going into our bodies.  It's not that far-fetched at ALL to think that a little bit of each of these toxins, building up over time, could definitely have detrimental effects on our health.
However, it wasn't long after we got that system that I realized the big downside:  reverse osmosis strips out everything from your water, it even takes out the life-giving minerals!
The Weston A. Price Foundation says:
As the remarkable properties of vitamins have revealed themselves to investigators, so too have those of the various minerals in our food and water. The seven macrominerals– calcium, chloride, magnesium, phosphorus, potassium, sodium and sulphur–now share the research spotlight with a longer list of essential trace minerals. These are needed only in minute amounts, but their absence results in many disease conditions. The number of trace minerals known to be essential to life now exceeds thirty, and some researchers believe that for optimum health we need to take in every substance found in the earth's crust. Along with familiar trace minerals, such as iron and iodine, the body also needs others less well known, like cobalt, germanium and boron."
So, after having spent so much money on this system, and not knowing of any good alternatives to reverse osmosis, we decided to just do our best to get minerals into our diet in other ways:  
By adding plenty of sea salt to our food, drinking raw milk, and getting in lots of bone broth.  Since pretty much everyone is deficient in Magnesium, I take this Magnesium and also supplement with every-other-day Iodine — I tried remembering to use this
this Magnesium oil 20 minutes before showering, but rarely did.
  Getting the kids to take any supplements is like pulling teeth these days.  We also tried to get the kids, and us, to remember to add mineral drops to our water, but none of us actually did it very often, and they made the water taste weird.
Over time it began to really bother me that our water had no minerals…
At night when brushing my teeth sometimes I'd have a taste of our water in the bathroom that didn't go through the RO system, and it just seemed more fresh or "alive" to me.  Sounds odd, but that's the only way I can describe it.  I just wanted the taste of real, fresh water from our faucet again, but without all the scary toxins that are in regular tap water!
The kids don't drink fresh raw milk as much as I'd like them to, and while they'll occasionally drink some kombucha or kefir soda, mostly we all drink water around here.  So I'd watch them drink a big glass and think, "Too bad that's not full of all the good stuff."
This week our youngest had the flu, he ate very very little and would only drink water.  It drove me nuts knowing he wasn't really getting much of anything.  My friend Jill suggested we have him take a mineral bath to boost his electrolytes, and that really helped him turn the corner and start to feel better (I put in some epsom salts and also some of these mineral flakes and tried to get him to stay in there as long as I could so he could absorb all the good stuff through his skin), but since we're ALL mineral deficient, how often do we take mineral baths?  Uh, never or very rarely…
There are higher-end RO systems that are set up to add the minerals back in without you having to remember the drops, but it still just doesn't seem natural to have to add anything back in.  And really, how can adding in specific minerals ever really make up for the many trace minerals and naturally occurring minerals in fresh water anyway?!
So Jill did some research into finding alternatives to reverse osmosis…
My friend, Jill and her husband were moving and needed to find an affordable countertop filter option (reverse osmosis systems are expensive and there's no countertop option; the Berkey is expensive plus a pain to always refill, plus it's lunky and takes up SO much room), so she found this countertop system that they love, which she wrote more about here:  The best water filter on a budget.  (Note, they don't have that version anymore.)
That got me looking into similar alternatives to reverse osmosis with under-sink options.
I was so excited to find a really affordable filter that goes under the sink and it also doesn't have an annoyingly-slow flow rate like some filters do!  This one filters out all the same bad guys, but leaves IN the minerals!  (I verified this with the company over several emails.)
We also got the refrigerator kit you'll see at that link (to hook the filter up to our fridge water), some extra tubing, and an extra replacement filter to have on-hand — then when the time comes and we need to put in a new one, we'll buy another right then, so we always have one when we need it.
Note that we have not installed this yet, because, well, have you ever read the book, "If You Give a Mouse a Cookie" to your kids?  About how one thing leads to another which leads to another?  Well now, after having bought the filter, we've decided to fix a bunch of worn out and broken stuff in our kitchen, and that's a whole other post, so SOON it'll be installed, and then I'll tell you about our new kitchen!  (We're in the picking-out-colors-and-everything-else stage, and this is NOT my gift.)
***Update:  See our kitchen remodel video here, and yes, the water filter is installed and it tastes great, plus I love knowing all the minerals are still in there!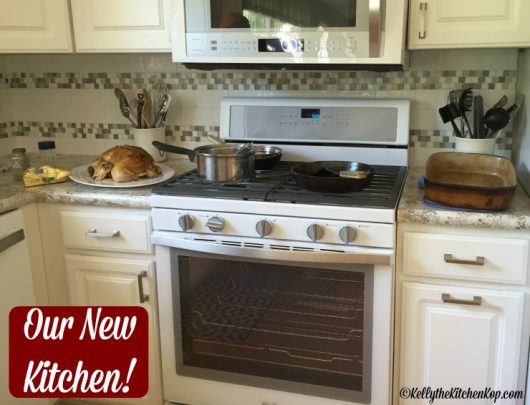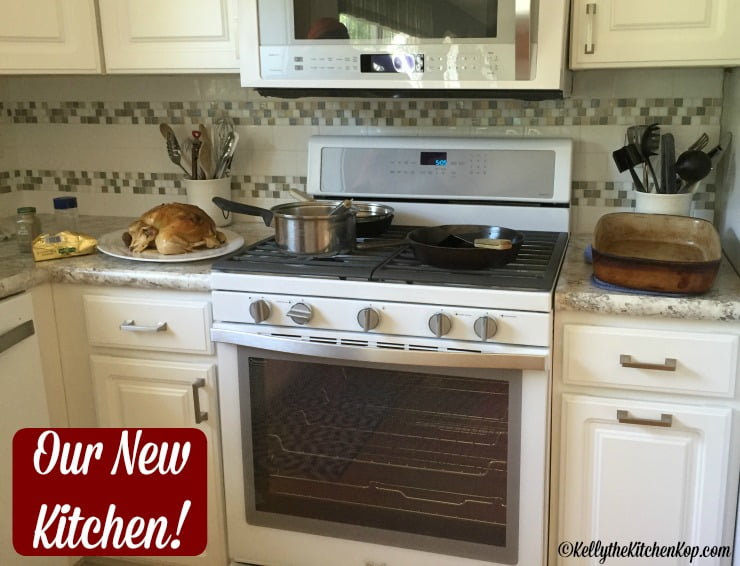 ***Another update:  recently we noticed our drinking water filters needing to be changed more often than normal (they normally last a year or so), so a guy from the city came out to see what the problem could be.  He ran some tests and we learned that our water softener needs to be serviced, but we also learned something fun when he showed us the results of what's in our water before and after our drinking water filter…
Just as the company says, the filter does a GREAT job of removing the fluoride and chlorine from our water!
I knew from the reports on their site and the 3rd-party testing that it was a great filter, but it's still great seeing it with my own eyes with a random test done by our local water expert.  Here are our actual results: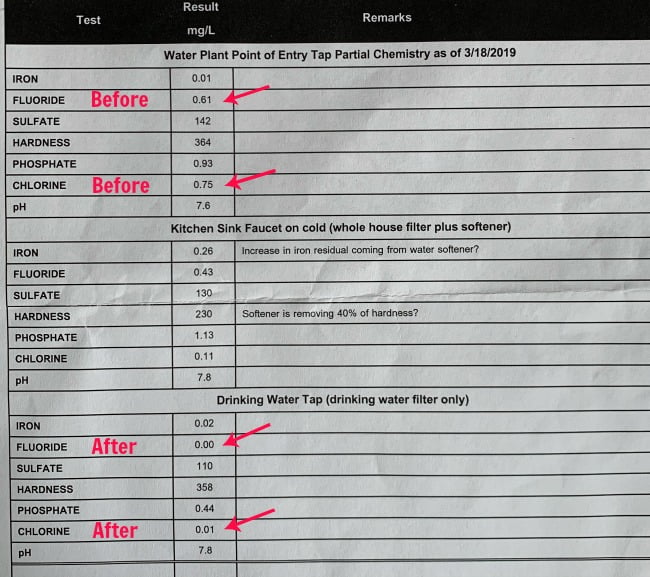 Here's an interesting note that this guy shared with me…  Apparently normal fluoride levels in municipal water are "supposed to be" 0.7 (that's for the state of Michigan or maybe he said in our area, I can't remember), but where we live in Rockford they're naturally occurring at 0.6, so they were able to get by with not adding it to our city water since it was so close.  We haven't had fluoridated drinking water in our home in at least 14 or more years and have still had ZERO cavities.  Read more about the dangers of fluoride in your water here.
This chart shows how the filter we have is the best:
DCP=Direct connect plus, SS=Stainless steel gravity water filter (like a Berkey but better), DC=Direct connect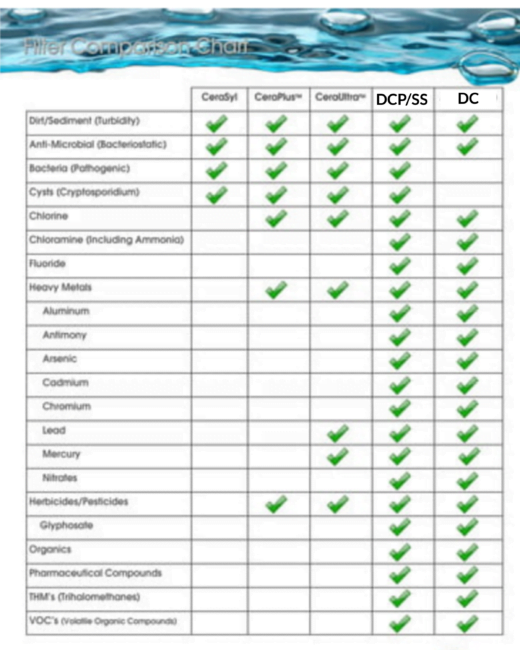 p.s.  If you're on well water, you're not off the hook…
Yes, you don't have to worry about the stuff municipalities add to the water like fluoride or chloramines, but you have other ground water issues to be aware of like pharmaceutical toxins and things like herbicides/pesticides and/or glyphosate from local farms.
Sadly, no one can assume their water is pure these days.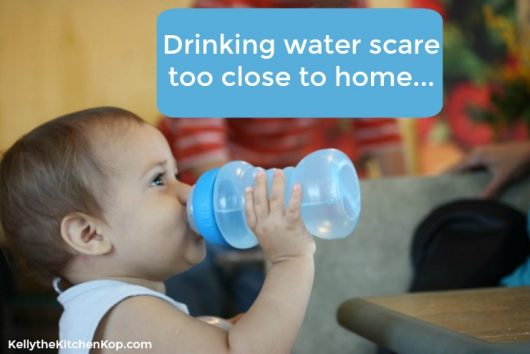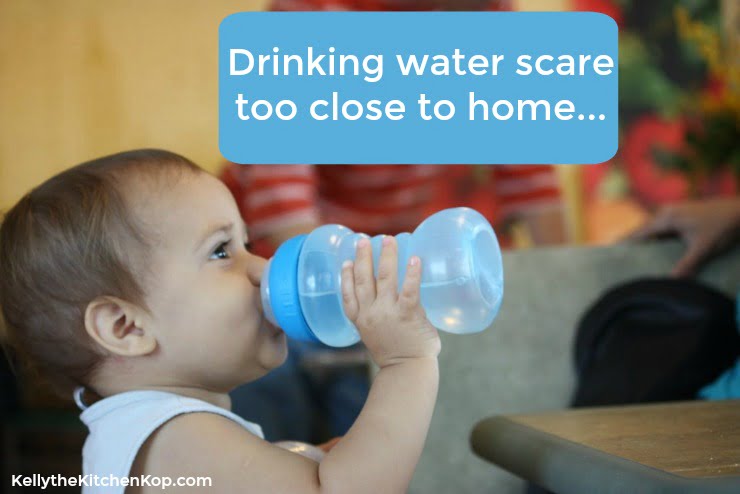 I'm so thankful we found affordable and trustworthy alternatives to reverse osmosis and I can feel great again about the water my family is drinking!
More posts you might like: