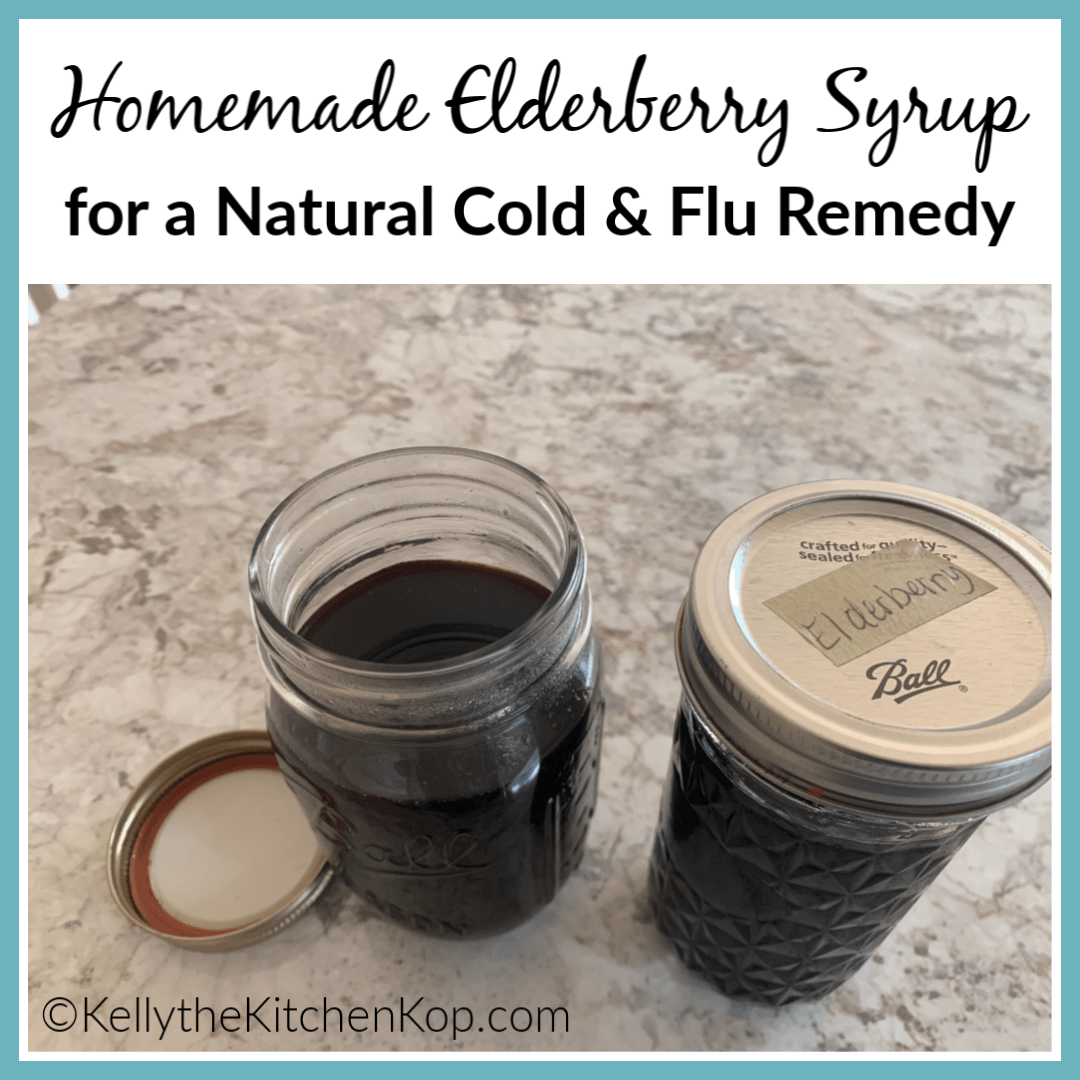 Did you know how easy it is to make homemade elderberry syrup?  
I didn't have a clue how to do such a thing, or even why I'd want to, so in today's guest post you'll learn from my friend, Melissa, and below is her recipe for homemade elderberry syrup.  Here's Melissa…
A couple of years ago a college friend introduced me to homemade elderberry syrup. Prior to beginning my "Real Food" journey, I would have simply been content to get the yearly flu shot and/or popped the latest over-the-counter remedy in order to get rid of nasty colds or flu symptoms. But, since I was already a "Real Foodie", I wanted to do better now to prevent and treat the flu naturally.     (Also, don't miss this: natural flu/virus remedies + cheat sheet!)
What's an elderberry?!
Being curious, I did some research to find out exactly what elderberries were and how they could work to prevent the flu. Elderberries (also called Sambucus Nigra) are purple little berries that grow on shrubs, are indigenous to the United States, and are related to the Honeysuckle family. In fact, we had an elderberry bush at our old house in Washington. I wish I had known THEN that there were healthy uses for those little purple berries!
What are elderberries good for?!
In an article entitled Elderberry Syrup for Bronchitis and Flu, the author mentions that using elderberry syrup when suffering from the flu can reduce both the severity of your symptoms as well as the duration of your sickness by almost half. In fact, here's the exact quote from the article talking about a study done in 1995:
…elderberry extract reduced both the severity of flu symptoms and also the duration of flu from 2-3 days in the treated group versus 6 days in the placebo group.  This is because elderberry inhibits neuraminidase, the enzyme used by the virus to spread infection to host cells."
Impressive!  Elderberries also contain a flavonoid (a natural antioxidant found in plants) called anthocyanin which is a powerful immune-booster. If you like to read about studies, another one called "Flu- Alternatives to Flu Vaccine" outlines a study done in Israel on the effects of elderberry on flu epidemic patients there.
Also, since elderberry syrup is a natural remedy, it doesn't have the nasty side-effects that pharmaceutical flu meds, like Tamiflu, would have.
In addition to being beneficial to those with the flu (influenza) I have also read some other information that suggests elderberry syrup can be helpful for those with HIV/AIDS, sinus pain, sciatica (back/leg pain), neuralgia (nerve pain), and chronic fatigue syndrome. Maybe it is because it is known to boost the immune system and reduces inflammation?
Isn't it exciting to know there are natural remedies out there that can do the same thing as pharmaceuticals, only without the nasty side effects??
*Keep in mind that you should consult a qualified healthcare practitioner if you have health issues that need attention – do not use this or any other site for medical information or advice!*
Ok, here's the recipe – it is SUPER easy to make homemade elderberry syrup and the recipe uses freeze-dried elderberries. I usually double it and keep it in a mason jar in my fridge. As long as you use a new spoon each time it will stay good for a long while. You could also can this in jars if you'd like.
Homemade Elderberry Syrup Recipe: 
Bring the elderberries, water and spices to a boil. Allow to simmer for 20-30 minutes. Remove from heat and cool. Strain out solids (elderberries and spices). Discard the solids. Let cool just a bit (so the enzymes in the honey aren't destroyed when you add it) and then add honey and stir until well mixed. Elderberries are VERY bitter, so the honey is a VERY necessary ingredient!
The spices are optional, but does add some flavor. I'm not a big fan of cloves, so I only use the honey and ground cinnamon and it turns out fine. You could do it with just honey – and I generally only use 1/2 cup of the honey.  *NOTE: if you use honey, be sure not to give to any children under 1 year – if you want to give this to an infant, you could use a different sweetener.
HOW to use your homemade elderberry syrup:
If you feel flu symptoms coming on, begin using the elderberry syrup and just use a smaller amount MORE often. It is impossible to overdose on this. I have successfully warded off the flu and bad colds with this NUMEROUS times. If I start feeling sick/achey/feverish, I start taking elderberry syrup whenever I think of it – along with extra Cod Liver Oil!  (Click that link for where to buy it.)
We all take about 1 Tablespoon daily throughout the cold/flu season, including my kids.
They actually really like it and ASK for it!
*By the way, if you are using Cod Liver Oil, I have found that squirting the daily serving of that into the cup with 1 Tablespoon of elderberry syrup helps them get the CLO down better!
Thank you, Melissa!  Readers, do you make your own homemade elderberry syrup, too?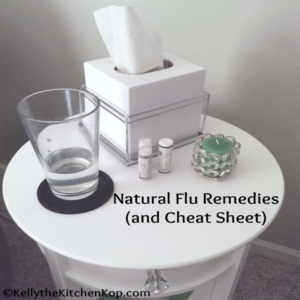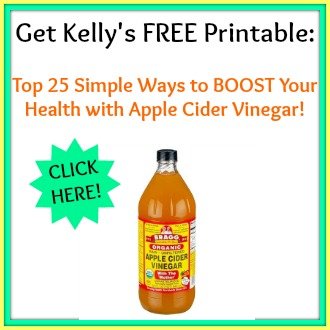 Melissa is a pastor's wife and mom of three.  She became passionate about Real Food while living on Whidbey Island, WA. Now residing in West Michigan, her Real Food journey has led her not only to change the way her family eats but also to get involved in her community sharing the benefits of eating Real Food, and starting a local buying club.  She is an RN one day a week, but also works during the summer for an organic produce farm at the local Farmer's Market, served as the Treasurer for the West Michigan Chapter of the Weston A. Price Foundation, and spends any extra free time cooking, eating and sharing recipes.