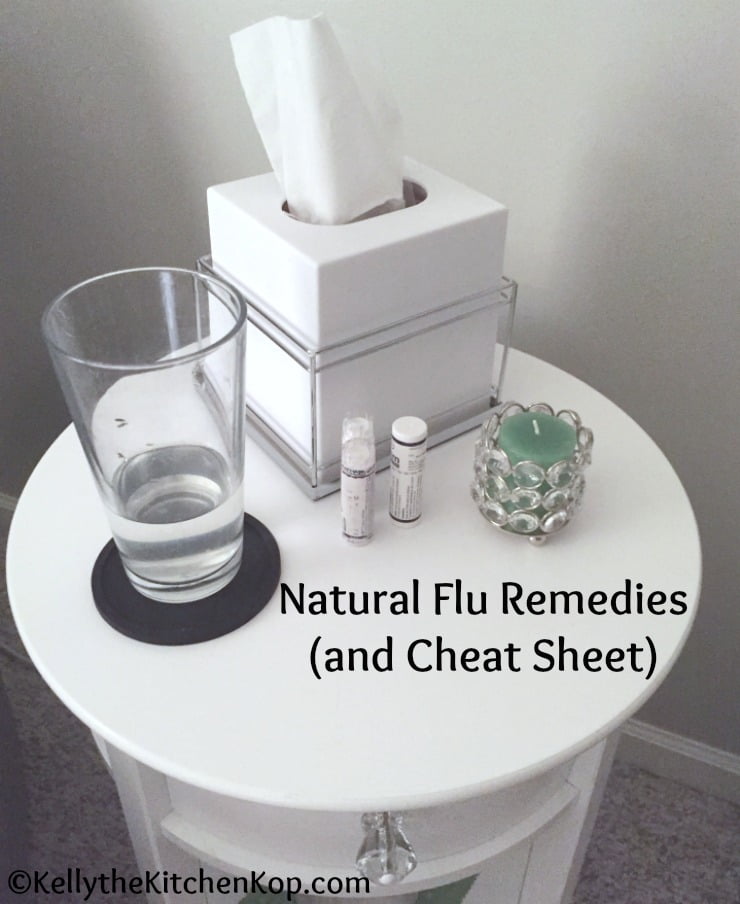 Hey friends, just in the past 2 days I've had multiple requests for information about my favorite natural flu remedy…
So instead of sending this out via email to each person individually, I'm putting up a cheat sheet here.  This natural flu remedy info is a compilation of your options all in one place, but you'll need to evaluate your own symtoms and decide for yourself the best way to move forward if the dreaded influenza virus hits your house.
Note that I'm not giving you a simple, "If you get the flu, do this ______" answer,  for two reasons.  
First because I don't know you and I'm not a doctor.  Second, because each person is different and there are many different types of flu; what works for one person in one case, may not work for another.
*Also, these are just suggestions and what I've come across, I'm sure there are many more effective ways to treat the flu besides just what you see here, so please share your favorite natural flu remedy in the comments!
So look through these and see what resonates with you…
First, it you feel like a little chuckle, take a peek at What remedies were used "back in the day" — they had a lot right!
Second, how to prevent it and what not to do:
Now, here's what I found for you:
Here's my other post with many natural flu remedy suggestions:  Natural Home Remedies for Cold Earache Flu and How to Avoid Ear Infections and Gut-Busting Antibiotics — those are from before I knew much about homeopathy, but now I'd also add that option to my tool kit…
The following homeopathic flu cheat sheet is from Sheena.  (She's leading a study group through 8 weeks of Joette Calabrese's curriculum, "Gateway to Homeopathy", which I just started and love!)  Sheena said she pulled it together from various places online, mostly here, here, and two Facebook lives that Joette did here and here.  (Want a quick overview on the basics of homeopathy? Watch the video at the bottom of this post…)
Homeopathy Flu Cheat Sheet
Start with…  Aconitum 200 + Bryonia 200 or 30 (take those both together, at the same time), every 15 minutes until you start to feel relief, and then spread out every 3 hours.
Then Consider adding Gelsemium 30 or 200 (great for flu — I just ordered this to have on-hand because I already have the other stuff…)
Rhus tox 200 (Joette says, "When there are aches and pains and everything hurts just to be touched.")
Bryonia 30/200 (if discomfort is worse with movement, congestive headache, body aches but also some sharp stitching pains anywhere in the body)
Other remedies to consider
Combination remedies to try:

Cold Calm – if it's working use this and not the others — take every 15-30 minutes until start to
feel relief and then spread out every 3 hours.
Oscillococcinum– if you feel the flu coming on strong, and are feverish with body aches, etc.  (Follow the instructions on the box.)

More to try:
More from Joette: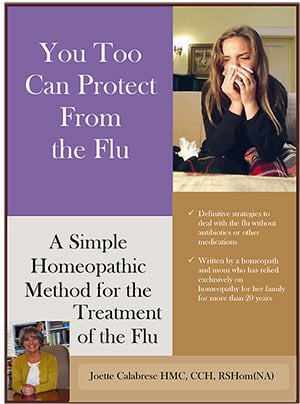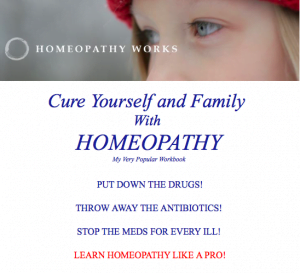 Watch this video to understand the basics of homeopathy.  (Skip the beginning chit-chat and jump right to the meat:  start at minute 1:38.)
And after you watch, please remember to share your favorite natural flu remedy in the comments below.  🙂