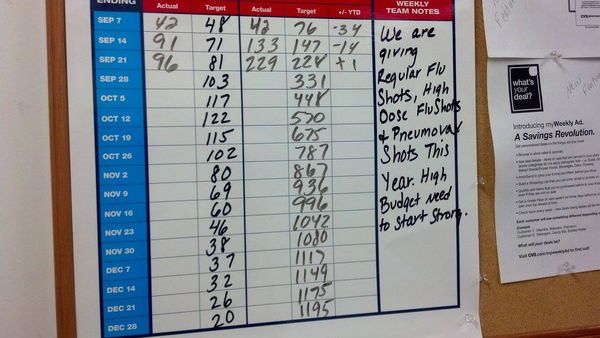 Does your workplace have flu shot quotas?
See this flu vaccine sales incentive chart?  It's from a CVS pharmacy, and it's good to know they're so concerned about our health and wellness isn't it?
Yeah right.
Last week a CVS employee sent me a private Facebook comment about this chart, because she didn't want her name appearing with the comment out of concern for her job…
CVS had us pushing the flu shot early in September and gave each store flu shot quotas to meet.  We are supposed to answer the phone with "can I schedule a flu shot for you" somewhere in the greeting.  Sorry CVS, but I refuse to entice people into a flu shot.  It's bad enough that I have to give you drugs that have the potential to do you more harm than good.  Upper management would call our store and remind us that we hadn't met our goals for the week.  I guess we were supposed to pull people in off the street and force the flu shot on them.  They were also coming down pretty hard on store managers to find places in our community to schedule flu clinics (for example, a large company) for their employees."
Comment below to let us know what you think or if you've seen something similar near you.  Does YOUR workplace have flu shot quotas?  Follow the Facebook conversation here to see what others said.
There's no doubt, this whole flu shot business is about sales.
If it were about wellness instead of flu vaccines (which, by the way, are not even effective, according to non-industry funded studies), you would see vitamin D level testing, elderberry syrup, hand-washing reminders, cod liver oil, probiotics, and other far more effective and safe measures being promoted.