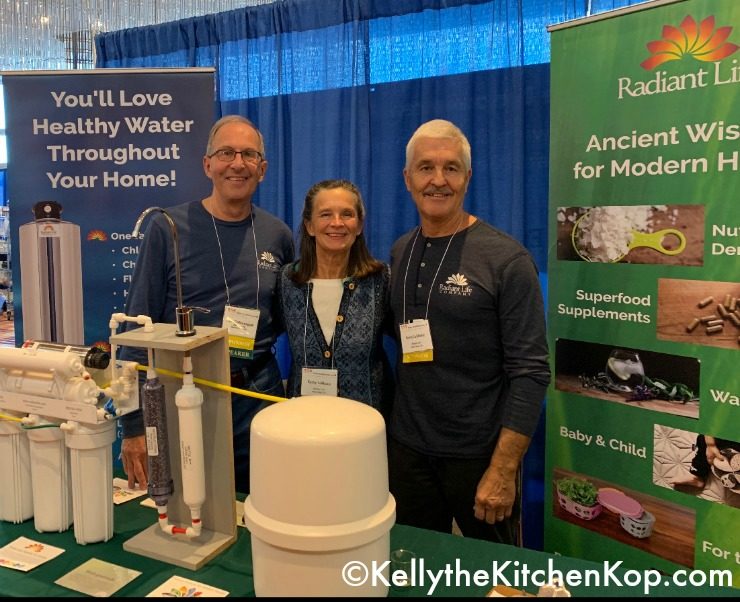 The Best Whole House Water Filter
Is anyone out there itching to buy themselves a practical yet AWESOME gift?  What's better than having pure water not only to drink, but also to bathe in or wash your hands and clothes in?  At the Wise Traditions conference in Baltimore last month I learned more about this tank that takes out more than most whole house water filters do, also it's super easy on the homeowner because it requires zero-maintenance, and it's economical because the filters last 10-12 years.
We got a whole house water filter many years ago, before I knew about this one, and while it has brought soooo much peace of mind, the filters in our tank need to be changed 2-3 times per year!
One dangerous contaminant to remove from your home is chlorine:
Chlorine is both a blessing and a curse…
Yes, it's an effective water disinfectant which protects the public from waterborne illness.  This is a good thing.  But at the same time it introduces a host of nasty chemicals into our homes and lives!
It's unbelievable that 18 years into the 21st century with all of our advanced technology, we're still allowing Chlorine, Ammonia, Fluoride and other known toxins into our home via the public water supply.
It's fair to say that Chlorine does its job up to the point of entry of our homes but then we want it removed!
So here we are today—where the last line of defense is YOU in your home or place of business.  We have all come to realize that relying on the government or other authorities to fix the problem will just never happen.
We need to take personal responsibility as we do with our food choices.
You can continue to wait for the government to fix the problem or you can be empowered and gain peace of mind now.  
The whole house filter I recommend…
Takes out a wide range of contaminates all in one tank!  (Chlorine, chloramines, fluoride, heavy metals and VOCs.)
…But leaves intact the healthy, naturally occurring minerals.
Even better, the system requires zero maintenance throughout the life of the system, which is key for homeowners because it's not one more thing to deal with.
Uses an advanced media blend of mixed-bed carbon, zeolite and sediment base.
It has a long filter life — minimum capacity of 1 million gallons or 10+ years!
The tank is wrapped in premium stainless steel for added aesthetics, quality, protection and durability.
It's made in the USA.
Here's a full list of the contaminates that are removed with this, the best whole house water filter system:  (Click to make it bigger or zoom in.)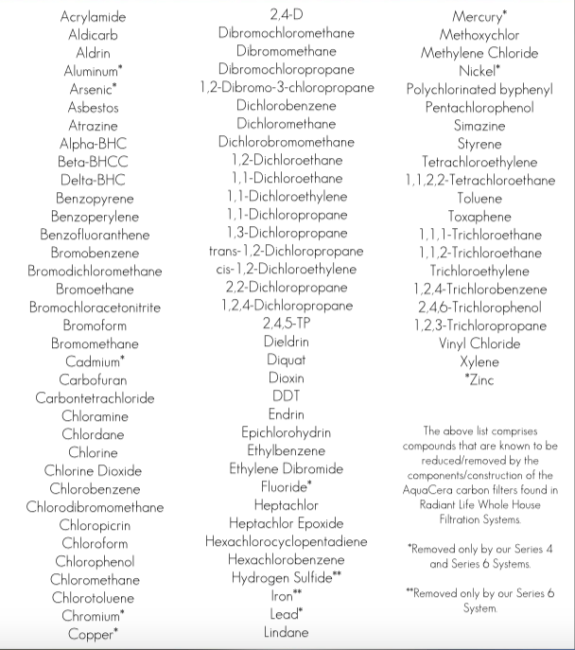 What about your drinking water?
For drinking water filtration, depending on the water where you are, you may need to get a system under your sink to remove even more.  
See my post on why we ditched RO water.  Or just go here to learn more about the super affordable drinking water filter that we have.
Watch the video below…
This is from the Wise Traditions conference in Baltimore, here Tom and Norm from Radiant Life explain more about the best whole house water filter system:
—What exactly this whole house filter actually filters out.
—How the unit requires zero maintenance.
—The long filter life of 10-12 years.
—How it leaves minerals intact.
—How they get a wider range of contaminants out including heavy metals, all in one tank.
—It has a compact size; can be installed in basement, utility room, garage or even outside.
—It has a stainless steel jacket to protect from the elements for those who need to install outside.
More posts about water safety that you might like: