Are Pressure Cookers Healthy to Cook with OR Even Safe?
(We'll also cover what Sally Fallon Morell from the WAPF & Kaalya Daniel said about pressure cooker broth in their book, keep reading…)
Right off the bat we can get the safety issue out of the way.  Most modern pressure cookers have built-in safety features, so as long as you follow directions and use common sense, you don't have to worry about kitchen explosions or getting injured while making dinner.  These were worries with the very old models that our grandparents used.
Click here for the 8 quart 8-in-1 multi-function electric Instant Pot pressure cooker I'm using and LOVE.
When it comes to convenience, pressure cookers SAVE THE DAY!
Below I'll share exactly why I'm completely comfortable using our pressure cooker to serve healthy meals to my family, but first I'll tell you why I love it from a convenience standpoint:
Apparently I have too many things going on around here everyday (like all of you I'm sure!) and most of the time I can't seem to get my head out of my ___ and remember to pull meat out of the freezer early enough in the day so it has time to thaw, cook and be done by suppertime.  A pressure cooker comes through BIG because food takes only a fraction of the time to cook, and especially for work-outside-the-home parents:  what a lifesaver for you especially!
What about health-wise, are pressure cookers healthy to cook with?
This issue is still hotly debated, but I've been convinced that this is A-okay, and here are a few reasons why…
Are pressure cookers healthy to cook with?  #1:  It's like arguing that food cooked in Miami (where the boiling point of water is 212*F) is somehow less nutritious than food cooked in an Andean or Himalayan village (where the boiling point of water is 190*F) just because the air pressure and boiling point are higher in Miami…  The only reason one took far less time to cook was that the higher air pressure meant that you could cook it at a higher temperature before you started losing too much water and overcooking the food.  (Source)
Are pressure cookers healthy to cook with?  #2: Many say, "Pressure cooking denatures proteins."  To that, Kris, the Toledo Weston A. Price chapter leader, replies, "Collagen is an insoluble protein that must be denatured to produce soluble gelatin that we can consume, but that does not mean the amino acids or proteins are destroyed or that gelatin is not useful.  Enzymes lose their function if they are 'denatured' but collagen is not an enzyme.  I am not convinced that pressure cooking is as harmful as some say.  I get a fabulous gel from my pressure cooked broth.  My husband who is very sensitive to glutamate, drinks the broth daily with good results and never has a problem with it.  The broth is very flavorful also.  I have no plans to give up my pressure cooker!"  (Kris is quoted with her permission.)
Researchers estimate the nutrients in our foods have declined dramatically (up to 50 percent in some foods) due to the depletion of nutrients in the soil. When you combine that with many cooking methods, which destroy or drain nutrients away from your food, the result is meals that just don't provide the nutritional value your body needs.

A pressure cooker can greatly reduce the time it takes to cook your food. This directly correlates with the loss of fewer heat-sensitive nutrients. Let's take a look at the research:

•    In Plant Foods for Human Nutrition, researchers found that pressure cooking was the best method for retaining both vitamin C and beta-carotene in spinach and amaranth.

•    A study published in The Journal of Food Science found that pressure cooked broccoli retained 90 percent of its vitamin C content. Compare this to boiling (66 percent retention) or steaming (78 percent).

But using a pressure cooker won't just help boost the levels of nutrients you get from your food… it can also help reduce health harming compounds, as well.

Because a pressure cooker basically uses "steam under pressure", foods stay moist. They are literally bathed in steam as they cook. This translates to juicier, better tasting food. It also helps eliminate two cancer-causing compounds (acrylamide and heterocyclic amines) which are often produced by other high-heat cooking methods.

And if you're concerned about lectins and phytic acid – two anti-nutrients which can bind to minerals and make them indigestible – the pressure cooker can help there too.

In fact, another study published in Plant Foods for Human Nutrition showed that when peas were soaked overnight and then boiled, their phytic acid content was reduced by 29 percent. On the other hand, when they were soaked overnight and then pressure cooked, the reduction in this unhealthy anti-nutrient was almost double (54 percent).     (Source)
Are pressure cookers healthy to cook with?  #4:  From Nourishing Broth by Sally Fallon Morell and Kayla Daniel:  "Neither Sally nor I use a pressure cooker, but we know many people who love them.  Pressure cookers seem to help achieve the gelatin we value so much.  In terms of nutritional value, we have not done comparison testing of pressure cooker broth vs. stockpot vs. slow cooker.  We'd love to do lab testing for a long lists of nutrients, but that gets very expensive very fast.  If you know anyone who'd like to give us about $20,000 for a small study, we'd like to move forward with that testing.  In the meantime, I see no reason for you to stop using your pressure cooker." (Read my review of this book here or find out how to make pressure cooker broth here.)
Hopefully that information has made you comfortable using a pressure cooker, and now for which one to buy…
Click here for the 8 quart 8-in-1 multi-function electric Instant Pot pressure cooker I'm using and LOVE it.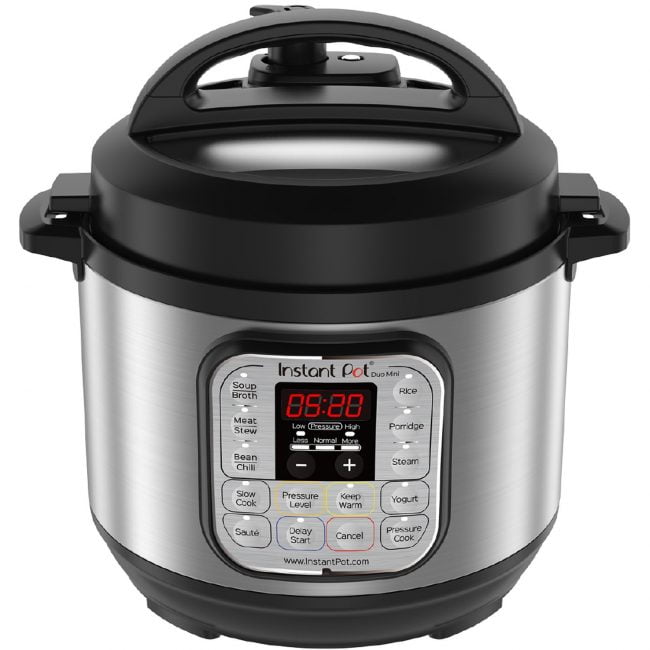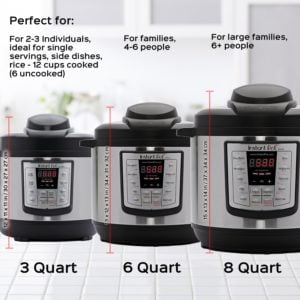 If you really want to geek out and are okay with the 6 quart, click here to check out this Bluetooth Instant Pot.  It says you can, "Program and monitor cooking with a free app for Android/iPhone/iPad; Expand functionality by upgrading the free app and adding other recipe apps."
But if you need a bigger model, you can get what I ordered, click here for the 8 quart 8-in-1 multi-function pressure cooker.  It's a pressure cooker, rice cooker, bean cooker, yogurt maker, food warmer, steamer, sauté, slow cooker, and egg maker.   (You can also purchase extras separately:  a glass lid if you're using it as a slow cooker and/or an extra stainless steel inner pan.)
There are SO many easy meals you can make in it for FAST dinners
It's been my sanity-saver on many occasions!
More you might like: