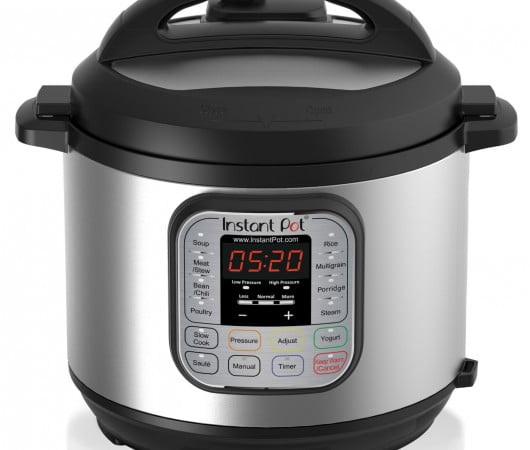 (Note — See my newer post on this topic:  Are pressure cookers safe or healthy for last minute cooking?  Plus why I returned my Instant Pot and what I got instead!)
Feel like geeking out with me?  I've toyed with the idea for a while now of getting this new kitchen gadget and now found two top rated pressure cookers!  (Almost 5 stars on both and a ton of reviews.)
I've got screaming deals on the brain these days as I'm trying to get on top of this Christmas shopping thing… and then I found a gift for myself.  I was thiiiis close to clicking buy yesterday when my Mac froze up AGAIN and I googled a bit and found out my hard drive is dying fast, so I guess a new Mac will have to be my gift and the new kitchen appliance will have to wait.  DARNIT!  But maybe you can get one or know someone this would be perfect for?!
The 7-in-1 multi-use pressure cooker is $100 off right now, too!
The other one (the one I'm leaning toward getting) is only right around $100, too.  I can't wait to come up with chicken pressure cooker recipes, and learn about cooking rice in a pressure cooker, plus they say you can cook a whole roast in an HOUR, you can even brown it in there first!
Here are the two top rated pressure cookers I found, both with 4 1/2 stars and loads of reviews!
This is the one people went nuts over yesterday on Facebook.  It's a 6 qt., 7-in-1 beauty — it is a pressure cooker, slow cooker/crock-pot, rice cooker, it sautes and browns, it's a steamer and warmer, and can even warm your yogurt:
Instant Pot 7-in-1 Programmable Pressure Cooker with Stainless Steel Cooking Pot

But I decided on this one even though it doesn't do yogurt (bummer), but it's an 8 qt. and I figured I'd need the bigger size for our family more often than I'd need the yogurt feature:
Stainless-steel Cooking Pot/ 6-in-1 Electric Pressure Cooker/Slow Cooker
So if you don't mind paying a little more, you could get that one now.  But if you want to save a little, you can get just the one I have that does everything else the Instant Pot does!
Don't know a darn thing about pressure cooking?  Neither do I!  That's why I'm also getting this book:  Pressure Perfect.  If you have a pressure cooker question, it'll be answered here.
 More Kitchen Gadgets I Love: