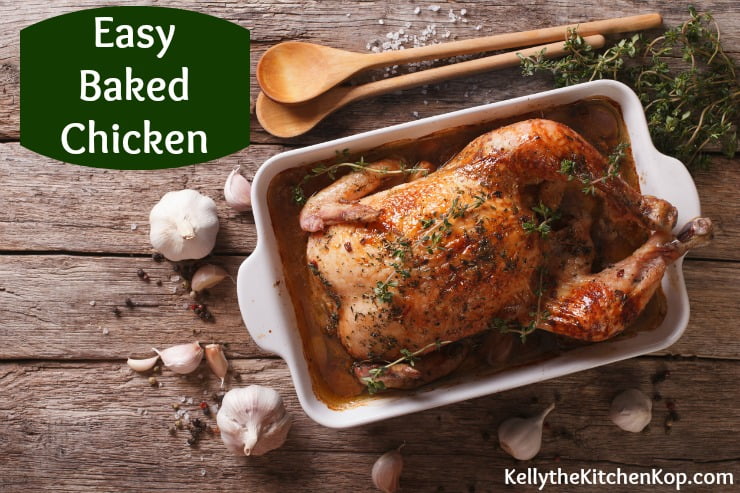 How to Bake a Whole Chicken
Doesn't that picture make your mouth water?  A reader recently asked:  "Where can I learn how to bake a whole chicken?"  I'll show you how today, it's easy!
Note that if you just want some broth and meat to use in recipes, see this post on how to cook frozen chicken in the pressure cooker.  The following recipe however, on how to bake a whole chicken, will give you a nice crispy skin and is a great, simple feel-good meal that everyone loves.
Here's an email I received recently:
Hi Kelly,
I stumbled across your blog a few weeks ago and have been reading all your past posts trying to get caught up and digest all the information.  I am a mom of three children, three and under.  I have always cooked for my family…I thought nutritiously, but now I am finding out otherwise…
I am completely overwhelmed by traditional eating and all that it entails since that is not how I have been running my kitchen :o)  I just ordered "Nourishing Traditions" to try and learn more.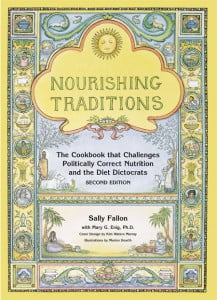 I thought a good place to start would be to make the bone broth you discussed.  I found your directions for the broth and chicken soup, but confession of all confessions…  I can't do step one:  make a chicken dinner!  I have never in my life cooked an entire chicken or turkey.  I always just cooked with chicken breasts, thinking that was healthiest.
Where can I learn to make a chicken?  I bought a small organic chicken this weekend and put it in the freezer.  My husband has fears; he asked, "Aren't there bones in that?"  This is probably a sad commentary on society that my husband actually fears his chicken coming with bones, and that I don't know how to cook a chicken with bones!
Any direction you could point me in would be helpful.
Thank you, Lori
My response:
Hi Lori,
What a cute email – you gave me a good laugh, not because I think you're odd, instead because I used to be the same way!  Now that I've learned how to bake a whole chicken, it's seems super easy, and you'll feel that way soon too.  🙂
Here's how to bake a whole chicken:
First thaw it safely – in the fridge for a couple days or in cold water for a few hours.
Preheat the oven to 450*–this temp helps it have a crispy, dreamy flavorful skin when it's done.
Rinse out the cavity, pat dry with a little paper towel, and place breast-side down in a buttered baking dish.  (Some say breast side UP, others say DOWN makes it juicier.)  We use our stoneware that has a cover, but you don't have to use a covered dish.
Again, you don't have to do this, but it adds more flavor:  use your hands and spread some softened butter around the outside of the bird, then season well with sea salt, pepper, and other herbs and spices you like, such as garlic powder, onion powder, some Italian seasoning, paprika, thyme, rosemary, etc.  Even if you don't use butter, at least salt and pepper the bird.
We usually throw in some extra chicken legs or other chicken pieces because one whole chicken isn't enough for our family now, not enough to have leftovers anyway, and I have to have leftovers so I can make another yummy recipe the next day with the chicken broth…
You could also throw in hunks of washed vegetables cut into chunks, like potatoes, carrots, celery, onions, and some garlic cloves too.
Be sure to add a little water, about 1-2 cups so the bones in the chicken will make broth as it cooks, which you will turn into gravy, of course.  🙂
Bake for 15 minutes at 450* and then turn the oven down to 350* and cook for 20 minutes per pound, until a thermometer inserted into the thickest part of the breast registers 160*. Larger birds and those filled with stuffing take longer to cook.
You could flip the bird over part way through cooking to get it brown on both sides.
If you cook it uncovered (gets more golden brown this way), just watch it and if it starts to get too brown, cover with some foil.
Remove the chicken from the pan and rest it on a cutting board for 15 minutes to allow the juices to settle back into the bird.  (We don't always do this and it's still good right away!)
This is where we usually fight over the crispy skin.  🙂
Carve and serve the chicken and enjoy.
Once you're done eating and the chicken is cool, pick through it to get the rest of the bones out and to get all of the meat off for your leftover recipes.  Quite a few of these poultry recipes can be made quickly once you already have the chicken cooked.  Here are a few good options:

Tips from my friend, Anne:
You'll remember my Anne from her popular Wise Traditions article, Eating Healthy Shouldn't Cost an Arm and a Leg.
I serve this with steamed rice from a rice steamer and maybe some frozen veggies or salad.  (Or here's how to make rice quickly in a pressure cooker.)

This is truly the simplest meal. It literally takes less than 5 minutes prep time, although you do have to think about defrosting the chicken and have to be available to turn the chicken. I usually do this for Monday dinner just to get the week started off on an easy foot. I start the bones boiling for broth after dinner Monday and often will have chicken broth soup for lunch Wednesdays. No one tires of having this once a week.
I often pull a chicken out in the morning and when the kids get home from school around 3 or 4 I have them throw it into the oven and we eat at 5 or 6, it's that simple.  I haven't made this meal myself in a long time!  Also, I have a convection oven and this will shorten your baking time.
A few more tips:
The results aren't as predictable, but you could also do this with a frozen chicken, just add 30-60 minutes baking time at 400* instead of 450*, and when it comes out, if it's still a bit pink as you cut it up, put it back in the oven for a few more minutes.  (Using a thermometer is easiest though.)
Broiler chickens are usually about 5 pounds.
Anne also has cooked a chicken from frozen right in her crock pot for the day, set it on low (or high if you're starting it later in the morning).  She'll often add white wine to the bottom for flavor and sprinkle some tarragon on the chicken.  Kent & I have done this before, too, but the skin doesn't get crispy, unfortunately, which is our favorite part.  It's a good way to get some cooked chicken and broth for using in other recipes later in the week, though.)
The picture here is Kent getting a chicken ready for the oven.  He added a little organic chicken broth to the bottom of the pan instead of water to make extra tasty gravy.  Let me know how your chicken comes out or if you make yours differently?  Be sure to read more tips in the comments!
More you might like:
Meal Planning Help!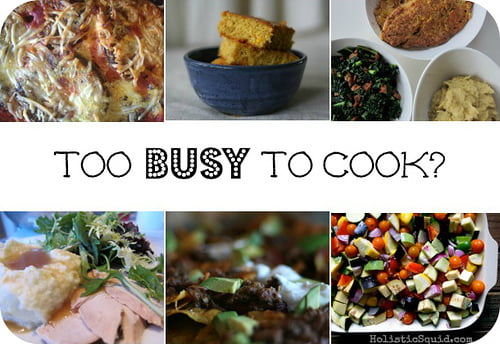 Sick of planning meals and answering the question, "What am I going to feed these people?" No matter what kind of eater you are (traditional, GF, paleo, vegetarian)… Check out these affordable interactive easy-to-use meal plans where the work is done for you.  NOW recipes also available from Nom Nom Paleo, The Paleo Mom, and Wellness Mama all in one spot!  You can read over my review here.