Cooking Frozen Meat in the Pressure Cooker is SO easy
The list of ways I love using my pressure cooker just continues to grow.  For the full list, check here:  10 Best Ways to Use a Pressure Cooker for Healthy FAST Meals — note that I keep adding to that post as I get more ideas, so check back now and then.
How I've decreased my mealtime stress…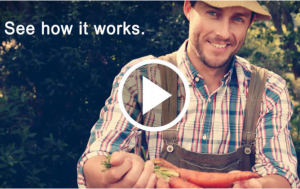 Some things never change and I drive myself crazy because I just don't seem to remember to get meat out of the freezer in time to casually pull dinner together.  (Maybe I've got a few too many things going on around here — Moms, I know you can relate.)  So it always has to be a big RUSH, but the pressure cooker has changed everything!  Even when I'm not good about being on top of meal planning (have you checked out my favorite meal planning program yet?  Click that photo with the farmer to see how it works), now I can still have a delicious home-cooked real food dinner on the table by the time Kent walks in the door and with so. much. less. stress.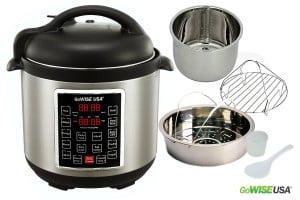 *First, click here for the electric pressure cooker we have (which is on sale again for WAY less than I paid, grrr), or if you're interested click here to read why I returned my Instant Pot and got this instead — short version:  because the Instant Pot wasn't big enough, but NOW the instant Pot comes in the 8 quart size too!  Both versions are very similar though.
Below are two examples of how I do this, but keep in mind that you can use the same methods for any type of frozen meat at all, whether it's a pork loin or a beef roast to make pulled pork or barbecued beef sandwiches, or chicken breasts for one of these fast Mexican recipes, or whatever it is!  (By the way, check out my entire recipe index here.)
Cooking Frozen Meat in the Pressure Cooker Example #1:  Ground Beef (or Ground Sausage, Ground Chicken, etc.)
Does this ever happen to you?  So… it's 4:30pm and you forgot to figure out supper yet.  There's no meat out of the freezer and you're debating if it's going to be another meatless meal night.  (There are several good last-minute meatless ideas here.)  BUT you just did that when you were in the same predicament last night, so instead you pull out your favorite kitchen gadget:  the handy-dandy pressure cooker!
I hadn't tried browning ground beef in here yet — I didn't think it would work since any meat cooked in the pressure cooker basically gets boiled.  That didn't sound real appetizing for ground beef, you know?
But I had an idea…and it worked!  Here's what I did: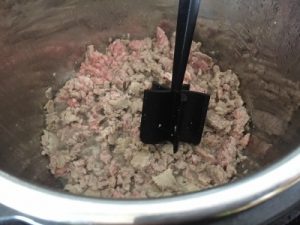 Pull out a pound of ground meat from the freezer.  Note that this can be done with 2 or 3 pounds of meat just fine.  (Find healthy meat here if you don't have a good local source, and if you need help knowing which ingredients or what types of food you should and should NOT be feeding your family, get my Real Food Ingredient Guide FREE here, or get my whole book, Real Food for Rookies here.)
Unwrap the meat and put in the pressure cooker with enough water to cover.
Set it on high for 10 minutes.
When it beeps done, let it depressurize and then drain all but about a half-cup of liquid from the pot.  (Or a little more if you're doing more than a couple pounds of meat at once, basically you want enough so it'll brown, but not burn.)
Turn it onto the sauté mode on low and keep stirring it around as it browns.
You could also add chopped onion here along with sea salt and pepper to give it more flavor.
Basically I just used the pressure cooker to thaw the meat, but because it's a multi-function machine, I could then brown it in the same pot.  Now you're all set and you can go on to quickly make this cabbage roll soup recipe, sloppy joes, spaghetti, chili, tacos, Spanish rice, nachos, shepherd's pie, or any number of recipes that call for ground meat!
Cooking Frozen Meat in the Pressure Cooker Example #2:  Whole Chicken
The other day I noticed that I was getting perilously low on homemade bone broth in my freezer (I use it in so many soups, stews or other recipes around here to add more nutrition and flavor), so I decided to throw a whole frozen chicken in the pressure cooker and see how it would turn out.
This is how I did it:
Cut the wrapper off the whole chicken, usually 5-6#, put it in the pressure cooker and add water until it's almost covered.
Add a few vegetable scraps if you have them (I save them in a baggie in the freezer as I'm cutting up onions, garlic, carrots, or celery) and a small splash of ACV.
Set it on high for 70 minutes, make sure the valve is on "pressure", and let it go.
When it's done cooking:
Let it depressurize and cool.
Strain out the broth to save, of course.
Start picking through it.  (Mine went in the fridge overnight because I didn't have time right then.)  Tip:  listen to a good podcast, watch a TV show that you taped on your DVR, or put on some nice music and then go at it.  Separate meat from bone from throw-away stuff — I use a separate plate for each (see the picture at the top).
Save the bones for another round in the pressure cooker to make more broth — see How to Make Pressure Cooker Broth.
Divide the meat into labeled baggies for the freezer.  There are so many recipes that you can quickly pull together if the meat is already cooked!  Check through my poultry recipes here for ideas.
That's how you get a whole bunch of meals from one chicken, and now several fast-food, real food dinners are in your future!
If you have any questions about cooking frozen meat in the pressure cooker, ask in the comments and I'll try to help!
More you might like: