Last week we had chicken tacos for dinner and normally that's all we would have, but since my sister and niece were here, I wanted something to go with it and I love this easy homemade Spanish rice recipe.
Spanish Rice Recipe: Easy Mexican Side Dish
Ingredients:
2 Tablespoons butter, pastured butter is best
2 Tablespoons olive oil, make sure you're using REAL olive oil, read more about that here
1 cup chopped celery
1 large chopped onion, or 1 Tablespoon dried onion
1 chopped green pepper
1-2 chopped jalapenos if you think your family would go for a little heat
1 cup uncooked rice
2 cups chicken broth — see Bone Broth for Rookies for instructions, OR you can buy some awesome bone broth here if you don't want to make it.
6-8 ounces organic tomato paste (preferably from a glass jar not a can)
14-18 ounces or so of organic diced tomatoes, undrained
Whatever herbs and spices you think your family would like, we like all of these:  garlic powder, oregano, parsley,and sea salt and pepper of course — I like getting spices here so I know they're not irradiated.
Your favorite shredded cheese for the top, if desired
1 pound ground beef to make it a main dish!  (Find safe, healthy meat here if you don't have a good local source.)
Instructions:
Melt butter with olive oil in a frying pan.  Add vegetables (I was out of celery and green pepper and it was still good with just the onion) and sauté until tender-crisp.  Add rice, stir 1 minute.
Add the following ingredients:  chicken broth, tomato paste and diced tomatoes, and spices.
This will look like there's a lot of liquid, but it will soak up as it bakes.
Bake at 350* in a buttered glass bowl or 9 x 13 glass baking dish
for 1 hour or until rice is soft.  (Allow up to an hour and a half and then if it gets soft sooner, keep it in a warm oven.)  When it's almost done, throw on the cheese to melt if you want it extra dreamy — it's not shown with cheese in the picture, but we almost always add the cheese!
***Add browned ground beef to make into a main dish!  (Just brown it in a skillet first, breaking it into small pieces, and then stir into the rice mixture.)
This comes out very moist and flavorful!
If you have a favorite Spanish rice recipe, let us know how yours is different?
Serve with:
Or Kent loves it inside his tacos or fajitas.

Meal Planning Help!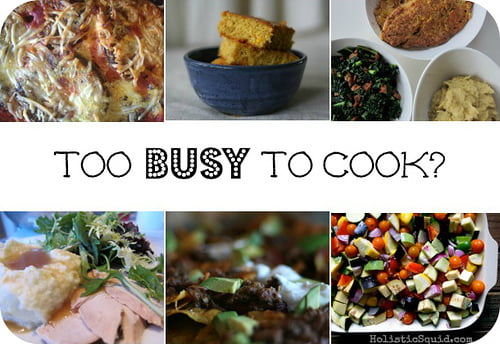 Sick of planning meals and answering the question, "What am I going to feed these people?" No matter what kind of eater you are (traditional, GF, paleo, vegetarian)… Check out these affordable interactive easy-to-use meal plans where the work is done for you.  NOW recipes also available from Nom Nom Paleo, The Paleo Mom, and Wellness Mama all in one spot!  You can read over my review here.