The whole family loves these shredded chicken tacos.  As all you Moms know, when you find a meal that everyone loves, it's a rare and thrilling thing.  I started out first thing in the morning by throwing the rock solid frozen chicken in the crock pot, and later I just pulled some things out of the fridge, baked the taco shells for 4 minutes, and it was time to eat.
Shredded Chicken Tacos
Ingredients:
Instructions:
In the morning, put the broth, chicken and seasonings into your crock pot on high. Let it cook all day, and when the chicken falls apart easily, use a fork to shred it while it's still in the crock pot.
Throw your favorite ingredients onto your shell/tortilla of choice OR just over a bed of lettuce for some grain-free deliciousness.  It's so fast and easy!

Meal Planning Help!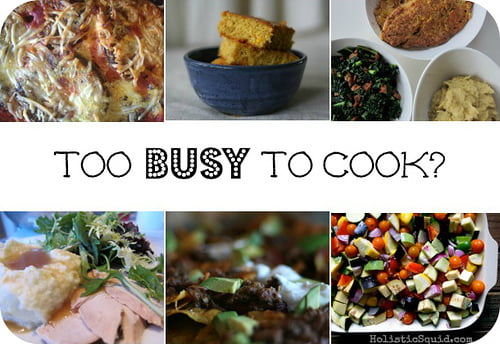 Sick of planning meals and answering the question, "What am I going to feed these people?" No matter what kind of eater you are (traditional, GF, paleo, vegetarian)… Check out these affordable interactive easy-to-use meal plans where the work is done for you.  NOW recipes also available from Nom Nom Paleo, The Paleo Mom, and Wellness Mama all in one spot!  You can read over my review here.