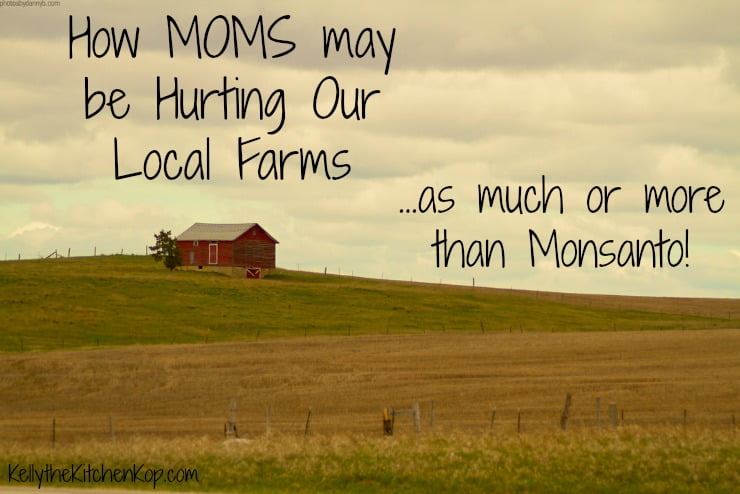 What is hurting local farms more than Monsanto?
First of all, let me be clear.  I'm not pointing a finger at you, but instead it's pointing right back at myself.  We are all so busy and do too much!  Us Moms run around all day every day, trying to do the best we can for our kids.  To feed them well, to help them have all they need socially and academically.  Especially lately when we add in Christmas shopping, cooking, baking, and wrapping…  Wow, we spread ourselves thin!
But our need for convenience is hurting our local farmers.  (Don't worry, though, I have a solution.)
By the way, it wasn't me who said it first.  Yesterday when one of my favorite farmers was dropping off my local pastured meat order to our house (pretty awesome, right?!), I asked if the $5 delivery charge was enough to make it worth it for him?  He said so far it's working out.  (Although he may require a minimum order amount moving forward.)  He considers it as a way to meet the needs of his customers who want convenience, since the farmers market he normally sells at is seeing less people come through all the time, and it's a trend he says is happening everywhere.
WHAT?!  But the real food movement is growing, why would farmers markets be shrinking?!
He told me about something he read in his Acres USA magazine the other day (December 2016 issue, pp. 22-27), where Joel Salatin said this,
Anyone who thinks industrial organics want to co-exist with local integrity food is living in la-la land. We're not the same."

and this:

"In a recent farm tour, I surprised myself by saying to the assembled group: 'Industrial organics is now just as big a liability in our food system as Monsanto.'"
It's us Moms buying convenient "industrial organics" at places like Walmart, Meijer, and Costco that is as big of a liability to farmers as Monsanto!

Yes, I've been just as excited as any other real foodie Mom to see our organic choices growing at the local grocery store…
Because it means food companies are finally starting to GET IT, that we don't want to put crap into our kids' bodies!  I'll happily buy things like organic whole milk grass-fed yogurt from the store, organic grass-fed cream cheese, or pastured-butter, among many other things that I can't get from my farmer or don't want to make myself, but there are some foods I've gotten completely out of the habit of buying at the grocery store:
I very very rarely buy organic meat at the grocery store, or even local "farm stores", I flat-out don't trust it.  Industrial organic meats are likely just factory farmed animals fed organic grains, and the meat labels at the store may boast "no antibiotics", and to that I say, BIG DEAL, that's the very minimum we should expect.  I get most of our meat from my local pasture-based farmer because I have visited his farm, he is okay with me asking him questions, and we have become friends.   (I started out setting up a local drop for this farmer, which helped my friends out too, but as mentioned above, he is now coming to our homes to drop off!)  I also have a favorite butcher who I use for last-minute meats, because he sources from mainly pasture-based sustainable farms.
I only buy organic produce at the store in the winter when I can't get it locally from farmers I know and trust (I'm in West Michigan), and who are treating the soil right so the food will actually have nutrients.  My CSA produce farmer says he is, "beyond organic", because he wants to differentiate himself from the factory organic foods at the store.  Besides, the organic tomatoes I buy in the winter from the store that were grown who-knows-where usually taste as dead as the soil they were probably grown in, but sometimes you just need them for a salad or certain recipes, right?  And at least they don't have all the chemical "…ides" on them, like pesticides, herbicides, etc.  Just don't think that those foods are nutrient-dense like the ones you get from your favorite farmer in the summertime, or even close.  (Read more about the importance of healthy soil here.)
Believe me, I'm just as guilty at times of craving convenience, I'm trying to run my own business and homeschool, too!  
All of us have a LOT going on, but it's a matter of just changing our habits, sharing rides, talking with your friends, and making it work.  Or setting up drops like I've done recently for our meat farmer and now our pastured egg farmers, who come every other week to meet a bunch of us in a nearby parking lot.
Ask your farmer, they might be willing to come to you too — especially if you tell your friends and get them more business!
Also keep in mind that this is not just a local issue, because there are plenty local farms that don't know how to build nutrients back into their soil, and they spray just as much of the nasty chemicals as industrial farms do.  It's important to know your farmer, and it's not that tricky.  Just chatting with your favorite farmers market vendor each week works well, too.  Or ask around to see where your friends get their healthy foods.  You could also use one of the best resources out there:  your local WAPF chapter!
I know it's not JUST convenience that's in the mix here…
It's also about COST.  I've got a bunch of tips to help you with that.  If you sign up for KK emails, you can get my FREE printable on How to Afford Real Food.  By the way, you'll get other great free printables there too, such as:
How to Get Rid of Head Lice Naturally
How to Nontoxically Eliminate Bed Bugs — including DIY instructions for how to make an inexpensive bug trap
Top 25 Simple Ways to Boost Your Health with Apple Cider Vinegar!Real Food Time Savers
Homemade FAST Meal Ideas
Real Food Snack Ideas
***If you ARE already a subscriber but don't have these freebies yet, just email [email protected] with PRINTABLES in the subject line.  She'll verify your email and then fix you up.
What do you think?
Please jump into the conversation and share your thoughts and struggles.  There is no judgment here, we're all just doing our best.  I hope some of what I shared helps you to source better foods for your family more often — just keep moving forward on the journey!