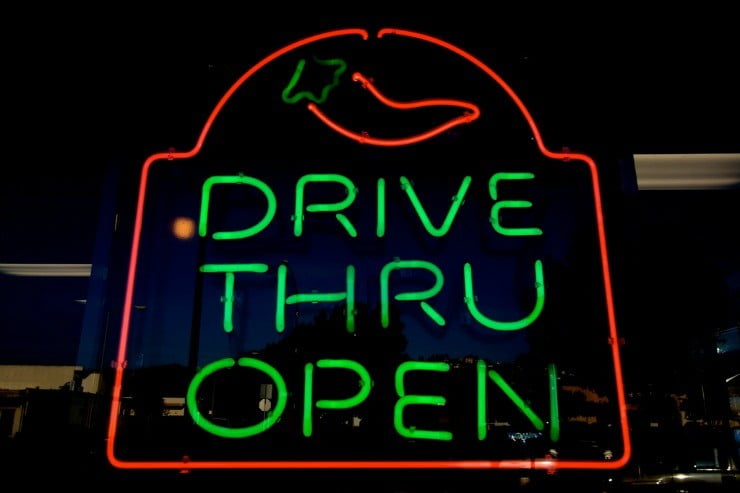 Making your own healthy fast food at home is the best way to save time AND avoid all the junk ingredients found in most restaurant foods and especially the "food" you'd find at a drive-thru.  
Hopefully the last post, Fast Food Dangers, grossed you out enough so that buying fast food is no longer a temptation, or at the least, I hope it is now a very rare occurrence in your life. But what to do for those times when you're too busy, too tired, or too whatever to spend much time cooking and you need some health fast food at home options? (It happens to all of us.) This post will give you ideas for simple and quick meals to help you painlessly go right on by those nasty drive-thru windows.  This list is nice because I almost always have most of these ingredients on hand. (When I pull the last of something out of the cabinet or freezer, I add it to my shopping list right away, because my brain doesn't remember much these days without my trusty iPhone to help.)
First…
Click here for easy printables on the following:

Real Food Time Savers
How to Afford Real Food
Homemade FAST Meal Ideas
Real Food Snack Ideas
How to Get Rid of Head Lice Naturally
How to Nontoxically Eliminate Bed Bugs — including DIY instructions for how to make an inexpensive bug trap
Top 25 Simple Ways to Boost Your Health with Apple Cider Vinegar!
Healthy Fast Food at Home: Lunch suggestions
Before we talk about some easy and fast dinner suggestions, first we should touch on the issue of lunch. If lunchtime is the biggest area of temptation for you, then the main thing that needs to happen, if you are ready to completely avoid fast food, is to PLAN AHEAD a little.   (Click here for healthy school lunch ideas.)
When you're at the grocery store, grab a variety of foods that will make you look forward to lunch and not even think about fast food. (Remember there's lots of junk at the grocery store, too, though…avoid the middle aisles in the store whenever you can and READ LABELS — my book can help you with that:  Real Food for Rookies.)
Even better, take leftovers in a thermos from last night's healthy dinner.
Eggs don't have to be only for breakfast, make a quick egg sandwich with melted cheese.  (And the dinner ideas below don't have to be only for dinner either!)
Try some new salad ideas and mix it up with different ingredients. (I load my salads up and never feel deprived – if you make them right, you feel like you're eating a big treat!)  Remember to make homemade dressings since ALL of them from the store are made with heart-killer vegetable oils that cause inflammation in our bodies.  (Corn oil, soy, canola, safflower… Instead use avocado oil, sesame oil, or peanut oil in moderation (due to their higher omega-6 fatty acid content) or of course olive oil is good in salad dressings (my favorite), make sure it's REAL olive oil.  There are many homemade salad dressing recipes at this link.)
Another idea is something Kent started doing a while back: he began taking healthy snack foods to munch on throughout the day while he's at his desk, instead of having one big mid-day meal. He takes things like whole-milk organic yogurts, all natural or raw milk cheese, crispy nuts, beef jerky from the farm (with no MSG), granola,or see other snack ideas here.
Pizza on bun – my favorite cafeteria lunch growing up!  (Good for lunch or dinner.)
Try this — it's one of my favorites and packs well:  Mom's Old-Fashioned Bologna Mix Recipe.  (Remember don't get lunch meat from the store, that stuff is scary!  Try to find it at a local farm, or get healthy meats here.)
I'm sure all of you have more healthy lunch ideas: please post them below in the comments!
Healthy Fast Food at Home: Dinner Suggestions
We all need a good list of quick dinner ideas to get us through those moments when you might be tempted to say to yourself, "I've had a busy day…" or "I deserve a night off from cooking…" or whatever the excuse might be to head off for some fast food. The best thing when it comes to dinner is also to plan ahead (and maybe do a crock-pot meal for busy evenings), but realistically, that doesn't always happen.  With only a glance below, I can quickly figure out what to make fast, and which meals we have the ingredients for. So now on our crazy evenings, full of soccer practices or games, dance lessons, school or church meetings, etc., what do we eat?
Here are some quick dinner ideas: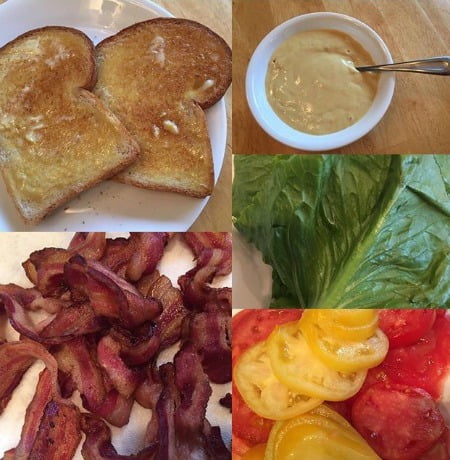 BLTs — super fast and nutritious too if you get your meat from a farmer you trust and you use homemade mayo (or this mayo is the only kind I'll buy at the store.  Also, you can get healthy meat here if you don't have a good local source.)
Other deli meat sandwiches are great on grilled buns with some homemade mayo, lettuce, and tomatoes!  See this post for more on healthy homemade sub sandwiches.
Sometimes when we are REALLY pressed for time and have to get out the door, I'll grab an apple and a cheese stick out of the fridge for the kids to eat in the van to hold them over as we're driving, then we'll eat more when we get home. (Other snack ideas.)
Another idea: if you know you're going to be on the road at mealtime, try "Road Picnics". I can quickly pack PBJ or other types of sandwiches, carrots sticks, apples & water, or whatever, and there's just something fun about that for the kids, even if what we're having isn't anything new.
Chicken sandwiches are pretty quick if you have some chicken breasts on hand:  just fry them in some butter and seasonings (salt, pepper, garlic powder, etc.) — not too long or they'll be dry, fry just 'til they're no longer pink inside.  I use my favorite pan for this.  When they're almost done throw on some cheese to melt, then serve on a bun with mayo (I make this mayo or buy this kind), and some lettuce and tomato if desired.  Everyone loves this.
Here are a couple more quick dinners: salmon patties or tuna melt sandwiches.
Make meals ahead of time to have in your freezer for busy nights. (Or make enough one night for leftovers the next – talk about fast and convenient!) Recently I'd had a busy morning: I helped in my kids' classes at school, ran some errands, came home to work on my posts, and forgot all about dinner. So I was out of time to make the supper I had originally planned. (I can't stand it when I let the afternoon get away from me like that.) Thankfully, I had an extra pan of Shepherd's Pie that I could pull out of the freezer at 3:30, defrost for an hour in the toaster oven, then convection bake it right in there for another hour, and it was ready by 5:30 to eat when Kent got home. Veggies were inside so we just had a little fruit for a side and I was done!
Scrambled eggs (preferably pasture-fed) or toast/egg sandwiches.
These healthy hot dogs – you can boil them if they're still in the freezer when you remember to plan dinner!  If you were able to plan ahead, you could also make homemade buns. (Also at that post read in the comment section about a new twist on the topic of nitrates.)
Brats from the farm can be pulled out of the freezer and boiled in beer for great flavor and a fast dinner!  Just be sure to find buns without a scary ingredient label if you buy them at the store. (No preservatives, buy organic to be sure.)
A couple more easy meals that kids LOVE – make ahead pizza & calzones.
Hamburgers (best: organic, grass-fed beef from a local farm).
Organic Sloppy Joes  (Again, this is extra fast if you already have the meat cooked ahead.)
Goulash is another quick and easy one (the key to making this good, in my opinion, is getting the amounts of salt & pepper right, and serving it with buttered toast… this is a little carb heavy, eh?)
Any organic pasta with a jar of organic pasta sauce or a quick alfredo sauce, and here's an easy ravioli recipe.
"Italian Pasta" – with butter, garlic and grated Parmesan cheese (my kids and day care kids love this) — even better with some homemade pesto and tomatoes or even some chicken like this.  Easily add veggies if desired:  in another pan steam or saute in butter just 'til crisp-tender then toss in with the pasta.
Fried Rice is fast and everyone loves it.
Tacos – regular or shredded chicken tacos (or nachos) – both especially fast if you have the meat made ahead.  I always have either homemade tortillas on hand or organic spelt tortillas that we all like.
You could also use those tortillas to make quick quesadillas if you're like me and usually have cheese on-hand.  (Basically a grilled cheese on a tortilla.  Add salsa and sour cream and chicken or ground beef taco meat if you want.)
This taco soup can be pulled together fairly quickly too and everyone loves it.
One more breakfast that's great for a fast dinner, too:  French Toast Frittata or classic French toast — throw it with some sausage or bacon and it'll be a hit.  It's also a good way to use up any extra eggs.
Mini Pizzas (Quick Compromise Version & Homemade Version) or Pizza on bun – a great way to use up extra buns.  This was mentioned above in lunch ideas, but it's a nice quick easy dinner too!
Burritos or these grass-fed burritos that go over better with the kids because they're less spicy.
Blueberry pancakes are a great last minute meal, or waffles too!
Mom's Eggs Benedict – a breakfast meal that's also great for a fast supper!
This easy breakfast skillet can be made with food you probably have on hand.
Here's one that's not really a formal recipe, it's just something Kasey pulled together one day and it was fast, easy, and tasty…  Melt a stick of butter in a big pan — we used my favorite pan because it's so big.  Add:  1/2 cup packed organic brown sugar, 1/2 teaspoon red pepper flakes, 1 teaspoon garlic powder, 1/2 teaspoon paprika, and 1 teaspoon onion power.  Stir around then add in about 2.5# cubed ham.  Sauté on low heat until ham is hot, cooked and all the flavors have soaked into the meat well.  Drain 2-15 ounce cans of these presoaked beans and stir in with the ham.  If it's a little dry, add more butter or Kasey added a little cream–we all thought this was a little odd, but it tasted good!  Or you could just make baked beans and add ham for a quick meal too.  Add sea salt and fresh pepper to your taste preference.  This served about 4-5 people.
Kent threw together a yummy jambalaya recipe pretty quickly the other day and we all devoured it!  I'll get exact amounts next time he makes it, but here's an approximate if you want to try it.  It makes a huge batch.  Cook 3.5 cups rice (uncooked amount) — for the liquid we did a combination of chicken broth and tomato juice, but you don't have to do that.  Slice 2# polish sausage (find a good brand with no junk in it) and add it to a big pan with the following:  1 chopped onion, 3/4 cup or so of chopped celery, a few dashes of cayenne powder depending on how spicy you like it (taste test as it cooks to see), sea salt and pepper-again to your own taste, 2-3 teaspoons thyme, 1 Tablespoon or so of lemon zest, 1/4 cup butter.  Stir around as it gets fragrant and the onion and celery soften a little.  Add 1 can organic tomato paste and 1 can organic tomato sauce, stir around then add 1-2# cooked shrimp.  Once all of that is hot,  serve it over rice.  YUM.
Comment below and add more to this list of healthy fast food at home options – I know I'm forgetting some good ideas!
More you might like: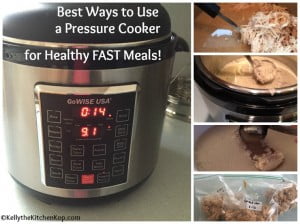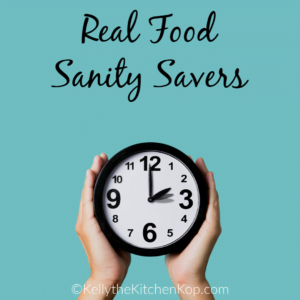 photo credit with this license