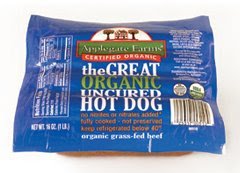 Is it possible to find healthy hot dogs at a grocery store?!
When a friend told me that she'd found organic, grass-fed, all beef, uncured healthy hot dogs at Meijer of all places, I didn't believe it until I saw it with my own eyes. It's TRUE, and they're good too!

Keep reading for why all that is causing me to do back-flips, but first, some information from the package…
Certified organic. Organic uncured hot dog. Organic grass-fed beef. No nitrate or nitrite added.* Fully cooked. Not preserved.
*Except for the naturally occurring nitrites in sea salt and celery powder.
Ingredients: organic grass-fed beef**, water, contains less than 2% of the following: sea salt, organic spices, organic garlic powder, organic paprika, celery powder, organic onion, lactic acid starter culture (not from milk).
**Beef used never administered antibiotics, growth hormones or animal by-products. Grass-fed beef.
IS THAT WILD OR WHAT?
The homemade all-natural healthy hot dogs from the farm that I've had in the past were all only "OK" and the kids didn't go for it. Then I found the all-natural ones from Cosco & Trader Joe's. They tasted good, like a "real" hot dog, and had a good ingredient label (they were also uncured, which means they don't have the cancer-causing preservatives that most hot dogs have), but they weren't grass-fed OR organic like these!
UPDATE: SEE COMMENTS BELOW FOR MORE ABOUT NITRATES/NITRITES!

I'm thrilled! But…the only drawback:
These suckers were $6 for a pound, yikes. We don't have them all that much anyway, though, and it's worth it to know that not only is there no crap in them, but because they're grass-fed, they're full of omega-3's and CLA, too!