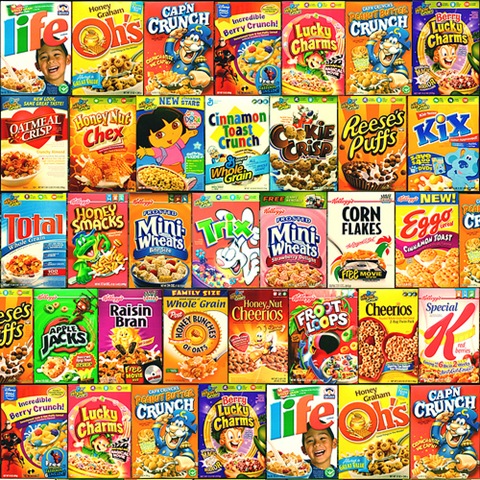 Wondering what's wrong with breakfast cereals?  
You may not like what I'm going to say…
A reader asked:
I was wondering if you could tell me where to find info about what's wrong with breakfast cereals and why not to eat them?  My husband shopped last night and bought Fruity Pebbles!  He showed me that it had the same amount of carbs and only a little more sugar than Crispix.  Help! I mentioned to him that I was going to ask you but he's not going to be easily convinced.  Do you have an article showing research as to why we need to minimize our intake of such empty carbs – especially bleached/sugared cereal?
My reply:
We used to be sugar bomb breakfast cereal freaks around here, too.  I even thought they tasted SO good!  Now that we know what we know, though, they've lost their appeal for Kent and I.  Too bad I can't say the same for our kids.  It took years for them to finally give up and stop asking me to buy them!
Empty calories…
This expensive box of filler-food is a whole bunch of nothing, virtually NO nutrition is I there — only refined and super processed grains and loads of sugar, no thanks!  And this is only part of a bigger issue…
Chemical colors, flavors, and preservatives too
To make all those "fruity flavors" and pretty colors that grab kid's (and sometimes husband's!) eyes so well, do you know how many fake chemicals are used?  Not to mention the preservatives you'll find on the ingredient labels.  These are all strongly linked to attention issues, diabetes, obesity, cancer, and probably tons of other things we don't even know about yet. (More here on the dangers of artificial flavors colors.  And another post on the nasty chemical flavors.)
Our goal is to move away from processed foods
Making things like Fruity Pebbles into those tiny little puffed rice shapes is about as processed a food as you can get, and remember the point is to get away from processed foods and eat more fresh foods as much as possible.  The reason is not only because processed foods are soooooooo denatured, meaning they're far from how any food comes in nature, but because the only nutrients in that cereal are synthetic ones that may have been added back in, and synthetic are much less nutritious (obviously) and sometimes even dangerous.  It just makes sense that vitamins and minerals the way they come naturally in food are going to be better for us than ones that were isolated in a laboratory.
Lastly, when we give our kids these breakfast cereals, which are basically void of nutrition and full of all of those chemicals, we are not only robbing them of the nutrients their bodies need from a breakfast of real food, but we're also training their palate to have to have the sweet, fake-flavored junk that they'll only need to break themselves from later when their health problems start to surface, which they will with that type of diet over the long-term.
So basically, when it comes to what's wrong with breakfast cereals, the better question, is there anything good about them?  And no, there really isn't!
Instead try this…
Also, share in the comments here about how difficult it was for you to give up the Sugar Bomb cereals?