Sally Fallon gave the first talk at the Deidre Currie Festival.
I took notes like crazy, trying to catch everything I could to share with you, but they ended up very hodgepodge. If I confuse you, if you have something to add, or if there's anything you'd like to know more about, just comment below.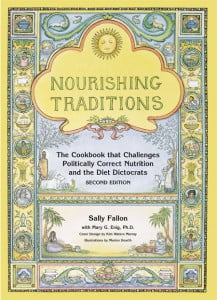 Here is Sally's cookbook, which I love – mine is falling apart: Nourishing Traditions: The Cookbook that Challenges Politically Correct Nutrition and the Diet Dictocrats.
Sally Fallon: Dirty Little Secrets of the Food Industry/The Makings of the "Good ol' American Breakfast"
This usually begins with a bowl of processed breakfast cereal:
A multi-million dollar business. There is 1 or 2 cents of grain in each box, which costs about $4-5 each.
The extruder machine uses high temperature and high pressure to make cereals into little O's or flakes or other shapes. Billions of boxes per year are sold, but yet there are no studies in animals or people on the effects of extruded foods. (More info in the link above on breakfast cereals.)
Pasteurized milk
The milk industry continues to insist that there is no substantial change in milk when it is pasteurized, no more allergens, and that it is no more difficult to digest. (See the Real Milk site.)
Cows at a confinement dairy farm are fed soy, old donuts, chips, or any other waste product. They never leave their cement floor, when all the while, right outside their barn is often the very best food for them: grass.
Average lifespan of cow in confinement is 42 months vs. 10-15 years for a cow raised on pasture.
What a breastfeeding mother eats always affects the milk her baby drinks, so why would it be any different with a cow? Cow's milk quality is extremely sensitive to the diet of the mother.
Cows pumped full of hormones have high production, but low quality milk – they need to be milked 3x/day and the ratio of nutrients per volume are very low.
This type of milk DOES have to be pasteurized – otherwise it is too risky for us to drink.
Pasteurized milk is very sticky, so the big milk tanker trucks are cleaned with very caustic chemicals, and this residue ends up in the milk.
Drinking milk raw builds immune system and helps us to absorb B12.
Great chart on the benefits of drinking raw milk: the destruction of built-in safety systems by pasteurization. Also, see my post, the benefits of raw milk.
These days we have all we need to keep raw milk safe: managed rotational grazing keeps pathogens down, herd testing, and refrigeration.
Raw milk is the only food with its own built-in safety mechanisms. Claims that it is unsafe would not hold up in a court of law.
The milk "problem" was solved by long ago by outlawing inner city swill dairies, the certified milk movement ensured clean raw milk, and increased consumer access to refrigeration… NOT by milk pasteurization laws, but proponents of pasteurization take credit for it anyway.
Raw milk digests itself – our body doesn't spend an ounce of energy on digestion – it's own enzymes go in full gear. However, pasteurized milk calls on the body to digest it.
Most common testimony from families who begin drinking raw milk: "We can't believe the difference in our child! We had a child who couldn't sit still, was always crawling the walls and having temper tantrums. We didn't like our child much, until we switched to raw milk. Now we have an angel, he behaves himself, and we enjoy being with him.
Skim milk powder is added to ALL 1% & 2% milks and is oxidized – it forms nitrates and MSG, but it is not required to be on labels. (Read more: Healthy Milk options.)
Eggs
Typical supermarket eggs come from a farm with as many as 65,000 chickens under one roof – it is toxic to go in there, people have to wear masks when they go in to pick up the dead chickens.
The typical American has no idea of the change in how chickens were raised in the last 50 years. All this commercial meat is coming from diseased animals.
An industrial egg is pale in color, and they feed dyes to the chickens so their yolks have more color. (My post: eggs are a superfood!)
Misc.
Traditional diets are very rich in minerals and fat soluble vitamins – found in all the foods we're told not to eat: liver, organ meats, butter. People in traditional cultures had beautiful straight teeth, round faces, splendid bodies and were immune to all diseases found in civilization today.
In a survey of children with developmental delays and learning disabilities, 95% had dental deformities, but only 10% of the kids with no problems had dental deformities. Why does this matter? The teeth tell the tale – when the teeth are straight, all else is functioning right and built properly in the body.
Vitamin D is "on top of the hit parade" right now and you hear things like, "Can you believe this? Vitamin D is so important, but you can't get it from food, you have to take supplements". But Vitamin D IS in lots of foods – it is found in meat and eggs of animals out on pasture and eating the right foods themselves. (Also found in cod liver oil!)
The food processing industry would not exist without artificial flavors, it would be bland at the least, and sometimes downright gross. Much of it would be inedible without MSG. In late 60's things like canned soups, bouillon cubes, dehydrated soup mixes all became popular, and America is hooked on it now. Many don't realize that you can make better tasting, more nutritious soups and stocks with real bone broth and fresh herbs. (The cookbook above can teach you all that.)
Sally told a story about an overweight woman on a plane: it was suggested to her that maybe she needs more healthy fats in her diet so she feels full. The woman started to cry, "I haven't felt full and satisfied in years." You do not have to deprive yourself on this diet, most find it liberating and indulgent.
More you might like: