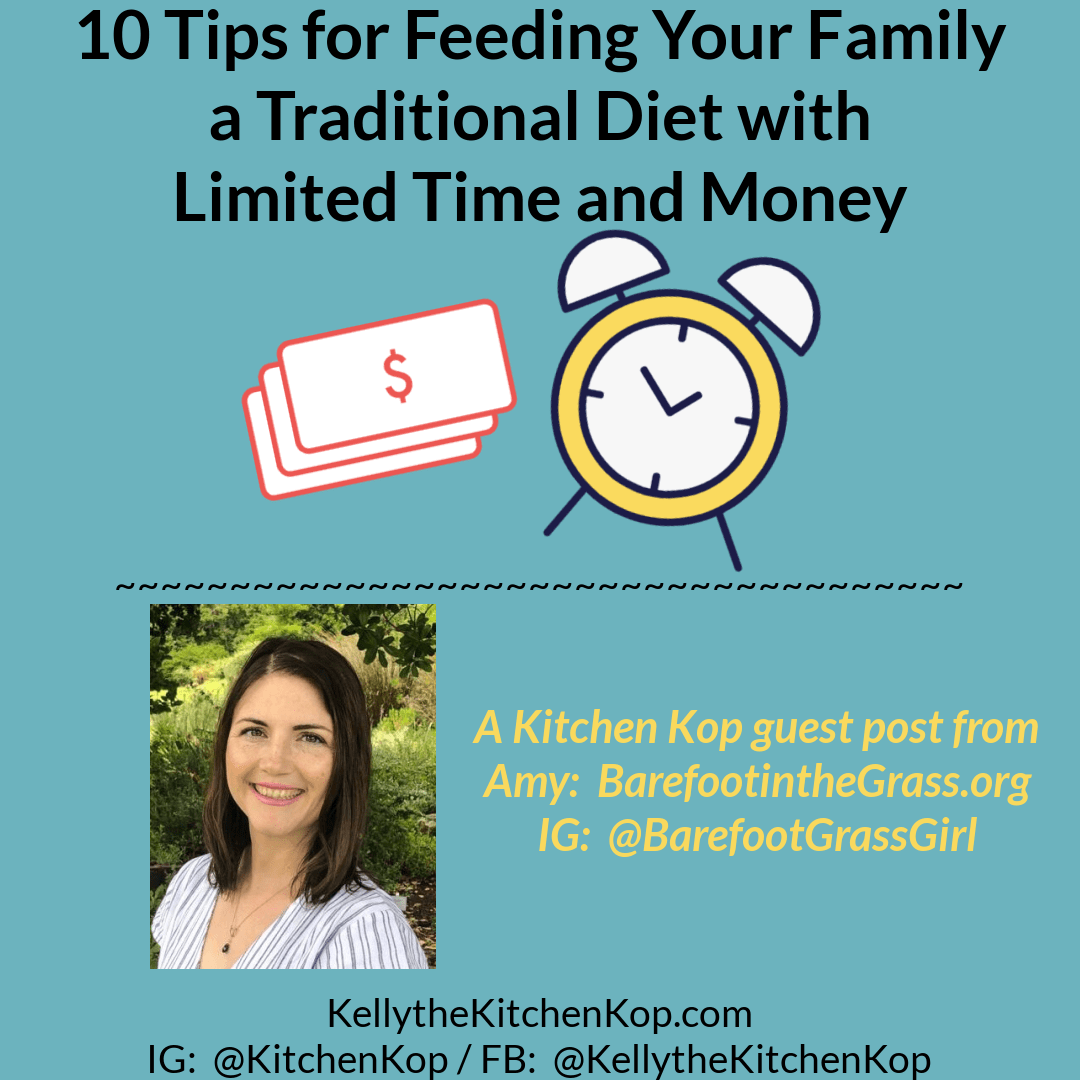 'How to Feed Your Family a Traditional Diet with Limited Time and Money' is a guest post from Amy at BarefootintheGrass.org.  Thanks Amy!
Do you feel like you're just too busy to cook real traditional food meals? Or that the cost of organically farmed foods are just too high? After all, the Weston A. Price diet focuses on high-quality foods that you often have to go out of your way to procure.  They also recommend numerous special preparation techniques that may be unfamiliar or seem laborious.
Take heart, my friend!
I've got a method to the madness that will help you navigate this diet with minimal time and effort. In fact, I've gotten my cooking time down to less than what it would take to drive to and from a fast food joint or wait for pizza delivery!
Our family has traveled a lot and lived in different states and even another country. We have gone from living on a cushy budget to living on a student budget for years at a time. So I've had to learn to adapt to whatever resources are available in any particular region, all while keeping to our families' budget and healthy food values.
After years of sourcing, preparing, and cooking the Wise Traditions way for my family, I've figured out a few hacks that I think will help.
Let's get into the details!
How to Feed Your Family a Traditional Diet with Limited Time and Money:  5 

Time Saving Tips
#1 HAVE A ROTATING MEAL PLAN
This is one of the most important time and money-saving tips! I think choosing meals you can repeat over and over is super helpful when making your meal plan. Stop and think about what types of meals your family loves. Then, choose two to four meals that you can rotate for breakfasts and lunches. Choose four to six meals you can rotate for dinners. In our family, we rotate oatmeal, raw milk smoothies, and eggs (of various forms) for breakfasts. For dinners, we rotate broth, liver, bean, and meat + veggie-based meals. Having a rotating meal plan means you know what grocery items you need and how often you'll need them. You'll know how much time it takes to prepare and cook them as well. It saves time because you're not fumbling around twenty minutes before dinner trying to figure out what to cook.
Need help with meal planning?  Check out this awesome affordable resource!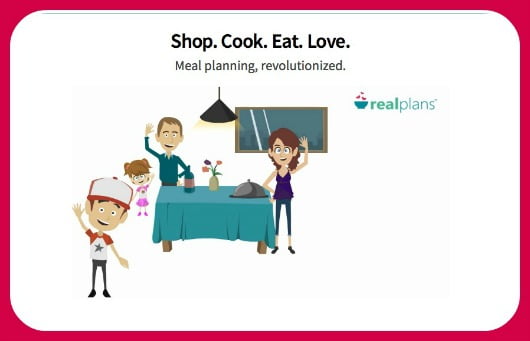 #2 KEEP IT SIMPLE
I know my cooking connoisseurs may not like this… but when you're short on time, making 'single item' meals is the easiest way to get things done fast. Instead of creating long-winded casseroles and baked concoctions, stick to the 'single item' principle. Instead of trying to make a veggie bake, just roast and serve the vegetable by itself! Instead of making an egg bake, just eat scrambled eggs with some pasture-raised ham tossed in. Instead of making an elaborate mixed fruit salad, just offer simple cut fruit and so on. Having baked meat (say chicken or fish), some roasted veggies, and possibly a side of previously made sauerkraut is a simple and super quick dinner plan. This also saves a lot of money on the extra ingredients needed to create that multi-ingredient dish.
#3 COOK DOUBLE
Since you're putting in the effort, why not make double… or triple? They're great for lunch leftovers or freezer meals! In our family, heating leftovers for lunch is our most common lunch. This is especially useful with broth soups, chilis, and other lentil-based dishes. It's so easy and quick – heat it on the stove or oven, add some sauerkraut or sprouted/soured grain bread, and voila! In ten minutes or less, lunch is ready. If you work outside the home, heat it on the stove in the morning. Then store it in a stainless steel thermos for work or school later that day. Cooking double at night saves you lots of cook time the next day.
#4 PREP AT NIGHT
This is a HUGE key to success with the Weston A. Price diet.  Much of this diet includes soaking, simmering, and souring. The sooner you can make these habits into a lifestyle, the easier traditional cooking will get for you! For me, doing them at night before bed works perfectly and now they have turned into evening habits.
I call it my 'twilight hour of power'.  The magic happens while you sleep!
Here's what you can get started at night, and it really doesn't take much time:
Beans soaking in water or here are the beans Kelly uses that are presoaked and very affordable!
Bones simmering in water.  Need help?  Here's How to Make Bone Broth for Rookies.
Flour mixed with kefir or yogurt to be soured for bread and pancakes.
Nuts soaked for making Crispy Nuts–a nutritious snack!
Thaw out hamburger meat (or any meat) in the fridge for the next day. (This is Kelly jumping in:  I always forget this step, which is why I love my pressure cooker: Cooking Frozen Meat in the Pressure Cooker to Decrease Mealtime Stress!  Also check out this post: 10 Best Ways to Use a Pressure Cooker for Healthy FAST Meals.  Also, here's where to get pastured meats online if you don't have a good local source.)
Kefir grains mixed with milk. (How to Make Dairy Kefir.)
The next day, all the heavy lifting has already been DONE for you!
Beans and hamburger are ready to be put into the crockpot to make a nice chili or lentil soup. The bread dough is ready to be punched and baked. Pancake dough is ready for the griddle. The broth will be ready around dinner time to add to whatever soup you want to make. The kefir grains will be ready to be strained into kefir milk.  By doing this simple prep work at night, you're laying the foundation for all the items you need for cooking success the next day.
#5 GET EVERYONE INVOLVED
In my house, anyone whose head is above the sink has kitchen duties! The more hands-on-deck, the easier everyone's jobs will be. If they're old enough to cook, make sure they're assigned cooking as well.  (Need help teaching your kids to cook, check out this class my friend Katie teaches to make YOUR life easier!)  My life completely changed when my husband and I sat down, looked at the calendar, and decided on three nights per week that he would cook for the family. I recommend scheduling family members to contribute to certain meals each week. Additionally, my kids always take their plates to the sink and unload the dishwasher. Once a meal is done, everyone is required to work together until the kitchen and dining room are clean again. You may find that a different system works better for you, but asking everyone to contribute in one way or another will make the load lighter. Make sure you have a simple chart or calendar to hang on the fridge, so the cooks in the house know how to prepare the night before for their assigned meals.
I love how Kelly engages her family to help with meal prep and housework too:  Real Food Sanity Savers: 8 things I do and 3 things I definitely DON'T.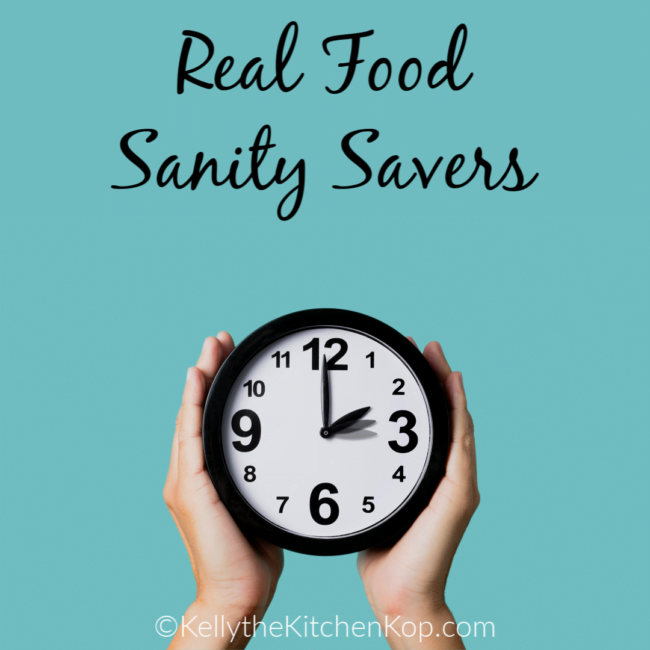 How to Feed Your Family a Traditional Diet with Limited Time and Money:  

5 Money Saving Tips
#1 HAVE A BUDGET
Once you've been shopping for the specific items you need for a WAPF diet for a few months, you should have a general idea of how much this way of eating will cost you. Include CSA/farmers market produce, organic grains (if you're eating it), grass-fed meat and bones, and raw milk into your calculations. Even with all of these specialty items, our family's monthly food budget is on par with the USDA average for a 'moderate cost' food budget. For us, this extra money we have to spend above the 'thrifty cost' budget is well spent.
Eating healthy is a huge priority and we'd rather spend our dollars on healthy high-quality food instead of expensive doctor bills!
With that in mind, we do set a particular monthly dollar amount aside for each of these categories to keep our finances on track:
We have a total monthly"Grocery Budget" broken down into a weekly budget for all non-milk and meat items.
Raw Milk (2% of budget)
Grass-Fed Meat, Bones, Raw Cheese and Pasture Raised Eggs (25% of budget)
Knowing your limits and having a spending plan will prevent you from overspending on food. Now that you have a specific budget in mind, let's discuss a few ways to get your food costs as low as possible. You may be able to reduce your budget even further…
#2 ANIMAL PROTEIN SUBSTITUTES
Animal protein is an important source of B vitamins and iron. Grass-fed beef, in particular, offers the benefit of Omega 3's and CLA's. Also, animal protein offers a complete amino acid profile. However, even Weston Price himself suggested that protein consumption need not be more than an egg or an egg's worth of meat per day to meet the body's needs. The WAPF suggests 10-20% of calories come from animal sources based on early records of real food consumption, pre-modernization of food.
So why not try out some other protein substitutes?
Sarah, from The Healthy Home Economist blog, shares that bone broth is a 'protein sparer' because the gelatin prevents the body from needing the protein from its own muscles. Bones to make broth are often cheap to source and there are myriads of delicious soups that can be made with a broth base.
Additionally, beans and lentils are inexpensive and there are some wonderfully tasty ways to prepare them. When you're short on cash, beans and rice are your friends. We find that lentils are easier than beans on digestion and super quick to cook. Our family loves split pea soup and curried lentils.
Dave Ramsey suggests using eggs in frittatas or quiches for a frugal dinner.
Lentils, beans, broth, and eggs are fantastic ways to reduce your monthly protein expense.
#3 LIMIT EXPENSIVE ITEMS
As mentioned in the last point, many expensive food items such as meat can be reduced to keep costs low. We choose to only eat grass-fed animal meats two or three times a week and make beans, rice or noodles, eggs, or soups the base of our other meals.
Also, choose nutrient-dense, low-cost animal proteins such as liver and organ meats.
Limit high-cost cuts of meat to special occasions.
Our family relishes our raw grass-fed milk but we ration it out to one gallon per week for drinking and meals.
Switching from pre-packaged meals is another frugal move to make, as cooking the same meal from scratch will always be less expensive. Make it a goal to cook from scratch at home every day!
If you love packaged chips and snacks, limit your splurge to once a month or so. In our family, I'll buy one or two bags of dried fruit and organic dark chocolates from Costco… but only once a month!  If you have time to make them yourself, all the cheaper.
#4 KEEP IT SIMPLE
It may sound like a no-brainer, but eating less means you spend less!
#5 OTHER SUGGESTIONS
If buying in bulk is an option for you, check if the prices are actually cheaper, and if you do cook with a particular item often, buying in bulk can be very cost-effective.
Another idea is to join a cow share where everyone shares the cost of a cow and stores it in an extra freezer or friend's freezer.
Joining a local CSA (Community Supported Agriculture) is a great way to boost your nutrient intake and reduce your average organic produce costs at the supermarket.
Local farmer's markets may be another good source for healthier foods in bulk or bulk produce on special at the end of the day.
Even better is to grow your own produce!  <–More of Kelly's posts about gardening are at that link.
YOU CAN DO IT!
Eating in a nutrient-dense, traditionally prepared way does take some time to figure out and it takes time to figure out where to source all of these unique ingredients. Be easy on yourself and make one change at a time. Having your meal plans and budget in place, simplifying your routines and meals, limiting expensive items, and getting everyone to help should keep your cooking time and budget to manageable limits. These tips should help even the busiest modern family eat healthy foods regularly. Get determined to find your best 'low cost' and 'minimal time' version of real food eating.
If you would like a real food shopping guide and more about how to feed your family a traditional diet with limited time and money, Kelly wrote an excellent and affordable book, "Real Food for Rookies", and it's available for only $6 on Amazon Kindle!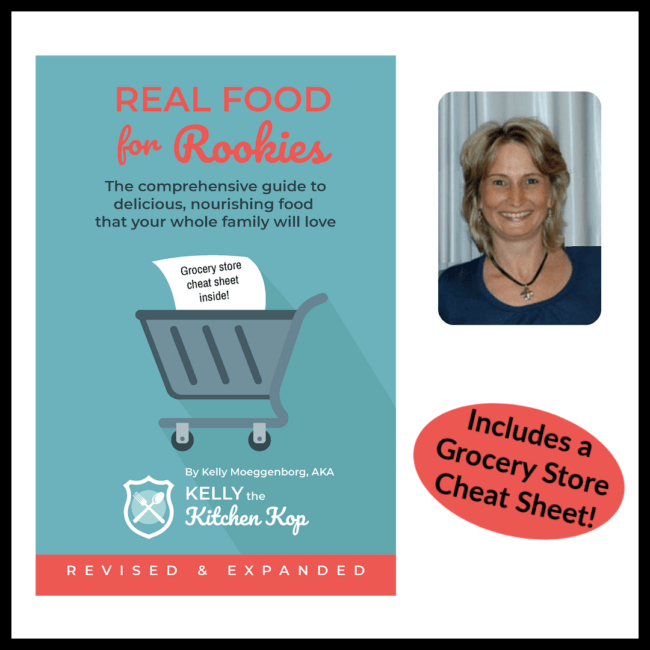 I challenge you to try a couple of these suggestions in the next week or two and let me know if it makes a difference in your time and budget, your health and your family's health are worth it!
More you might like:
Kelly has also written about these topics before here on the blog if you'd like to scroll through to take a look (you'll have to scroll past this post first):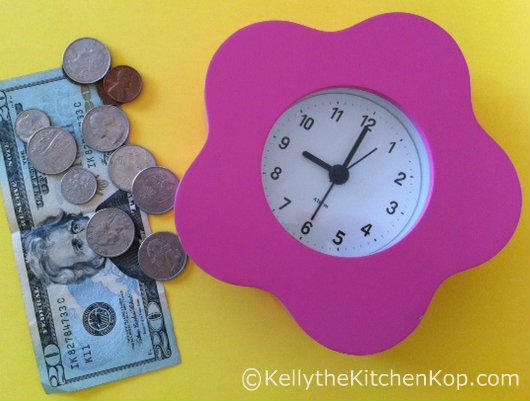 If you'd like my soup, liver, or dessert recipes, or my Costco shopping lists, please email me at: [email protected].
About Amy:
Amy loves to teach a 'back to earth' diet and lifestyle that helps people avoid illness and enjoy vibrant health!  She's passionate about studying health from a natural, holistic perspective and loves sharing her practical insights.  She has an Associates in Theology, and a Bachelors in English and Business.  She's married with two lovely, healthy homeschooled kiddos.  She blogs at: BarefootintheGrass.org.