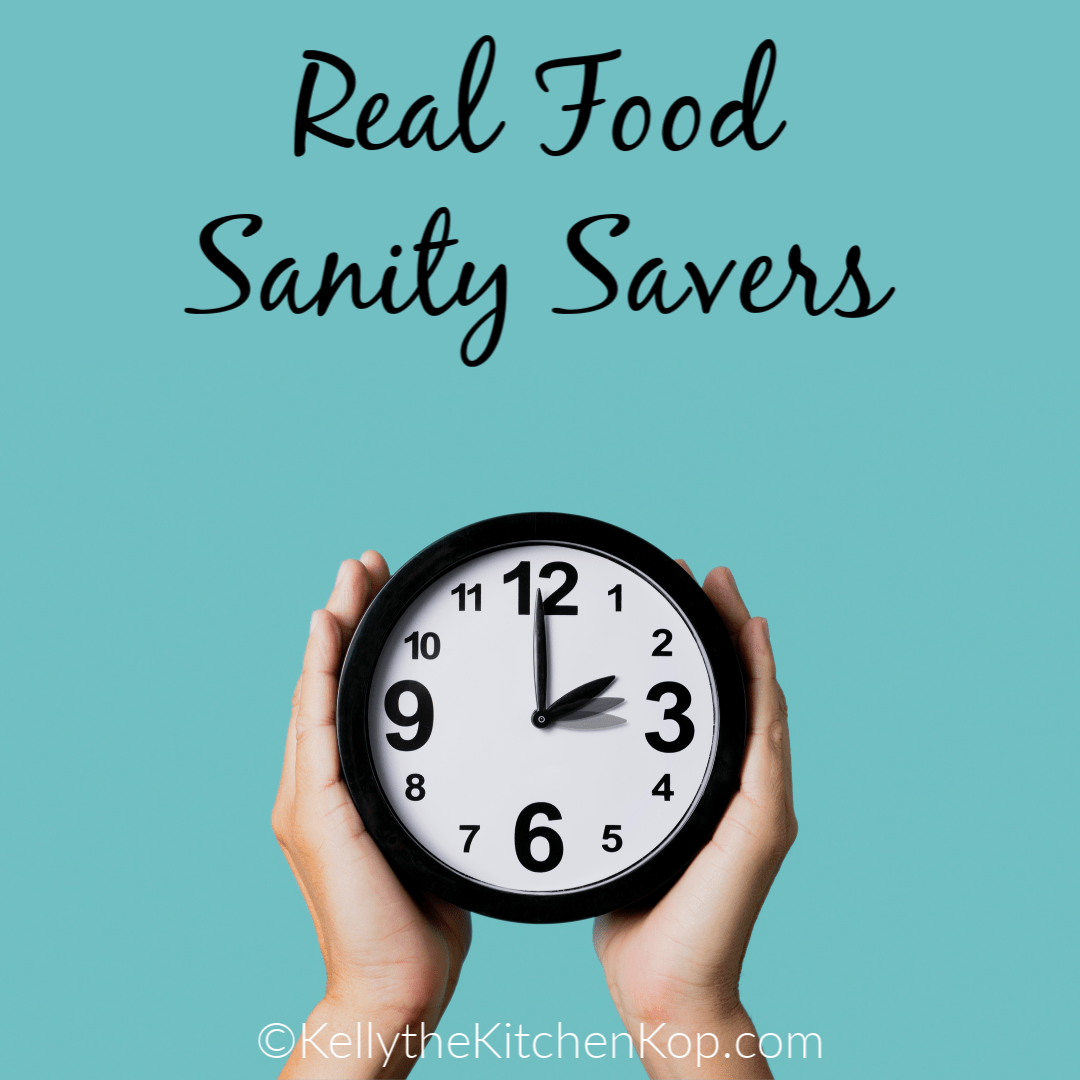 How do you get everything done in a day? A reader asked me that question, and this post is the answer!
As a real foodie, you know that staying on top of everything in the kitchen and out of the kitchen can take more time.  Today I'll share some real food sanity savers and tips on busy lives in general — I'll tell you which things I am able to pull off and what just doesn't happen.
Keep in mind that while some of the extra steps that I've added since my "food conversion" do take more time, many of them can be streamlined pretty easily and aren't that time consuming.  It's all up to you as far as how many new routines you're ready and willing to implement into your life.  If you're overwhelmed, take it slow!
Here are my 8 basic tips and real food sanity savers: 
1.  Appreciate a Helpful Husband – I've said it many times…  I'm so thankful to Kent's Dad & Mom for raising such a good guy. One who isn't afraid to cook, clean and everything in between.  He's my toilet-cleaning, weekend-cooking, laundry-folding, do-what-has-to-be-done kind of guy, and I couldn't keep on top of any of this without him.  (Plus he does pretty much all of the lawn and garden stuff.)  My Mom did it with very little help from my Dad (although he did the outside stuff too) and they had five kids, plus she worked a separate full time job!  So I know it can be done, but it surely wouldn't be easy, and running my own business would be even trickier.  Also keep in mind that Kent works regular hours, not all husbands do, so they may not be able to help as much.  If your husband isn't as quick to jump in or can't for whatever reason, don't give up, just ask for help here and there and be sure to say thank you… be creative.  Wink, wink.  🙂
2. Find a network of neighbors and friends and help each other – we're blessed to know many people who are growing with us in our knowledge and commitment to a healthier lifestyle.  Here are some ideas for how to implement this with your friends:
These days we have meat delivered to us from our local farmer (for real!) or we pick it up when we get our milk.  But in the past, we'd take turns with friends and alternate going out to the farm for our pastured meats.  (Go here for healthy meat delivered if you don't have a good local option.)
It's all about saving trips and therefore time.  So if one of us is going to Costco or to a health food store across town, or even just to the nearby grocery store, we often call to see what the others might need.
My friend Sonia used to get our eggs from a farmer near her Mom and drop them off here.
Once my friend Sue was picking up maple syrup from a guy who lived far out of town, so she grabbed 15 gallons of syrup for various friends while she was there.
We used to have a raw milk cowpool set up so nobody made the 40 minute drive out to the farm more than once a month.  Now our pick up is much closer, but I still take turns driving with one other friend right in our neighborhood.
You get the picture, find like-minded friends!  –> Don't know where to look? 
Start going to your local Weston A. Price Foundation chapter meetings!  Or at least call the chapter leader for help or suggestions.  Also, make an effort to get to know your neighbors, start by taking them a plate of your favorite Nourishing Traditions treats!  Have you had the almond cookies?  Or the rosemary walnuts?  Strike up a conversation and if they're not a real foodie already, maybe they will be soon!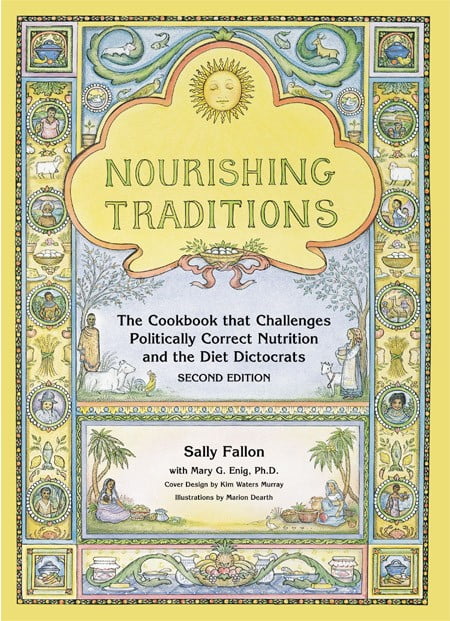 3.  Working from home really helps – as I said above, if you work full time outside the home, it doesn't mean you can't cook healthy meals for your family (my Mom still did), but you'll need to be on your game for sure.
(Have you seen these ideas for be-your-own-boss jobs?)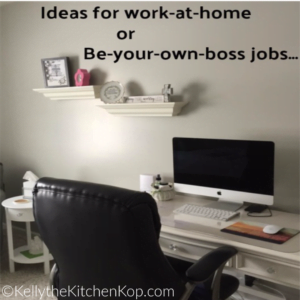 4.  Stay organized!  First it was my little paper calendar and my favorite pen (<– did anyone else have one of those?!), then it was my palm pilot–ha!  Then in late 2009 (early 2010?) I got my first iPhone and between that and my laptop, I couldn't function without the notes, calendar, and all the little tools that help me stay on top of things.  Whether it's my favorite meal planner, keeping track of kids' schedules, or just a note (with an alarm!) to get meat out of the freezer, it's the main reason I stay somewhat sane.
5.  Keep a few lists handy: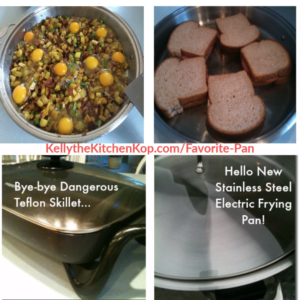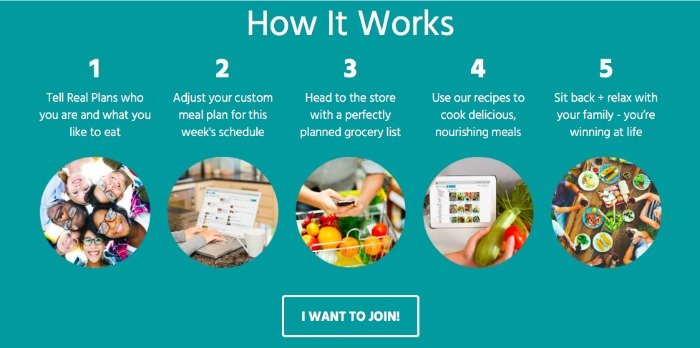 6.  Multi-tasking is a must. There is rarely time to dawdle.  (Although I purposely don't plan as much on the weekends so I can have the luxury of moving at a slower pace.)  If I'm folding, loading the dishwasher, or chopping for a recipe, I'll also make a phone call to catch up with a friend, quiz the kids for a test, or listen to another one read to me.  More on multi-tasking below…
7.  Get the kids to help!  God gave us kids so we could work 'em, right?!  (Joking…sort of.)  If there's something that requires a lot of chopping or busy work, get the kids involved.  I have them do things like unload the dishwasher, fold clothes, empty trashes, water plants, and even clean bathrooms, because that's stuff they can do, while I'm doing all the other stuff they can't do.  (And I want to give our kids' spouses the same gift my mother-in-law gave me!)  These days the kids cook a lot too which helps a ton–want your kids to cook but need help teaching them how?  Check out these affordable classes where my friend Katie will teach them!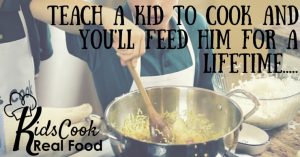 8.  Take Sundays off.  I'm not always perfect at this, but God is smart and when He asks us to chill one day a week it's because we need that so we don't lose our minds.  I love to cook, so often I'll spend more time in the kitchen on Sundays while watching a Pureflix movie, or I'll take a nap on our deck swing, go for a walk, do something fun with the kids, or listen to podcasts as mentioned above.  It's not easy when the to-do list is looming, but I'm always grateful when I take the day off, and somehow the world doesn't crash just because I didn't get one more thing done…  I love this quote: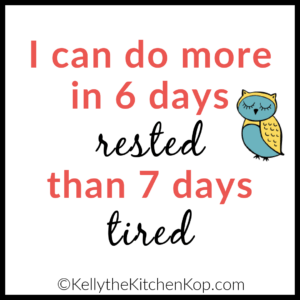 It is surely not easy to keep up on things, but somehow it works and I only pull my hair out occasionally.
Yet something always has to give–3 things I've had to let go…
As much as I try, I can't do it all.  Here are 3 things that I have let go in my life for now in order to give priority to other things, like growing in my faith, being a wife and mom, feeding my family well, running my own business, staying connected with friends and extended family, homeschooling, and of course my own health:  sleeping and walking used to go by the wayside, but not anymore!
Reading.  I absolutely LOVE a good book or magazine/journal, but often my stack just sits there.  (However, a little update, lately I've been feeding my multi-tasking addiction and I'll sneak audio books in here and there while I'm out for a walk, folding laundry, or cooking!  Another hint:  walking is also a great time to pray or make phone calls.)
Volunteering.  I used to volunteer a lot more than I can now and was always in charge of 1 (or 5) things at church.  I was also WAPF co-chapter leader for a few years, and before we homeschooled I was in the kids' classes weekly too.  But I can only do what I can do, and for now I know that adding more to my plate would only make me a stressed out, ornery wife and mom.  Someday I'll be able to do more again, but these days I really stop and think and pray before I say yes to anything.  If I can pull it off without a lot of stress and I feel like it's God's will after praying about it, then I'll do it.  If not, I don't, and I don't feel bad about it either.  It gets easier to say no when you remember what Jen Fulwiler says: "To say no is to protect what you've said yes to."
Cleaning!  Not that I've ever been great about this.  Keeping things picked up is a priority for both Kent and I, but keeping things dust-free…not so much.  We do it when we have to before company and that's about it.  Sorry Mom, but that's one that didn't stick!  Someday soon I plan to hire housecleaning help!  (Update:  2020 wasn't ALL bad, I got a cleaning lady!)
That's my list, what are YOUR tips and real food sanity savers?  What do you keep up on and what do you let go?
More you might like: