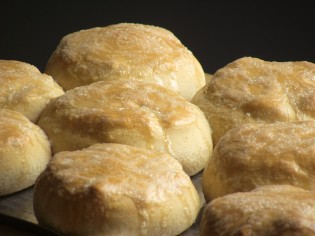 VARIATIONS YOU CAN USE WHEN MAKING THE ORGANIC SOAKED ALMOST 100% WHOLE GRAIN HOMEMADE BOSCH BREAD RECIPE:
For each loaf of bread, you can make one of these instead:
8 hamburger buns

A cookie sheet full of Breadsticks

12 dinner rolls

12 cinnamon rolls
If you don't need them that day, you can shape them, put them on a piece of parchment paper on a cookie sheet, or in a baking dish, and freeze them for later. (Just thaw early so they have time to rise before you need to bake them.) For buns or rolls, after they're frozen, I put them in labeled freezer baggies to free up the pan they're on.
Here are more specific directions on these variations, but keep in mind that the Bosch recipe mentioned above is more nutritious than the one at that post, because of the "soaking" ahead of time. (Unless you're using sprouted flour, then any recipe is good, but sometimes those recipes are tricky.  Another great alternative for healthy bread is sourdough, here's the best sourdough bread recipe!)

More help: