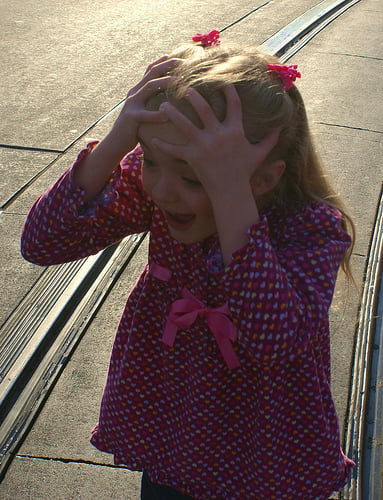 I have been reading your blog for a few months now and I am trying to make baby steps towards healthier living. However, I feel completely overwhelmed. You have so many great resources on your blog…recipes, rookie tips, etc., that I find myself not knowing where to even start. I am a busy working mom of 2 little ones so I don't have much time to spend in the kitchen. Can you offer some advice, encouragement, tips to navigating your blog, etc. How do I get started? I am also on a strict budget so buying organic is not always an option. Please help me take baby steps without the guilt of failing or feeling so overwhelmed! Thank you!
My response:
I've now added a new section on my blog just for you:  Start here!
You also may want to read:  How I (attempt) to get it all done.
It's great that you stepped out and emailed. You can't grow and learn without asking questions and searching for answers.
Taking it slow is definitely the key! As you read the blog, say things to yourself like, "I'll get there eventually…", and just let the various ideas sink into your brain so you're ready when the time comes.
You may want to get my Grocery store cheat sheet (when you sign up for my newsletter there, you'll get a bunch of healthy eating resources free, including my Real Food for Rookies online class!), and you also may want to grab a copy of my book, Real Food for Rookies.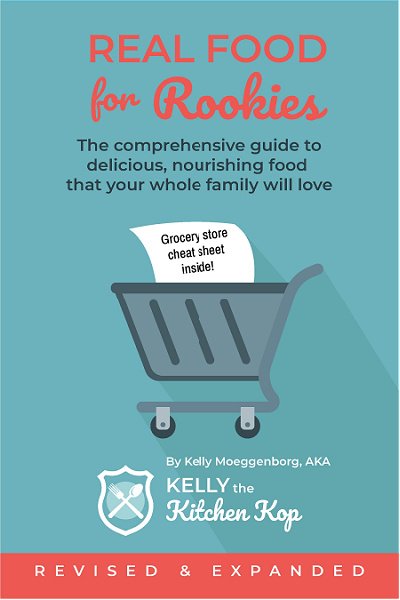 Also, as you do this, I'll bet you'll find yourself changing other little things as you go along, just because you'll have the knowledge to do it floating around in your head. It will be natural and won't seem like too big a deal as those little things happen.
Before you know it, you'll be closer than you expected to where you'd like to be!
I know it's hard to take it slow, I like to "fix everything" all at once, too. But you have to be patient with yourself – there is just not enough money or time to buy everything you'd like or DO everything you'd like to all at once. LATER, when more pieces of the puzzle are "old hat", then you can put them all together, add more now and then, and not be overwhelmed.
Another place you may want to focus on at my blog besides the Rookie Tips is the "Fast Food – Healthy Options" post. Scroll down there for meals that you can pull together fairly fast, or also check out the crock pot recipes – those are good for working moms, too. Don't worry about not buying all organic right now, but do try and look at labels and find the more natural choices when you can. If you can't, it's okay, you can only do what you can do. Think about it like this: just that you are ASKING these questions shows that you're WAY further along the journey than most people!
Lastly, (should be first actually!) be sure to pray about it. I say this all of the time, but remember He can do the impossible! What seems like such a huge hurdle right now (getting your family eating better overall), may be something you look back on in 6 months and say, "Wow, I can't believe how far we've come!"
More you might like:
Comment below if you have more suggestions for the reader above, or for all those who feel the same way – I'm sure there are many – I remember feeling this way myself!
Here's the recent post on this topic: YOUR Tips for Beginners