If you're a real foodie, staying on top of everything in the kitchen and out may be extra tricky.  Today I'll share some tips and tell you what things I actually do pull off and what goes by the wayside.
Keep in mind as you read this that there are many others who are much more organized and streamlined at all of this than I am.  Also keep in mind that while some things I've added since my "food conversion do take extra steps, many just aren't that time consuming.  Yes, some do take up more time, but it's all up to you as far as how many new routines you're ready and willing to implement into your life.  Take it slow!
Here are my basic keys to making this work:
1.  Appreciate a Helpful Husband – I've said it many times…  I'm very thankful to Kent's Dad & Mom for raising such a good guy. One who isn't afraid to cook, clean, and everything in between.  He's my toilet-cleaning, story-reading, weekend-cooking, do-what-has-to-be-done kind of guy, and I couldn't keep on top of any of this without him.  My Mom did it with very little help from my Dad, and she had five kids and worked full time, too.  So I know it can be done, but it surely wouldn't be easy, and running my own business would be out of the question!  If your husband isn't like this, don't give up, just ask for a little help here and there, and be sure you say thank you… be creative (wink, wink).  Also keep in mind that Kent works regular hours, not all husbands do, so they may not be able to help as much.
2. Find a network of neighbors and friends and help each other – we're blessed to know many people who are also growing with us in our knowledge and commitment to a healthier lifestyle.  These are all ideas for you to implement with your friends:
We alternate trips to the farm for our pastured meats.  (Click here for healthy meat if you don't have a good local source.)
If one is going to Costco or to a health food store across town, we'll call the other to see what they need.
Recently Sue was getting some maple syrup from a guy way out of town, and she picked up 15 gallons of syrup for various friends.
Sonia gets me eggs from a farmer by her Mom.
We have a raw milk cowpool set up so nobody drives out to the farm more than once a month.
You get the picture – find like-minded friends!  (Don't know where to look?  Start going to your local WAPF chapter meetings; get to know your neighbors – start by taking them a plate of your favorite Nourishing Traditions treats!  Have you had the almond cookies?  Or the rosemary walnuts?  I tried those at our last chapter meeting and they were soooo good.)
3.  Working at home really helps – as I said above, if you work full time outside the home, it doesn't mean you can't cook healthy meals for your family, but it is definitely more tricky.  You most definitely have to plan ahead much more than the average person.  (Have you seen these ideas for be-your-own-boss jobs?)
4.  My PALMER! I couldn't function without this little gadget to help me remember it all – it actually IS my brain most days!  Whether it's kid's schedules, a note to make more yogurt, or everything in between.  It's the main reason I stay somewhat sane.  (UPDATE – haaaa, wow, this post was a long time ago!!!  Does *anyone* still have palm pilots or aren't we ALL on a smart phone now?!)
5.  My fast food list is invaluable for nights I just didn't get supper going when I should have or for days I don't have time to cook.  There are some days that I'm in the kitchen ALL afternoon, but not many.  I'm not a fancy cook, and I just can't spare a whole afternoon very often.  (See my newer post:  10 BEST ways to use a pressure cooker for fast healthy meals!)
6.  Multi-tasking. There is rarely time to dawdle.  (Although I purposely don't plan as much on the weekends so I can have the luxury of moving at a slower pace.)  If I'm folding or loading the dishwasher or chopping for a recipe, I'll also make a phone call to catch up with a friend, or quiz the kids for their spelling test, or listen to another one read to me, etc.
7.  I get the kids to help! God gave us kids so we could work 'em, right?!  (Joking…sort of.)  If there's something that requires a lot of chopping or busy work, I'll get the kids involved.  And I'll often have them do things like unload the dishwasher, fold clothes, empty trashes, etc., because that's stuff they can do, while I'm doing all the other stuff they can't do.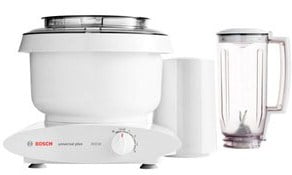 8.  At least do some meal planning, to make things more smooth.  I use my family favorite meals list too – a list of meals everyone likes that I always have the ingredients on hand for.  When I cook I make extras (usually using my Beloved Bosch!) so I have meals to pull out of the freezer later on busy nights
It is surely not easy to keep up on things, but somehow it works, with lots of help from above, and I only pull my hair out occasionally.
Yet something always has to give…
As much as I try, I still can't do it all.  Here are the things that I have let go in my life to give priority to other things, like being a wife, Mom, & running my own business (update — and now homeschooling too):
Reading.  I absolutely LOVE a good book or magazine, but often my stack just sits there since starting this blog.
Sleep.  I try to be smart about it (getting sick spending too much time writing a healthy living & nutrition blog wouldn't make much sense would it?), but I certainly don't get 8 hours every night.  I can't write when the kids are up, for obvious reasons.
Volunteering.  I used to volunteer for a lot more than I do now, I was always in charge of 1 (or 5) things at church.  But I can only do what I can do, and for now, since my blog takes up so much time, I know that adding more to my plate would only make me a stressed out, ornery Mom.  I figure that someday when all my kids are in school I may be able to do this again, but not now.  So these days I have to really stop and think before I say yes to anything and weigh it carefully.  If I can pull it off without a lot of stress, and often I can, then I do it.  If not, I don't, and I don't feel bad about it.  It gets easier to say no when you know it's OK.  Like Jennifer from Conversion Diary says, "To say no is to protect what you've said yes to."
Cleaning!  Not that I've ever been great about this.  Keeping things picked up is a priority for both Kent and I, but keeping things dust-free…not so much.  We do it when we have to, and not one bit more!
That's my list, what's on yours?