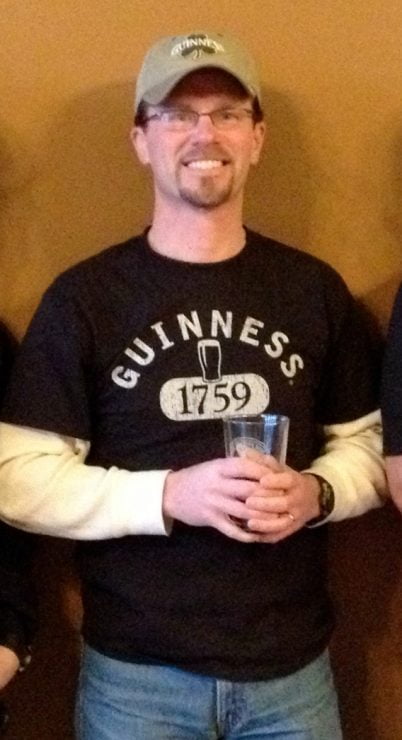 Today's guest interview on the topic of health and nutrition is with my husband, Kent. I'm taking a big risk letting you read anything from him, not only because he'll tell you all my secrets, but also because you'll end up wishing he was the Kitchen Kop instead of me because he's funnier.  🙂
1. What is your #1 motivation for eating/feeding your family healthier meals?
When your wife is Kelly the Kitchen Kop, you don't really have any choice (happy wife, happy life). I did recognize that choking down Double Whoppers and Wendy's Triples a couple times a week was not going to be good for me in the long run; nor would it be good for the kids. Since the Lord has released me from my addictions to sugar bomb breakfast cereals and huge blocks of Velveeta processed cheese substitute, I'm living clean and feeling great. Good thing beer is still good for me… right?
2. What started you on your path to better nutrition?
Other than all of our conversations about different health news stories, I have been noticing that people, in general, seem to be less and less healthy all the time. It amazes me how many people I know that have cancer or some other major health problem. I'm not big on conspiracy theories, but it seems like there has to be a reason for this. Looking at what major lifestyle changes have been made in our lives over the last 20, 30, or 40 years, the change in what we are willing to call "food" seems to be quite drastic. I really think that we have thrown health and nutrition out the window for the sake of lower costs, speed, and convenience.
3. What is your biggest struggle in eating/feeding your family healthier meals?
Actually, it's pretty easy from my end, somehow the groceries just mysteriously appear in the kitchen. I'm not a pig. I am not!
4. What is your favorite healthy recipe?
I don't know if I have a favorite. I like so many things, but I love pretty much any recipe that starts out with broth (so much flavor). I still crack up when I think about our neighbor's comment that there is "always some kind of carcass boiling on the stove" at our house.
5. What is your best kitchen/nutrition tip?
This is more of an observation than a tip, but I have noticed that when you cook with locally grown/raised, organic ingredients, it takes a lot fewer spices to get great flavor. Oh, just thought of a tip: make sure the top is securely on the blender before you push the damn button! Care to share what you did to our kitchen ceiling, Kitten?
6. What did you have for dinner last night?
Last night is all kind of a blur. I only had 5 minutes to eat because it was my turn to drive the bus (moved 8 kids, from 5 different families, between 4 houses, 2 churches, and 1 soccer practice). I do remember that we had an excellent chicken dish (broth base). Glad you didn't ask about the night before last. I would hate to have to share the story of the assorted lentil stew debacle.
7. What about Kelly annoys you the most?
Seriously? What with her shameless attraction to short, balding men and my fascination with pointless suffering, we're a match made in heaven. I love my spotted Queen. Without her, how would I have figured out that it's sociably unacceptable to wander the neighborhood carrying a 12-pack cooler under my arm? How would I know when an old shirt "just really needs to go away"?
Thanks Hubs!
More you might like: