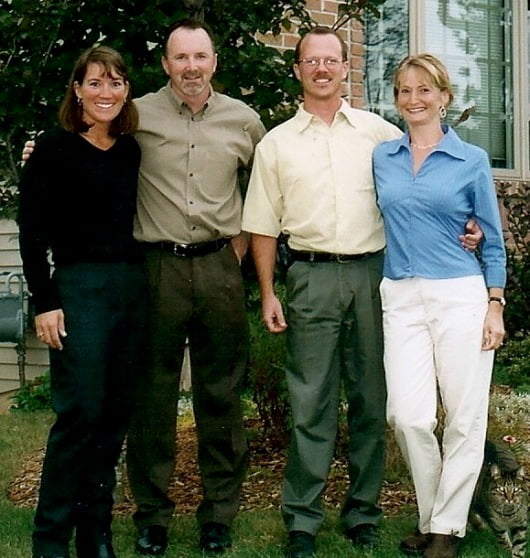 Friday Kent & I celebrated our 21st wedding anniversary. Our friends next door, Joe & Meg, celebrated their 16th wedding anniversary. (And if my Dad were still alive, he & my Mom would have celebrated their 56th anniversary.)
Last year we all went to Chicago and it was such fun we wanted to go again this year, but didn't want to spend the money. We couldn't go out to dinner because our son was at the homecoming game and all other neighborhood sitters were there, too. So Kent & Joe said they would just cook us dinner here – sounded like a good plan to me!
We gave the kids pizza and a movie to watch at our place (they have an older daughter who watched the kids for us here), and the four of us had dinner next door. (Thanks to Joe for coming up with that creative, not to mention SWEET, solution!)
It was amazing! We all agreed that we couldn't have had a better dinner if we were in downtown Chicago. Joe had some nice jazz music playing; there was a wine, bread, fruit and cheese tray to snack on – this is the only picture they let me get all evening. "Just enjoy your dinner, Kel!"
Isn't this beautiful? It was delicious.
Kent picked up the beef tenderloins at a local farm store and cooked them perfectly. (However, they weren't grass-fed, we rarely buy steaks because we don't know how to cook a good grass-fed steak yet. There's a definite trick to it.  UPDATE:  Kristen did a guest post on cooking a great grass-fed steak!  Also here's a book to help you: Grassfed Gourmet Cookbook
.) Joe got most of the other food at a neat store he found near Detroit yesterday, Nino Salvaggio's. He found some unique cheese, olives and wines; some greens and veggies for our salads; "fingerling" potatoes and green beans to go with the tenderloins – they cooked them both perfectly with some delicious seasonings. He also picked up some Crème Brule cups that were so wonderful, Meg & I immediately got online to email the store and ask for the recipe. (Also, here's a Crème Brule recipe that I tried recently – it was VERY good and even a little healthy with all the eggs and cream, but my sugar topping isn't anywhere near as caramelicious.) I almost forgot one of the best parts! Joe made this balsamic sauce that he drizzled over the meat with some goat cheese on top. It melted in your mouth.
What a special evening it turned out to be, right here at home, thanks to our great guys who truly seemed to enjoy treating us like queens.
(The photo above is an old one from our anniversary in 2004. I wanted a picture of all of us last night, but nooooo, Meg said she had bad hair!)