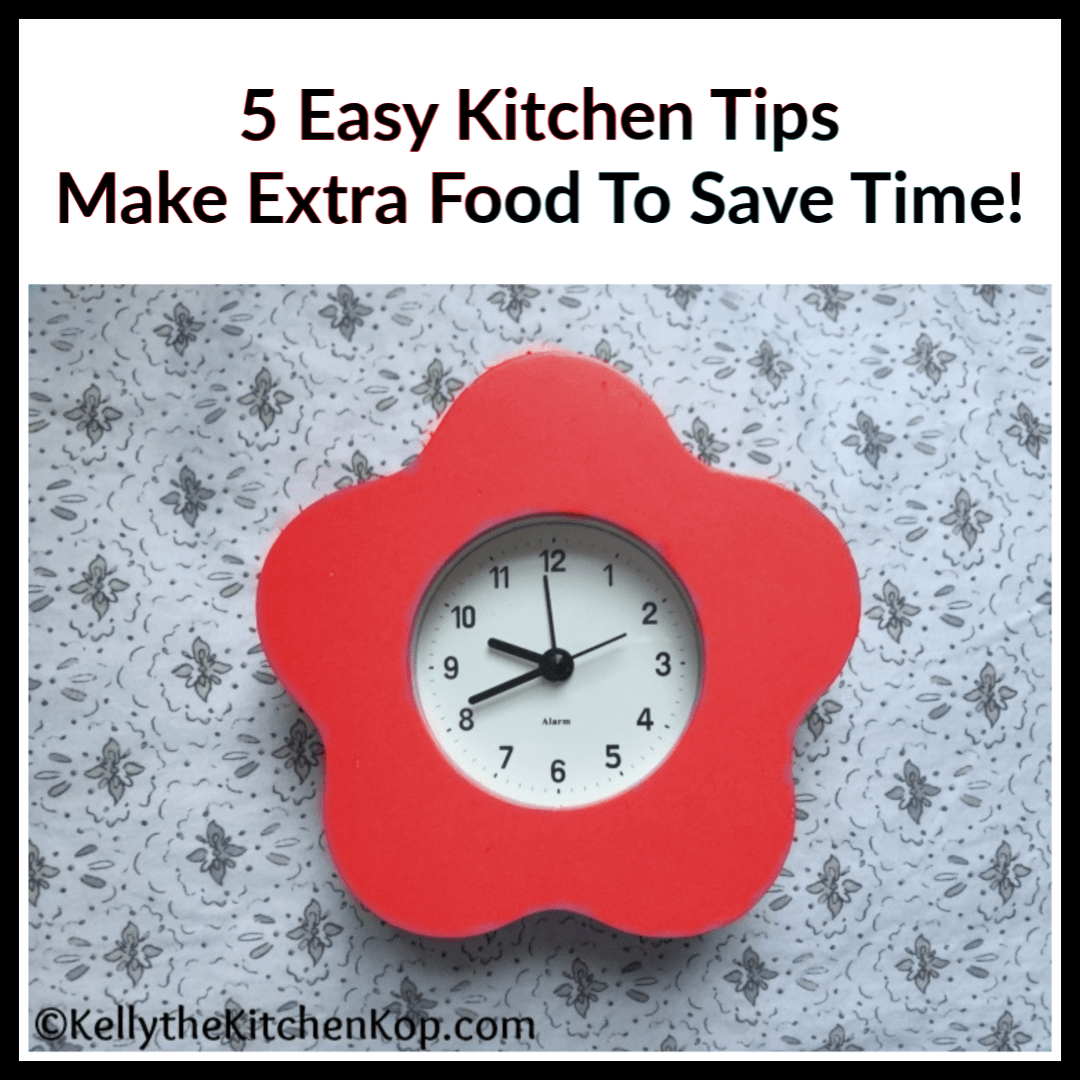 Today I'm continuing a series of posts with various easy kitchen tips that have helped me feed my family healthier meals and save time in the kitchen, because aren't we all somewhat frazzled and short on time?  If you have more ideas/tips on making extra meals or freezing food, please comment below!
5 Tips on how to make extra food to save time later:
I thought everyone already knew this tip until a friend said she hadn't thought of it before, so I'll share just in case: when you're making a meal, make an extra pan or two, and then before baking, freeze it for later. Several of the main dish or meatless recipes from my recipe index can be made ahead.  On evenings when we have kid's activities, church meetings, or whatever, it is SUCH a lifesaver to have meals I can just pull out of the freezer and bake. This helps you avoid the temptation to pick up fast food on busy nights, and it's also nice when you have a sick friend or a new mom who would appreciate a meal. Having a couple options in the freezer is always comforting to me, because as all busy moms know, a day can go bad at any moment and getting supper made could quickly become an impossible task. If I didn't have my Convection/Toaster Oven, getting it thawed and baked in a short time would also be impossible – it is one of my favorite kitchen gadgets!  (It has settings for defrost, bake, convection bake, toast & broil.)  Otherwise, just be sure to get it out of the freezer the morning that you'll want to have it for dinner.  You can do the same thing with breakfast meals:  Healthy Breakfast Casserole for a Fast Morning Meal (2 Recipe Options).
Another way to make things easier on yourself is to have planned leftovers. If you know your next day will be crazy, have something tonight that can easily be warmed up the next day.  For example, on Sundays we'll often roast a whole chicken, and then I'll boil the bones all day for nutritious bone broth, and use the leftover meat along with a few veggies for chicken soup or for chicken tetrazzini. They are both quick easy meals.
An easy way to freeze muffin dough, and also to save freezer space:  when making muffins (like these zucchini banana muffins, white chocolate chip muffins, or these cranberry orange muffins), make an extra batch, fill paper muffin cups (in the muffin pan) with the extra batter. Freeze muffin dough in the pan for 2-3 hours or so, and when frozen, put the muffin cups with frozen dough into a freezer baggie.  Now your muffin pan can go back to the cupboard in case you need it. When you have a busy day, or maybe a friend is coming over for coffee, you can pop these back into your muffin pan and bake like normal. (I usually let them set out a little bit first to thaw.) These are much tastier than the ones you bake first and then freeze, because they're warm and fresh from the oven!
When making cookies, double or triple the recipe (easy to do in the Bosch!), then make balls of dough and set them on a cookie sheet. Freeze for 2-3 hours and once frozen, put them into a freezer baggie (labeled with contents and date) – this way, again, it doesn't take up much freezer space. Now when you need some freshly-baked cookies, just pop them onto a cookie sheet to bake, and you have cookies as easy as the pre-made ones at the store, but without all the preservatives, trans fats and other junk!  I also bake a few extra cookies to freeze and keep in a baggie between pieces of waxed paper, for a quick treat now and then.  Those are easy for throwing into school lunches at the last-minute.
Do YOU have more tips for how to make extra food to save time?
More ideas: