Need ideas for real food meals to share with others?  Or make-ahead meals for your freezer?
I love to cook and share healthy, real food meals, whether it's for friends who are sick, a young family with a new baby, or those who have had to say goodbye to loved ones.  And when blessing people I care about with nourishing food, I learned from the best.  As I said in the dedication of my Real Food for Rookies book, throughout my life I watched Mom take meals to her elderly friends or to a neighbor who wasn't feeling well.  It was her way to bring them a little happiness, and there's really nothing that can do that the way a little comfort food can!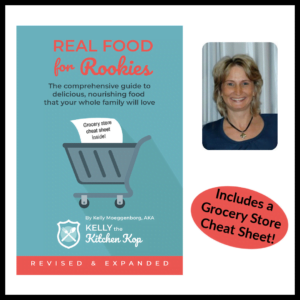 So today I'll list out all of the meals that are easiest for transporting, that don't take a ton of time, and are usually a hit with everyone.  By the way, most of these meals are also great for bulk cooking days to fill up your freezer!
What about finding the time?
I just make extra of whatever I'm making for our own family, so it really doesn't take that much extra time because I'll choose recipes that are easy to multiply.  Sometimes I'll make several pans of food, some to share and some for our freezer.  See my other post about bulk cooking here.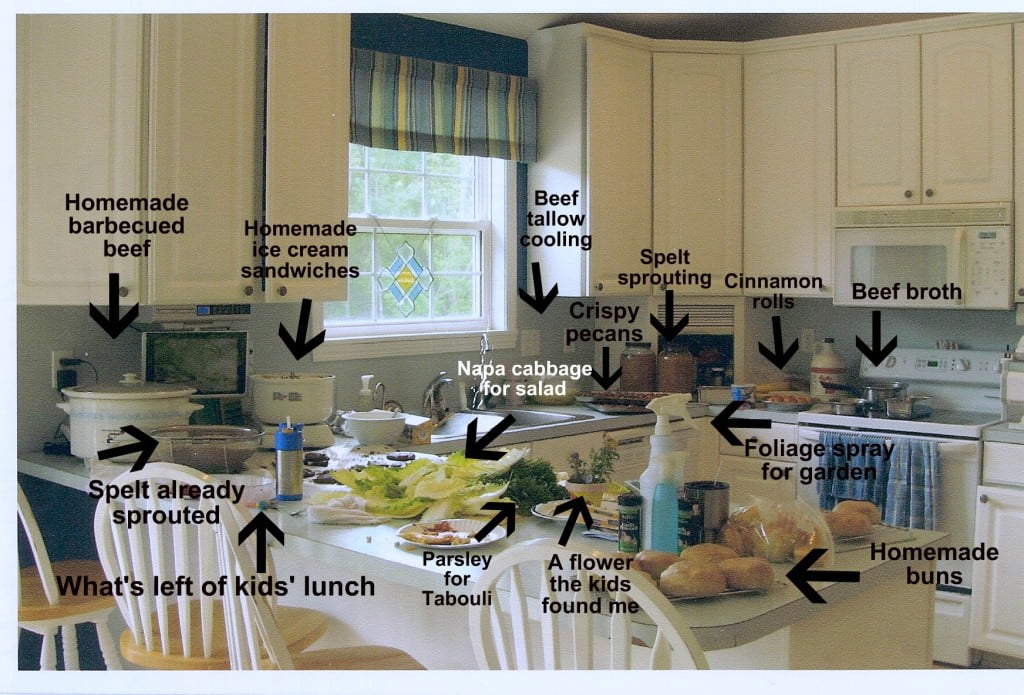 What about sides or dessert?
Sometimes I'll take side dishes and/or a dessert, but not always.  It just depends on how my day is going, what I have on-hand, and what my family is eating.  Many of my friends bring the whole shebang when they take meals to others.  I try, but sometimes just can't make it happen.
What about the expense?
I don't buy any different food for others from what I'm feeding our family for two reasons… First, that's all I ever have on-hand, and second, obviously I want the food I bring to be nourishing, healing, and delicious for them too!  It's a sacrifice, but worth it.
What about the aluminum disposable pans from the store?
The disposable pans are so nice so there's no need to worry about getting your pans back, plus they often come with handy covers.  Note that you should transport with a cookie sheet underneath or you may end up with the meal all over your garage floor.  Ask me how I know this.
But aluminum isn't great to have near the food, so I always put one of these parchment paper pre-cut sheets in the bottom of the pan first.  Easy!
Here's a list of my favorite real food meals to share (main dishes):
Beef:
Chicken:
Pork:
Meatless:
Please share your favorite real food meals to share in the comments!
Real food meals to share–side dishes if you're doing them:
Mom's homemade rolls (super easy to make, there's a video at that link showing you how)
We have a bunch of green beans coming in our garden, so here's what I sent with a meal I took a friend the other day:  I snipped the ends off the beans, rinsed them off, and dried them a bit.  Put them into a gallon-sized ziplock with a hunk of butter (about 3 Tablespoons), 1/2 teaspoon sea salt, 1/4 teaspoon pepper, 3/4 teaspoon garlic powder, 1/2 teaspoon onion powder, and any other herbs or seasonings you like.  Seal it up and then all they have to do is dump it all into a frying pan and stir fry for a few minutes until they have a little singe on them.  Tell them to add more salt as needed.
Fruit–take it already cut up and in a big baggie, again, so they don't have to return any dishes to you.  A watermelon is easy and most people love it.  Or if you have more time, you could cut up other fruit for a mixed fruit salad like this one with a simple yummy light dressing.
Cucumbers sliced on a sturdy paper plate with salt and pepper sprinkled on top–easy and delicious fresh from the garden.
A jar of raw sauerkraut would be a great side and healthy too!
Again, will you share more easy side dishes that you take to others in the comments?
Any questions, just let me know.  🙂
More you might like: