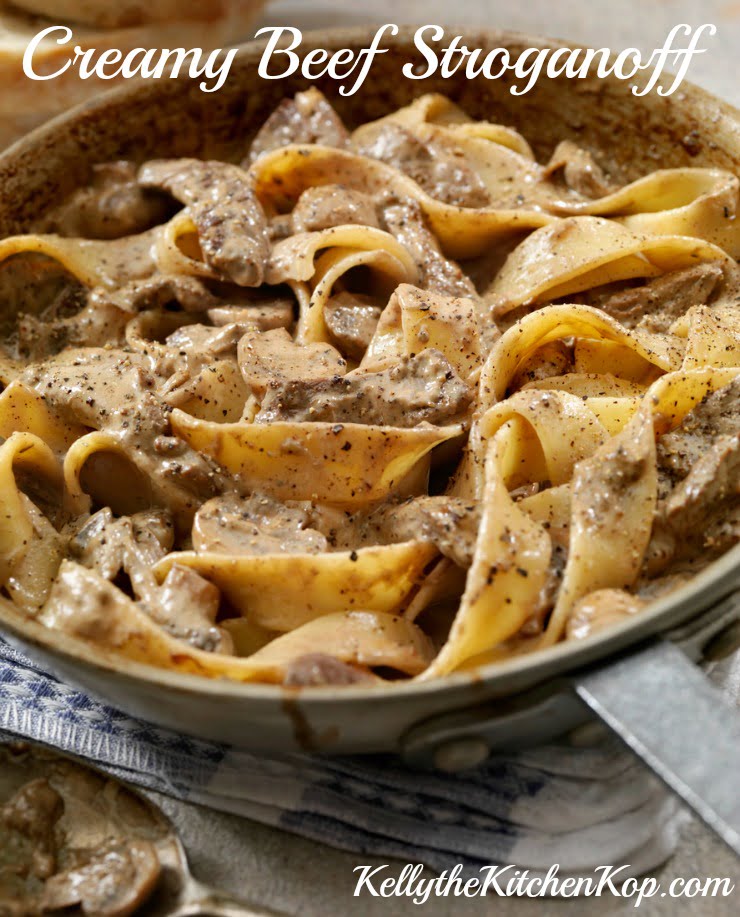 Beef stroganoff has always been one of my favorites, and I'm also crazy about beef burgundy.  The other day I combined the two recipes and was it ever goooood.  The whole family loved it…how often does that happen at your house?
I think this is the best beef stroganoff recipe because it takes five minutes to start it in the morning, you can be gone all day, and then it's not too much trouble to throw it all together later…
Kitchen Kop's BEST Beef Stroganoff Recipe
Ingredients:
Instructions:
In the morning put the following items into the crock-pot. Cover with water (to at least half way up the sides so you end up with enough broth) and turn on high if you'll be eating in 4-5 hours or so, or turn it on low if it will cook all day. About 45 minutes to 1 hour before you're ready to eat, turn off the crock pot and carefully lift the meat out onto a plate to cool, but reserve the broth from the meat for your sauce (instructions below).
Cream Sauce Ingredients:
8 Tablespoons butter, pastured butter is best
Half onion, chopped
2-3 garlic cloves, chopped
8 Tablespoons flour, I use einkorn flour
1 cup whole milk
3 cups sour cream (or plain yogurt, or more whole milk)
1/2 cup burgandy wine, or your favorite red wine
Mushrooms — if your kids will eat them!
Pepper
Instructions:
In a big stock pot make a cream sauce by melting butter and lightly sauté the onions and garlic for a few minutes.  Add the 8 Tablespoons of flour and keep stirring to incorporate the falovors from your onion and garlic into the flour. (See below for grain-free thickening.) Add 1 cup whole milk slowly and when it begins to thicken, add 3 cups of any combination of the following (I've tried all of them depending on what I have on hand and they're all good):  plain yogurt, sour cream, or more whole milk.  If it seems too thick, add milk.  Keep in mind that it will thicken more as you continue stirring over medium heat, but you'll be thinning it some, too, as you add the rest of the liquid ingredients.
Once it begins to thicken, strain the broth from the crock-pot into the pan with the white sauce.  Keep stirring as it thickens again. Add about 1/2 c. of burgundy wine, or your favorite red wine, and add more as you taste test to see how you like it. Add sea salt & pepper to your taste. If you feel like it you could also add any herbs you'd like for more flavors. If desired, sauté some mushrooms in butter and add those to the pot.
Now your meat should be falling apart easily after cooking it all day and cool enough to handle.  I just go through it with my hands, but you could use a knife and fork if you want to – toss the gunky parts and add the pieces of beef to the pan.  Adjust your seasonings 'til you're in heaven.  (I like a lot of sea salt.)
To serve, spoon stroganoff over rice (we like the germinated brown rice or this rice) or whatever pasta you prefer – whole wheat, spelt, sprouted, etc.  This pasta is our favorite lately.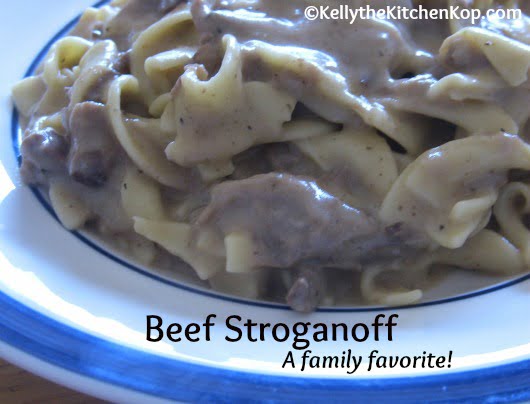 To make this grain-free / gluten-free:
 Once your broth is strained and there are no more veggie scraps in there, just whisk about 6 Tablespoons of arrowroot with cold water and then stir it into your broth to thicken a little.  Add the meat back in, along with a cup or so of sour cream, the wine, and any flavorings you like (chopped onions, minced garlic, parsley,
sea salt
 and pepper, maybe a bay leaf or two), and let simmer another hour or so to get the flavors through.  Serve over
Rice Noodles
.
Try it and let me know what you think!  🙂
Meal Planning Help!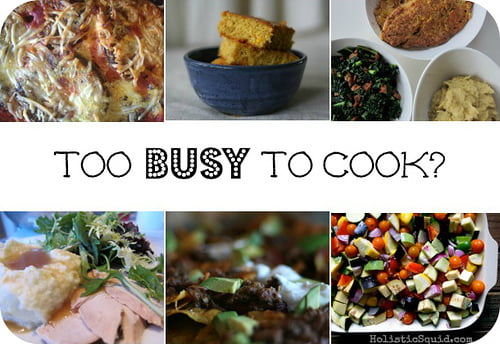 Sick of planning meals and answering the question, "What am I going to feed these people?" No matter what kind of eater you are (traditional, GF, paleo, vegetarian)… Check out these affordable interactive easy-to-use meal plans where the work is done for you.  NOW recipes also available from Nom Nom Paleo, The Paleo Mom, and Wellness Mama all in one spot!  You can read over my review here.