Is there anything that isn't delicious with a white sauce?  And when you throw ham, potatoes and cheese with it, really, how can you go wrong?  This classic escalloped potatoes and ham recipe is a tasty home-cooked meal to fill up on after a busy day.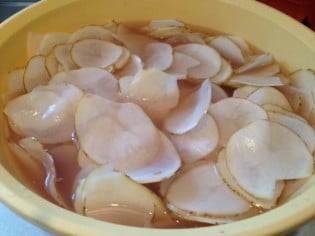 You could also make it ahead and bake it later.
Below I've added a note to make this gluten-free / grain-free!
Print
Classic Escalloped Potatoes and Ham
Yield 9x13 Pan
Ingredients
6 organic potatoes (potatoes are on the "Dirty Dozen" list of produce to not buy conventional because they're highly sprayed with chemical pesticides)
1/2 cup whey (Where to get whey)
1-2 cups ham broth (or chicken broth) (find pastured meats here)
Ham pieces, about 1 cup
8 ounces butter (pastured butter is best)
1/2 finely chopped onion
About 7 Tablespoons flour (I used Einkorn flour but also sometimes use part sprouted flour) — To make this gluten free/grain free – substitute the flour with 4 Tablespoons sorghum flour and 4 Tablespoons brown rice flour – it will be almost as yummy and likely your family won't know the difference!
3 cups cream or milk, or a combination, whatever you have on hand
Optional:  1/2 to 1 cup shredded cheese (any kind you like) to make it a cheesy dish
Sea salt, pepper, garlic powder, and other seasonings to your taste
Instructions
The night before, or at least 7 hours ahead, clean, slice, and soak potatoes in a bowl full of filtered water and about a half cup of whey.  This takes away of some of the starch in the potatoes.  I used my Bosch to slice the potatoes nice and thin – it helped them to cook a lot faster in the oven, and they got crispy-licious.   I made a bigger batch and it took *literally* 2 minutes to slice 10 potatoes! I'm going to use this soon to make homemade potato chips again, yum!  (Note:  if you forget this part and peel your potatoes right before making the recipe, it'll still be good, just more starchy!)
Make the sauce:
Melt the butter in a medium saucepan, add the onions and sauté until they're soft and just starting to become golden brown.  Add the flour and keep stirring as it cooks for 1-2 minutes.  Slowly add in the milk and it will become a wonderful thick sauce.  (If you pour it in too quickly it'll be very thin.)  Add the cheese if desired and season it up until it tastes really dreamy to you.
Strain and rinse the potatoes, rinse out the bowl, and in this big bowl, stir together the potatoes, ham and sauce.  Spoon into a greased 9×13 glass dish.
How you bake this depends…  If you want to just put it in the oven and forget about it, put it in at 350* for an hour or longer, depending on how thin you sliced your potatoes and how fast they'll take to cook – check with a fork to make sure they're done through.  If you like it browned up really well and crispy in spots like I do, then crank your oven up to 500* and keep a really good eye on it.  It'll get brown on top fast, so stay close and you'll need to flip potatoes under or over so nothing burns, but this way it'll have a nice flavorful crispiness and be done in 45 minutes to an hour.
Did you make a real food recipe?
I want to see it! Tag @KitchenKop on Instagram and hashtag it #KitchenKopRecipes OR share anything you know I'll love by tagging @KitchenKop and hashtag #KitchenKop -- see you over there!
Meal Planning Help!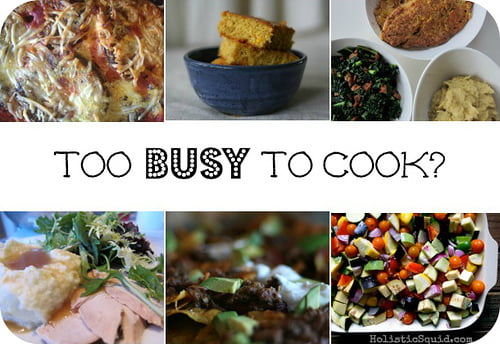 Sick of planning meals and answering the question, "What am I going to feed these people?" No matter what kind of eater you are (traditional, GF, paleo, vegetarian)… Check out these affordable interactive easy-to-use meal plans where the work is done for you.  NOW recipes also available from Nom Nom Paleo, The Paleo Mom, and Wellness Mama all in one spot!  You can read over my review here.