Easy Peanut Butter Cake
Mr. and Mrs. Zimmerman were my parents' neighbor friends growing up, and we all looked forward to Mrs. Zimmerman's peanut butter cake when someone died or at potlucks and other occasions.  They've both passed away now, God bless their souls, but thankfully she shared this recipe with my Mom many years ago.  (By the way, the chocolate drizzle on top was my addition just for fun, Mrs. Zimmerman's had only the peanut butter frosting.)
Scroll down for all of the pictures, and yes, this easy peanut butter cake is as moist and amazingly tasty as it looks — it melts in your mouth!
Concerned about too much sugar?  Good, you should be, but this is a once-in-a-while treat, and homemade — the only way to eat desserts, in my opinion.  Plus the butter in the recipe helps, believe it or not.  Click to read more about mitigating the effects of sugar in our bodies and helping to lower the glycemic index in foods.  (Or click for more homemade dessert recipes.)
And by the way, one of best things about homeschooling is that my kids aren't getting crap handed to them at school every day of the week, so an occasional treat around here doesn't bother me so much.  (Click for my posts about homeschooling.)
This easy peanut butter cake couldn't be any more simple!  Scroll down for more pictures…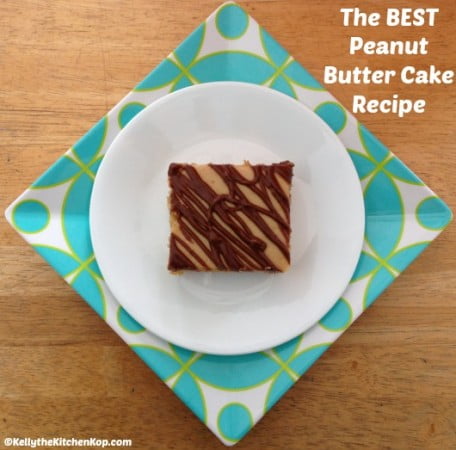 Print
Easy Peanut Butter Cake Recipe
Yield 1 cookie sheet cake
Ingredients
Cake Ingredients:
Frosting ingredients:
1/2 cup nut butter (see above)
9 Tablespoons butter, softened
1 1/2 cup powdered sugar – I cut this back from 2 cups (click to get organic powdered sugar here), if it's clumpy, be sure to sift it before adding it with the other 2 ingredients.
Chocolate drizzle ingredients, optional (this was my addition):
Instructions
Preheat oven to 350*.
Mix the cake ingredients together well (dry ingredients first, then add wet ingredients), I use my Bosch mixer.  Spoon batter into a buttered cookie sheet (click for the stainless steel pans I like), bake for 25-30 minutes or until the top feels set.  Don't overbake.
Mix the frosting ingredients together well, and spread onto the cake once it's cool.  It's not going to look like enough, but it works out to be perfect, even after the kids (and maybe mom) do some sampling and taste-testing.
Melt the chocolate chips and butter in a small saucepan on low heat until smooth.  Let cool and use a spoon to drizzle it around, OR spoon into a baggie (or pastry bag) with a small corner cut off.  Pipe it through onto the cake in whatever pattern you feel like. 
Notes
Double the cake recipe for 3-9" pans, but you may need even more frosting than double if you're making a layer cake with frosting between the layers plus more for decorating.
Did you make a real food recipe?
I want to see it! Tag @KitchenKop on Instagram and hashtag it #KitchenKopRecipes OR share anything you know I'll love by tagging @KitchenKop and hashtag #KitchenKop -- see you over there!
ENJOY!
Scroll down for more pictures, including a couple of Kasey's variations…