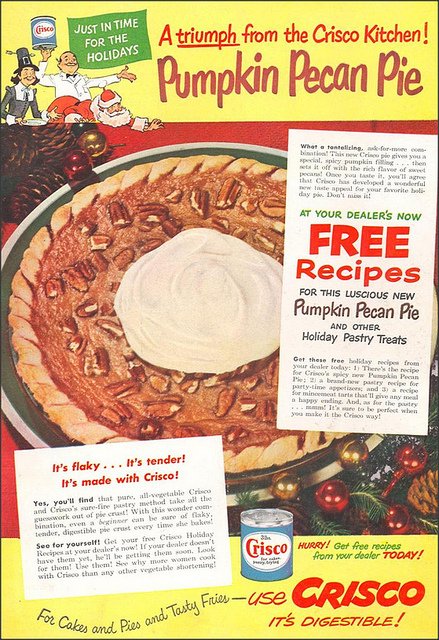 How Crisco Demonized Lard and Butter
If you're like me, you used to regularly cook with Crisco vegetable oil.  Sad, but true.  We just didn't know better.  Now that I know, it's not easy to say nothing when it comes up…
Last week on my Facebook page I shared what happened at the grocery store recently:
"Ohhh the poor guy I just ran into at the store… He obviously couldn't find something and I offered to help. Guess what he was looking for?  CRISCO!  I said, "Really?!! Well it's right over there, but why not just use butter? It's so much better for you, that vegetable oil will kill ya you know, or have you seen this palm oil shortening?" He sheepishly said, "I'm just getting what my wife put on the list…"  Obviously he wanted to say, "Get off my back, lady."  Ha!
Read the whole discussion on Facebook.  Someone there linked to the following article and I thought you might like to read an excerpt…
"Crisco was introduced to the public in 1911. It was an era when wives stayed home and cooked with plenty of butter and lard. The challenge for Crisco was to convince the stay-at-home housewife about the merits of this imitation food.  P&G's first ad campaign introduced the all-vegetable shortening as "a healthier alternative to cooking with animal fats. . . and more economical than butter."  With one sentence, P&G had taken on its two closest competitors—lard and butter."
"I remember switching from lard to Crisco to make pie crust when I was a teenager. We always used lard from the farm, but sometime in the 1960s, Mom innocently brought home our first can of Crisco. We started to use it liberally. That was the overt addition to the diet. What we didn't know was that Crisco and its cousins were being covertly added to countless food items.  We also didn't know that the partially hydrogenated oils in Crisco—the trans fatty acids—were bad for us. In fairness to P&G, they didn't know this either, not at first. But when reports of problems began to appear—problems like increased heart disease, increased cancer, growth problems, learning disorders and infertility—P&G worked behind the scenes to cover them up.  One scientist who worked for P&G, Dr. Fred Mattson, can be credited with presenting the US government's inconclusive Lipid Research Clinics Trials to the public as proof that animal fats caused heart disease.  He was also one of the baleful influences that persuaded the American Heart Association to preach the phony gospel of the Lipid Hypothesis.  The truth about the dangers of trans fatty acids in foods like Crisco is finally emerging.  Perhaps that is why P&G decided to put their flagship product up for sale."
Watch this video for more about how crisco demonized lard and butter:
Did you used to cook with Crisco, too?  What finally got you to switch to something healthier?