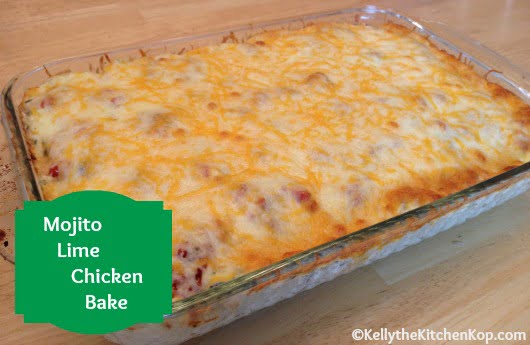 Today I'm sharing a recipe for a delicious gluten-free mojito lime cilantro chicken and rice dish.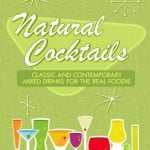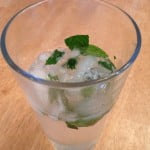 You'll love the way this main dish has a light refreshing summery taste, and to keep the theme going, Kent made us some Mojito drinks to go with it.  (Just the adults of course!)  Want to know how to make real foodie versions of your favorite drinks?  Check out Kendahl's book:  Natural Cocktails, Classic and Contemporary Mixed Drinks for the Real Foodie.
Mojito Lime Cilantro Chicken Bake
This makes TWO-9×13 pans, because lately I'm on this kick where I make double or triple of almost anything I'm cooking, and then keep one in the freezer for busy nights or give one to a friend.  This recipe is perfect for that because it can be easily made ahead and frozen for later.  And by the way, if you are using those aluminum disposable pans so you don't tie up your other dishes OR if you're taking one to a friend, put some parchment paper down first to keep the food and aluminum away from each other.
Ingredients:
3 pounds boneless chicken, cut into bite-sized pieces (Find pastured chicken here if you don't have a good local source)
Marinade for chicken:
Rice layer:
Cilantro lime ranch dressing layer:
2 cups of your favorite store-bought salsa, or make your own!
3 cups shredded cheese
Instructions:
Marinate chicken overnight or even just for a couple of hours.  NOTE:  I rarely remember to marinate the chicken ahead of time and it's still delicious, so you could just sprinkle the marinade ingredients over top of the chicken as it cooks (not the mint or water), I usually cook it in my favorite pan — fry on medium heat just until it's no longer pink (don't overcook), and pour the leftover marinade juices in the pan for extra flavor as it cooks.  As a matter of fact, if you just want to cook the chicken quickly in the pressure cooker and cut it up to throw into this recipe, there are so many other good flavors going on that you don't even have to have this extra step to flavor the chicken, it's up to you.
Prepare rice (according to the directions, depending on the rice you're using) with the broth and butter.  My favorite way to cook it (easiest and fastest) is explained in this post:  10 Best Ways to Use Your Pressure Cooker — See number 9 there for how to do it.  Once it's cooked add the cilantro, sea salt and pepper and fluff it up.
Next mix up all the ingredients for the homemade cilantro lime ranch dressing.  Taste-test to see if you want more of any of the seasonings to make it dreamy.  🙂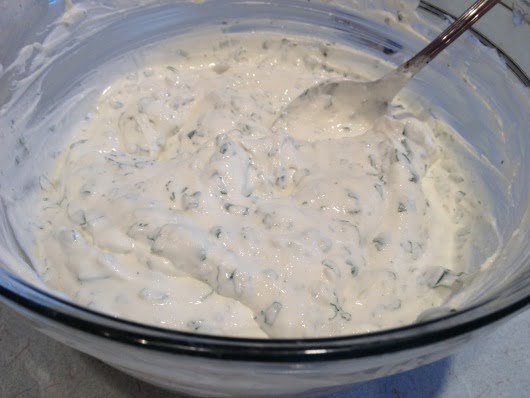 Start assembling ingredients in two buttered 9×13 pans:
Rice on the bottom
Place chicken pieces around the top evenly — sprinkle on some of the seasonings now if you didn't marinate it.
Spoon chicken juices all over if you have some from cooking.  (If you cooked it in the pressure cooker you won't have extra juices.)
Drizzle/spread around the homemade cilantro lime ranch dressing everywhere.
Dollop salsa around the top
Spread cheese evenly
Bake at 350* for 30 minutes or just 'til hot.  If you're freezing one, I used toothpicks to keep the wrap on top from sticking to the cheese.  Later when you pull it out to eat it, first let thaw overnight in the fridge, and then bake at 350* for 30 minutes.
Wow this sounds like a lot of work, but it's really not bad, especially if you make an extra batch for another day, because you've got two night's dinner made up in one cooking session!
I've got a couple of favorite tips for recipes like this when there's chopping and other busy work to be done:  1.  Get a 10-11 year old girl to help!  If you're not blessed enough to have one that loves to cook like we do (she's an AMAZING help to me — I hope that holds out for a while!), then find a neighbor girl or a niece.  🙂  2.  Turn a good cooking show on the TV or on your iPad while you're working.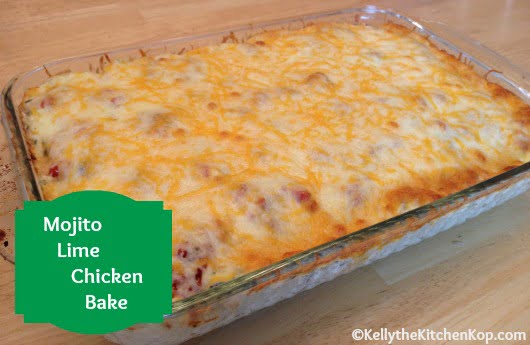 BTW, this Mojito Lime Cilantro Chicken dish was a recipe adapted from 4 Little Fergusons.  I didn't love a couple of her ingredients (like bottled ranch dressing and mojito seasoning packets) so I made some changes.  OH and if you know anyone struggling to get their marriage through infidelity, Tonya's your gal.
Also, here's a sorta similar recipe for Chicken Cordon Bleu Casserole from Kendahl at Our Nourishing Roots — this one is SO good, too!
Meal Planning Help!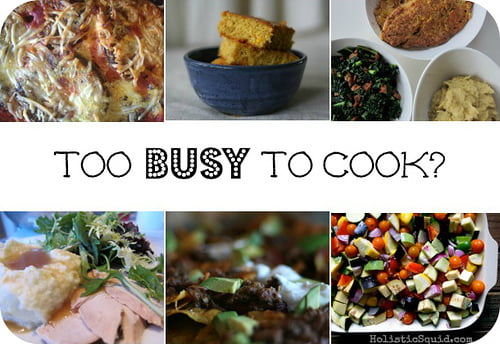 Sick of planning meals and answering the question, "What am I going to feed these people?" No matter what kind of eater you are (traditional, GF, paleo, vegetarian)… Check out these affordable interactive easy-to-use meal plans where the work is done for you.  NOW recipes also available from Nom Nom Paleo, The Paleo Mom, and Wellness Mama all in one spot!  You can read over my review here.