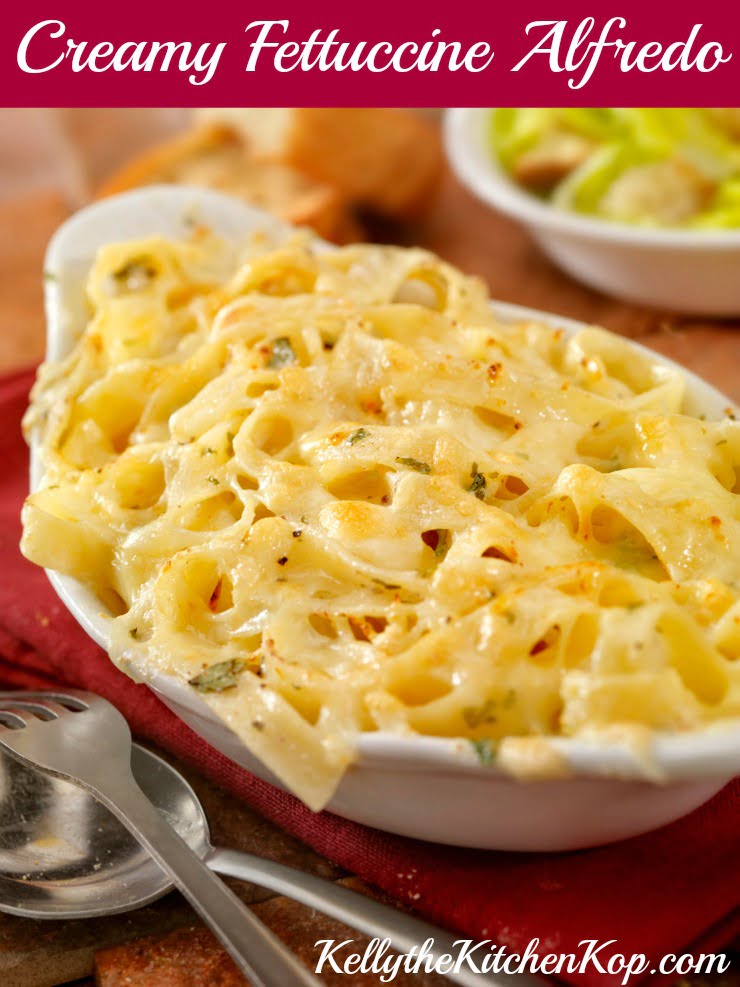 My friend, Lyn, gave me this organic fettuccine alfredo recipe that can be made meatless or with chicken, and it's a hit with basically everyone. Last night we served it with orange slices and fermented pickles – read more about those in the comment section at Lynn's guest interview (different Lynn).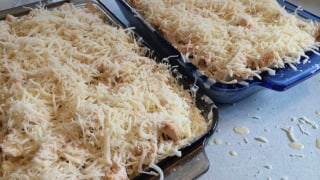 ***By the way, to make this a healthy fast food dish (find more ideas at that link), just make the alfredo sauce below and serve it over hot pasta.  Easy!
Also, if you have a large enough pan for the pasta to cook in, this is an easy dish to make many batches at once for freezer cooking or to share with friends.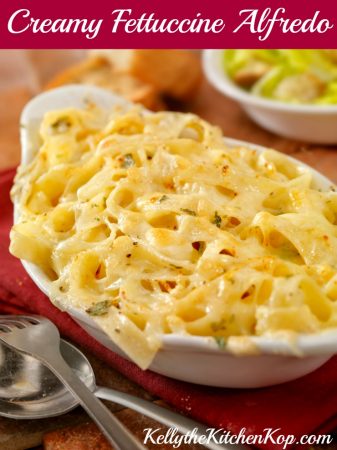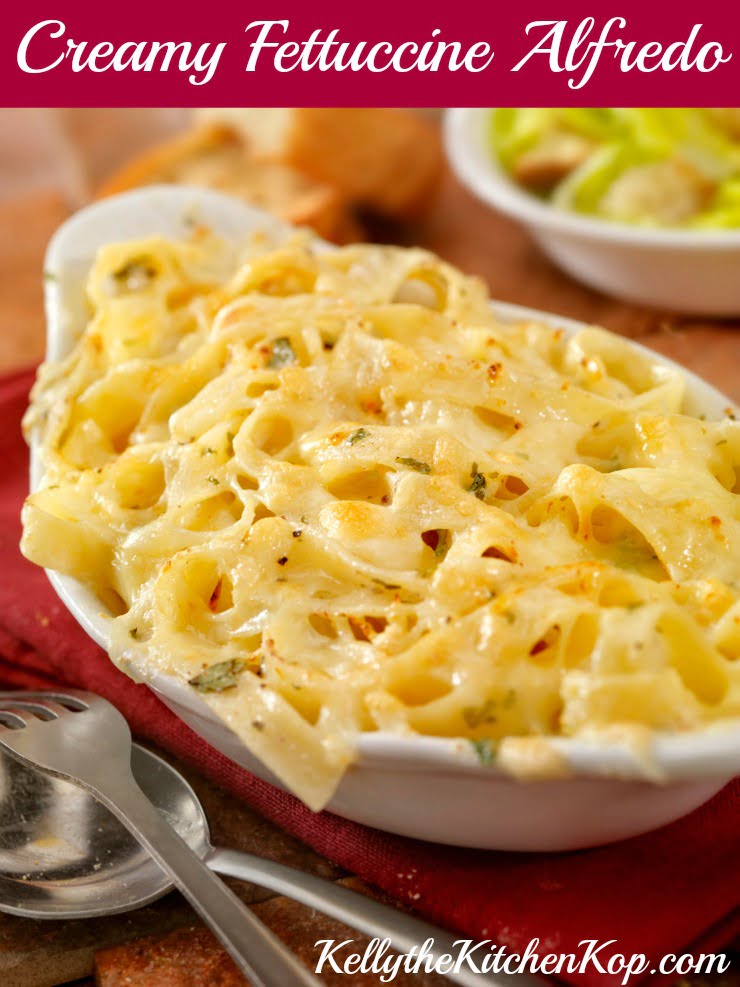 Print
Organic Fettuccine Alfredo Recipe
Ingredients
1 pound of your favorite pasta, these days I use mostly Einkorn pasta
Soft butter for greasing the pan, pastured butter is best for more nutrients!
Optional:  1-2 pounds boneless chicken breasts, cut into chunks (pastured chicken from a farm you trust is best – if you don't have a local source, find healthy meat here.)  Also, you could use steak, that's really good too!
Optional:  Any chopped veggies like red or green peppers, asparagus, green beans, broccoli, summer squash, onions, mushrooms, tomatoes, spinach, etc. (If you add both veggies and chicken, decrease the amount of pasta a little or it won't all fit into a 9×13.)
1/2 cup pastured butter
2-4 cloves fresh garlic or 1 teaspoon garlic powder
Half onion, chopped small
8 Tablespoons flour, I use mostly Einkorn flour these days
1 teaspoon sea salt — possibly more, when you taste-test you'll know if it needs more
1/2 teaspoon ground pepper
3 3/4 cups liquid – I usually use part milk, part cream, and part homemade chicken broth, you can use any combination you have.
Seasonings of choice — 1/2 teaspoon or more of the following:  onion powder, oregano, parsley, Italian seasonings, paprika, seasoned salt, etc.
4-6 ounces freshly grated Parmesan cheese and/or Asiago cheese
8 ounces shredded Mozzarella cheese
Instructions
Start cooking the pasta according to directions. Butter a 9×13 baking dish (no Teflon!) Cut up the chicken and place around the bottom of the pan. Sprinkle with desired seasonings, I like sea salt, pepper, paprika.  Add the veggies if desired.  Start making the white sauce/alfredo sauce:
Melt 1 cup of butter in a medium saucepan, saute a few cloves of fresh garlic and the onion until they smell dreamy and are softened.  Add 6-8 Tablespoons flour and whisk until smooth, then add 1 teaspoon sea salt and pepper to your taste preference and cook on low heat, continuing to stir, for 3 minutes.  Slowly add the liquid and keep stirring with a whisk.  Taste-test to see what it needs, if it tastes bland, it needs more salt.  Add seasonings as needed and keep whisking, it's best to keep the burner low so it doesn't all burn to the bottom.  Remove from heat, stir Parmesan and/or Asiago cheese until melted.
Drain pasta and mix it with the sauce, then spread it all over the chicken and vegetables. Bake at 350* for 30 minutes, and then sprinkle on the Mozzarella cheese and bake another 15 minutes or so until it's melted.
Note:  Sometimes I'll saute the chicken a little with the spices, just until it's no longer pink inside (any longer and it's tough) and then throw everything together, that way you only need to get it hot in the oven OR you could serve it without baking at all.
Did you make a real food recipe?
I want to see it! Tag @KitchenKop on Instagram and hashtag it #KitchenKopRecipes OR share anything you know I'll love by tagging @KitchenKop and hashtag #KitchenKop -- see you over there!
See more pictures below.  I'd love to hear if you like it!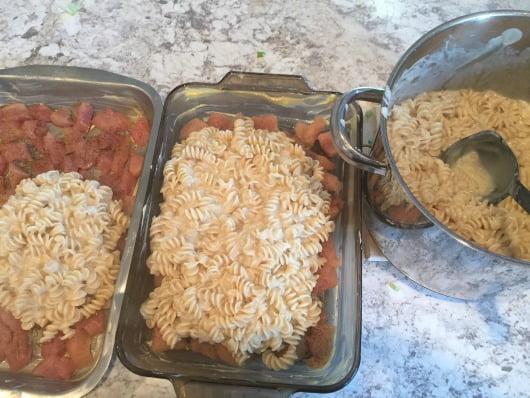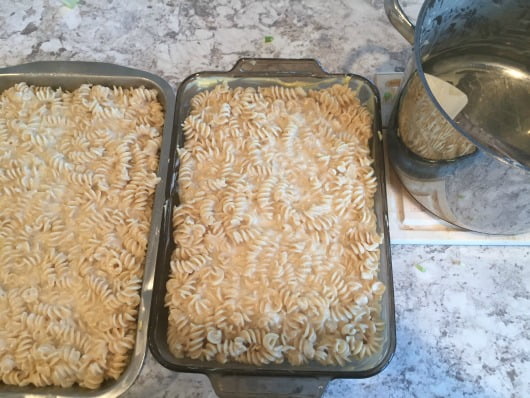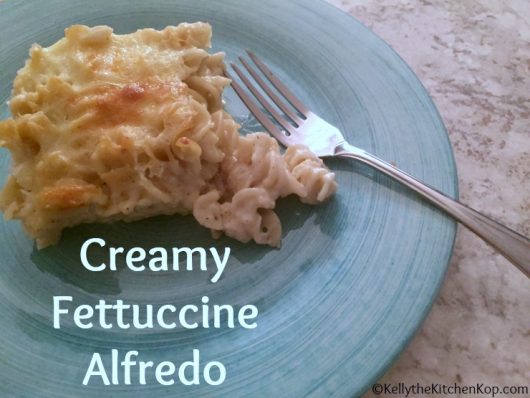 RELATED POSTS/LINKS:
Meal Planning Help: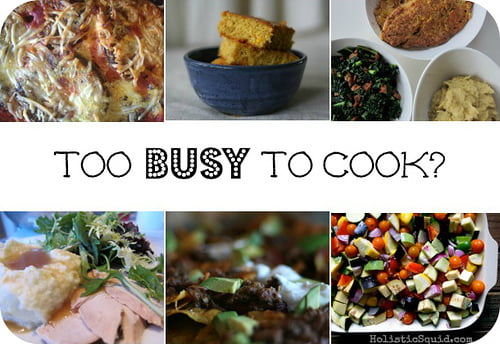 Sick of planning meals and answering the question, "What am I going to feed these people?" No matter what kind of eater you are (traditional, GF, paleo, vegetarian)… Check out these affordable interactive easy-to-use meal plans where the work is done for you.  NOW recipes also available from Nom Nom Paleo, The Paleo Mom, and Wellness Mama all in one spot!  You can read over my review here.