The Best Pasta Salad Recipe!
Soon our garden will be bursting with fresh tomatoes and peppers, so along with the other veggies that I can snag at the farmer's market and the real foodie dressing ingredients, this makes the BEST pasta salad recipe because all the flavors blend so perfectly together.   It's also a super easy salad to throw together for your summer cook-outs — it'll be a hit!
The original recipe called for "Accent".  I had no idea what it was until I read the ingredient label on the bottle at the store, there's only ONE ingredient: MSG!!!  Obviously, I dropped the bottle in the aisle and ran.  It was still just as delicious without it.
(This recipe is from my step-sister, Mary Jane.)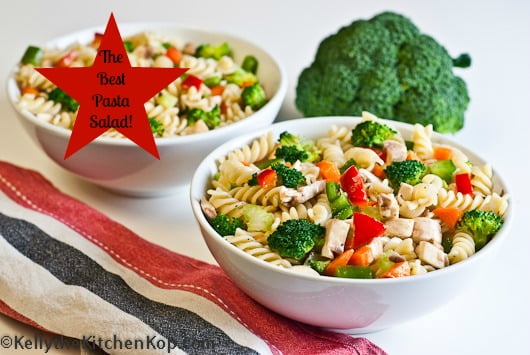 Print
Mary Jane's Pasta Salad
Instructions
Mix together apple cider vinegar, olive oil, sesame oil, sugar, parsley, pepper and salt and chill while you boil the pasta and do the chopping of all your veggies.  Once the pasta is done, drain and allow to cool a bit.  Then in a large bowl, or the pot you just boiled the pasta in, add your pasta and the dressing you've had in the fridge, your chopped veggies and cheese and toss well to make sure all the pasta and veggies get coated with dressing.  Serve cold.  (This makes a delicious meal if you add some leftover cooked chicken to it).
Did you make a real food recipe?
I want to see it! Tag @KitchenKop on Instagram and hashtag it #KitchenKopRecipes OR share anything you know I'll love by tagging @KitchenKop and hashtag #KitchenKop -- see you over there!
More possible additions to the above that I've found recently:
Do you know of good variations to this recipe?  If so, please share in the comments!