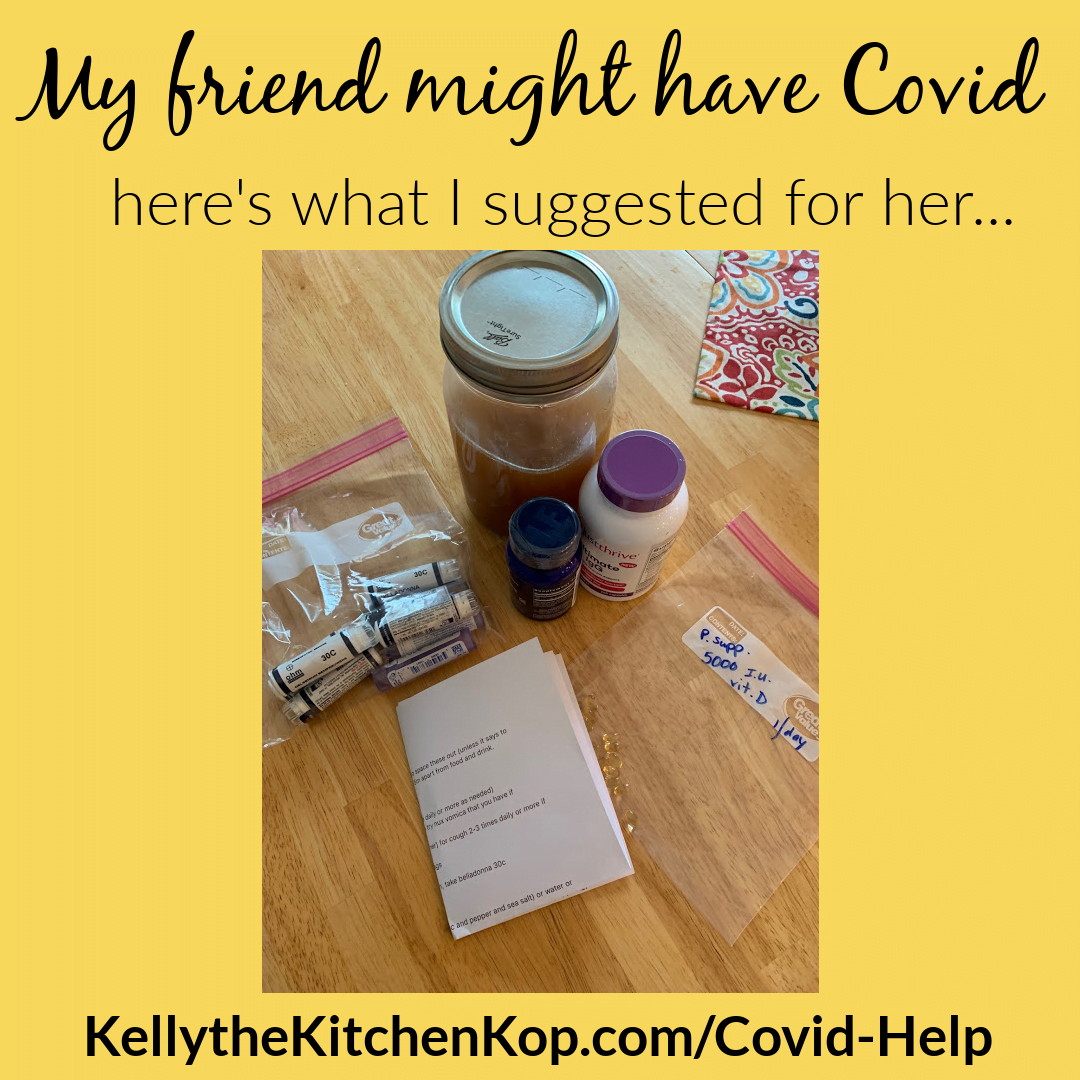 This morning I got a text from a friend who thinks she may have Covid (she was tested, but no results yet), so I went to work pulling together some ideas for her based on different natural options that I've learned could help support her body as she gets through this virus. (Updated 10/14/21.)
I'll bold the high-points to make it easier for you to skim…
~~Are you thinking about getting the shot?  READ THIS FIRST!
~~And remember there ARE other options to consider that work, but you won't hear about them in the mainstream, there's more on that below or see this:  how to get a doctor's Rx for the "forbidden" Covid meds. And if you got the jab, this still applies to you, because as you know most who got it are still getting sick.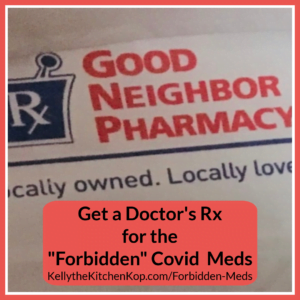 ~~Be sure to check this out which includes even more important information:  A Guide to Home-Based Covid Treatment, Step-by-Step Doctors' Plan That Could Save Your Life.
~~Go to the end of THIS post (further below) for ways to support your body and hopefully PREVENT Covid!
~~Read here about when Rona Stopped Over to our house!
~~How to Protect Yourself if You have to Get the Jab (Now includes help for post-jab injuries)
Natural Covid Help–w
hat to get NOW to have on-hand so you're ready just in case…
***Before reading the following, remember that I'm not a doctor and I'm not a homeopath, this is NOT medical advice.  
Read through and see what resonates with you, then do your own research.  All suggestions may not be okay for all people, talk to your doctor!
I'm a just a friend who wanted to help and this is what I suggested she could try, YOUR case may be different or more severe.  ***If you're unable to stay hydrated or you have trouble breathing/shortness of breath, or ANY symptom you're at all concerned about, don't mess around and call your doctor.
It's good to come at this from ALL directions.
Here you'll find supportive supplements, homeopathics, real food/nutrition advice, and more.  Your body needs support without the onslaught of drugs and chemicals that only make more work for your system to deal with.
Go through these ideas below, see what resonates, and then order what you need so you're ready if Covid hits your house.
~~

1. Natural Covid Help:  Supplements
Dr. Mercola suggests taking Quercetin in this article, but if you click the link to read more, it'll likely be gone. (Here's why:  Why I Am Deleting All Content After 48 Hours.).  Apparently this helps Zinc get into your cells, and this Quercetin has vitamin C too, as well as Bromelain, which is contraindicated for certain people, be sure to talk to your doc and/or research this first.  NOTE that when you take the zinc, you should do so with foods that don't contain phytic acid that blocks mineral absorption.  (So no grains, seeds, nuts, or beans.)  Quercetin is also in many fruits, vegetables, leaves, seeds, and grains; especially red onions and kale.  Here are the excerpts from the article on why he recommends it:

Two recently published studies confirm quercetin is useful as an adjunct therapy in the early outpatient treatment of mild SARS-CoV-2 infection.
In one study, COVID patients who received quercetin in addition to analgesics and an antibiotic cleared the virus faster than those who only received analgesics and antibiotics, and a greater number of patients reported reduced symptoms.
In the second study, daily quercetin supplementation for one month reduced the frequency and length of hospitalization, the need for noninvasive oxygen therapy, intensive care and deaths.
Quercetin has antiviral, anti-blood clotting, anti-inflammatory and antioxidant properties, all of which are important in the treatment of SARS-CoV-2 infection.
Quercetin also inhibits binding of specific spike proteins to your ACE2 receptors, thereby blocking the virus' ability to infect your cells. It's also been shown to directly neutralize viral proteins that are critical in the replication of SARS‐CoV‐2.
Cod liver oil daily or more when fighting something (use code KOP at that link for a discount there too), this has vitamin A & D and also essential fatty acids that are so important for fighting illness.
This Zinc has been recommended for those with Covid way back from the beginning, it's known to help fight viruses.
Vitamin C — I keep it on-hand in case we get sick, but we don't take it every day. (Use the code KOP for this too.)  I found this in my notes but don't know where it came from, so research this first…  "35 mg of vitamin C per pound of human, given at half-hour intervals until the symptoms clear, maybe a couple of hours. This also helps hangovers, and every viral infection under the sun."  They say that if you get diarrhea, you took too much, so take less.  (I love these vitamin C colostrum chews too.  Be sure to click "join us" to sign up as a customer for the best price.)
Turmeric is also an immune system booster!
Vitamin D (Also discounted with the KOP code.)  Again, everyone agrees this helps boost the immune system–that's the name of the game here, as I'm sure you've figured out by now.  🙂  Sitting in the sun is great for this too, just don't get burned.
From Dr. McCullough on Twitter for sinus or throat symptoms: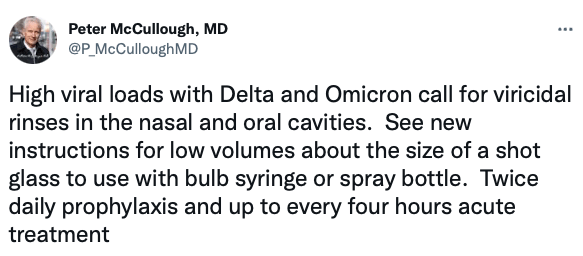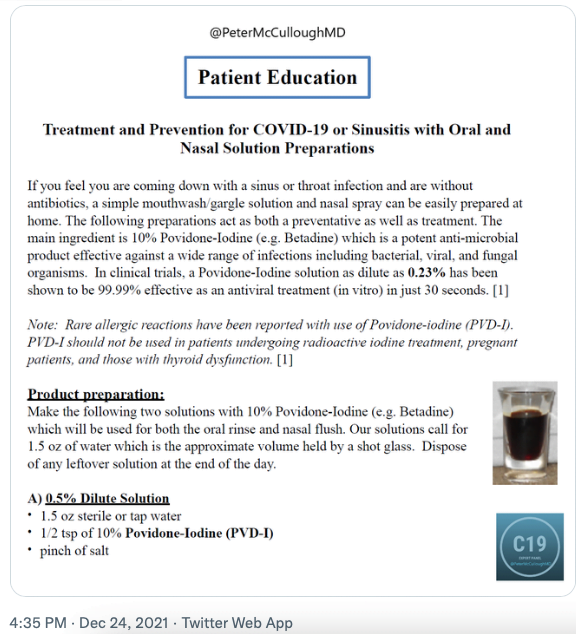 ~~

2. Natural Covid Help:  Homeopathy (good to keep these remedies on-hand just in case!)
If you're not familiar with homeopathy, skip to #3 or find a homeopath for advice!  Thanks to my friend Sheena for her help with the following…
Here's a local practitioner who has these virus recommendations on his site, which include supplements AND homeopathy. 
Here are the Banerji's recommendations for helping with Covid.
–> These are the brand of remedies I like best because they're the most affordable (you get more for the price than other brands), and also they're in glass bottles.
Here are some basic homeopathic suggestions:
Remember, for the homeopathic remedies you'll need to space them out from each other and also space them 15 minutes apart from food or drink as much as possible.  (*Read more here for more info before starting homeopathic remedies.)
Take a few of these 3 times or so throughout the day at the very first sign of symptoms to hopefully help avoid the onset of any illness.
If you see that the above isn't warding it off, contact your doctor, and keep the below on hand for help with any symptoms you're experiencing:
Gelsemium or Eupatorium 30 may help body aches and fatigue.  (Or if you need it fast, go here.)  Another option:  Rhus tox 200 –homeopath Joette says, "When there are aches and pains and everything hurts just to be touched."
Arsenicum could help any GI symptoms–you could also try Nux Vomica for that if you have it or Lycopodium 30.
Aconitum + Bryonia taken together could help cough and general virus-fighting.  Other options to try for a cough: Causticum, Sulphur, or Spongia.
Antimonium Tart could help in case you notice wheezing in lungs or shortness of breath.  (But again, in this case, see your doctor!)  Or Kali Carb could help breathlessness and fatigue.
Thuja and Hepar Sulph are part of the Banerji protocol for Covid, in case you're familiar with the Banerjis.
Sanguinaria could help with loss of smell or sinus symptoms.  Another option: Pulsatilla.
Remember that fevers are how the body fights off a virus (read the chapter in this book about fevers!), but Belladonna could help if needed–and that one is also good for some headaches.  (Or again, see your doctor if you're concerned.)
Note that there are many other possible homeopathics that could be taken for helping flu and/or covid depending on symptoms.  Again, consult a homeopath if needed.  (See the comments for more options!)
~~

3. Natural Covid Help:  Real Food/Nutrition
Avoid sugar as much as possible since, as you know, it's not good for our immune system.
Wild-caught oysters are a great source of zinc if you like them and you have access to them!
Glutathione is an antioxidant that helps fight the virus (and Tylenol depletes it, so avoid that)–raw milk provides a good natural source.  Also raw eggs, parsley, spinach, cabbage–especially fermented such as in raw sauerkraut, garlic, brussels sprouts, beets, avocado, and broccoli, among others.
I'm not including the many other suggestions I'd normally make when it comes to real food, because when you're sick, most don't feel like eating much anyway, and the most important thing is keeping hydrated.  But I will say that this is another reason it's important to eat well normally.  Not only will you get sick less often, but when you do get sick, your body will have the nutrients stored up that it needs to fight things off.  (My book can help with that!  Real Food for Rookies.)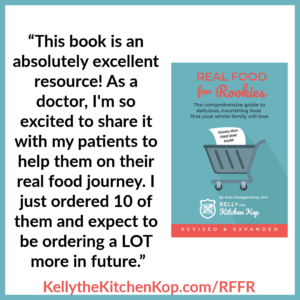 Okay just one more food suggestion…  If you have stomach upset this may not sound good to you, but it is a powerful natural probiotic and digestion enhancer and loaded with natural vitamin C:  raw sauerkraut!  I try to remember to eat some every day with dinner just because it's so good for immune system heath.
Elderberry syrup is good to keep on hand during flu season to take a spoonful of daily (or a few times a week) as another extra immune system boost.
I'm adding this list from Sally Fallon Morell:   HOW TO PROTECT YOURSELF FROM CORONAVIRUS (OR ANY VIRUS)
(Some of these are a repeat of what I already shared above.)
Coronavirus has been around a long time, and like any virus, it is no match for someone with a strong immune system. The principles of the Wise Traditions diet can provide strong protection:
1. Vitamin A-rich foods: Vitamin A is our number one protection against viruses. So take your cod liver oil and eat liver about once a week.
2. Vitamin D:  This works with vitamin A to give us a strong immune system. Best sources are cod liver oil, egg yolks from pastured hens and lard from pigs raised outdoors.
3. Coconut Oil: The coronavirus is a lipid-coated virus that pegs out in the presence of medium-chain triglycerides–and coconut oil is our best source of these healthy fats.
4. Gelatin-rich bone broth: Supports the immune system and helps us detoxify.
5. Vitamin C: Your best source is fermented veggies like sauerkraut–there is ten times more vitamin C in sauerkraut than in fresh cabbage!
6. Saturated Fats: Coronovirus seems to have an affinity for the lungs. Remember that your lungs can't work without saturated fats–so eat plenty of butter and avoid all industrial fats and oils.
~~

4. A few more important tips I came across:
If you do get it and are in the hospital OR at home, apparently positioning yourself on your stomach as much as possible is good for your breathing.  Read more here.  (2nd best is sleeping on your side, but not. your back.)
Along with getting rest, try to keep moving even if you don't feel like it.  This helps keep your lungs healthy and also could help to keep blood clots from forming due to inactivity.
See what India is doing for less than $3 per person that has caused a dramatic drop in cases.  NPR even had an article about this, BUT to them it was a complete mystery as to why cases were plummeting–no mention at all about what's working!  (When I posted about this on Facebook it got censored and removed!) Why isn't this info more well-known? If people knew this, do you think they'd be as desperate to get the very new untested experimental shots so they can "get their lives back"???  Yes this is and has been a quickly-evolving situation and there may be more to this story than I know about, but shouldn't the entire truth be out there and available?!
My other friend who had it said that she took Epsom salt baths as another way to detox, and she thinks it's one of the ways she kept her symptoms from escalating and how she moved the virus out of her body faster.  Add baking powder for even more detoxifying, relaxing, and healing benefits!  (I can personally attest to this helping big time!)
My friend was already doing some of these and a few others she added in after we spoke.  
Her symptoms are:  vomiting, fatigue, aches and pains all over, cough, chills, and diarrhea.
I told her it could be the regular flu or another bug, but either way, we just need to look at the symptoms.  Mostly I suggested she not worry, since the VAST majority of people with Covid (OR the flu) recover and are just fine!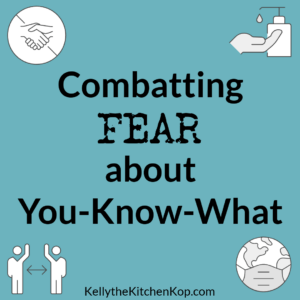 How to get healthy and hopefully prevent Covid
I'm adding these tips on how to build up your immune system to hopefully prevent getting covid (or other illnesses) in the first place.  Or if you do get it, these suggestions might help you to have a milder case:
These are in order of importance…
To build up your immune system, take these probiotics daily–we take 2/day, along with cod liver oil. (Pills are okay if you can't take the oil, we take 4 pills/day OR the oil, use code KOP at those links for a discount–CLO has vitamin A & D and also essential fatty acids that are so important for fighting illness.)
Also:  vitamin D, and zinc.   And studies suggest taking vitamin C as a preventative as well, along with Quercetin (apparently this helps Zinc get into your cells, that one has vitamin C too as well as Bromelain, which is contraindicated for certain people, be sure to talk to your doc and/or research this first)–Quercetin is also in many fruits, vegetables, leaves, seeds, and grains; especially red onions and kale.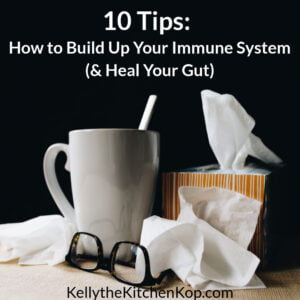 I hope these natural Covid tips help you, and stay well everyone!
What did I miss?  Please share in the comments!
More you might like (scroll down):
This quote is from my friend Hilary who talks about how to handle it when loved ones make different choices than you wish:  "When kids rebel with their health, or simply don't show as much concern as us, moms like me feel like we failed," Hilary shared with tears in her eyes. "We feel like we are not good moms. We think if we had just found the right article or way to put things, our children would have listened."  Hilary emphasized that moms have to let go of this guilt. Older children especially will not always make decisions they like. All they can do is keep the dialogue open and keep loving them through it.