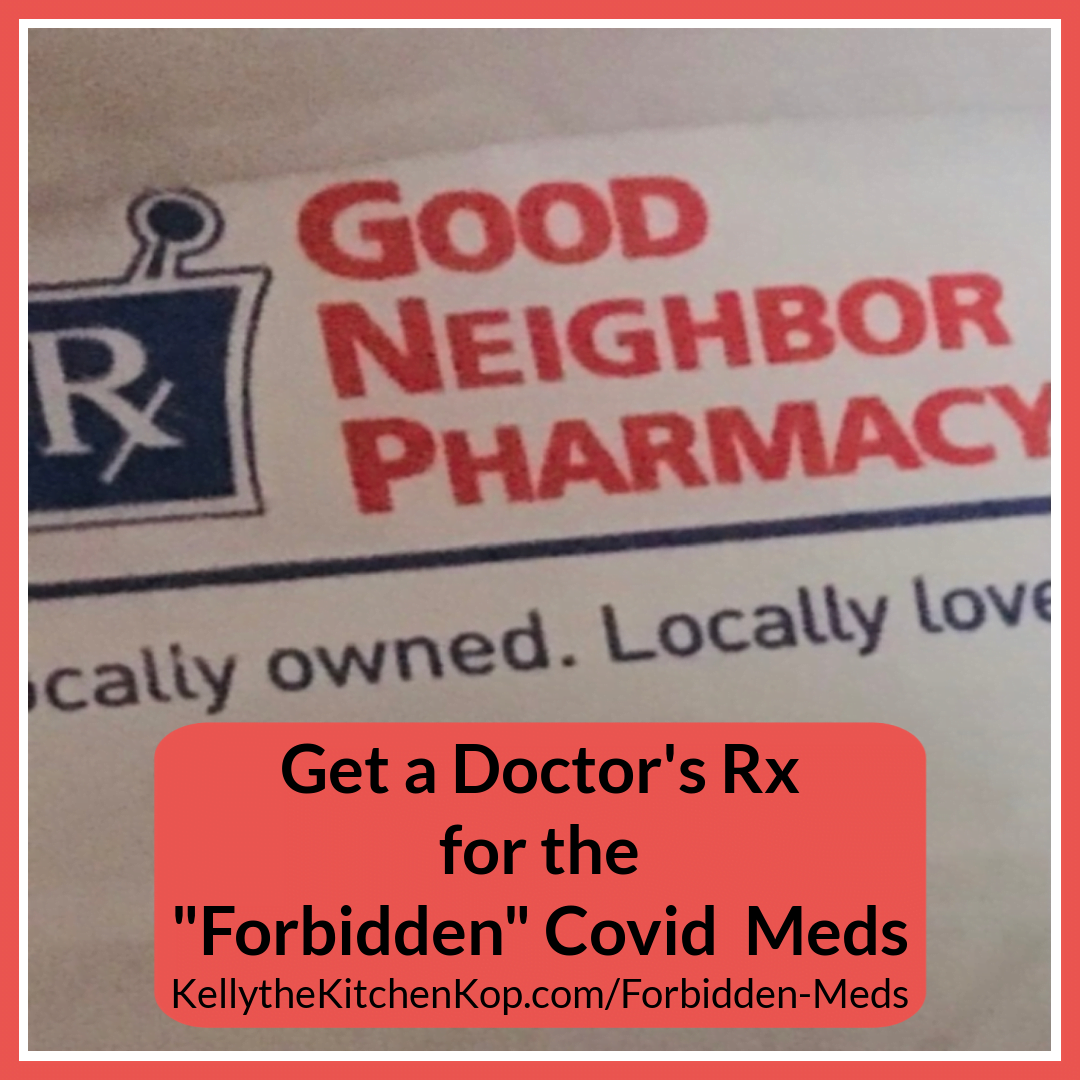 ​Covid is ramping up and if you're standing firm (stay strong!!) about not getting the shot, you really ​really ​need to be sure you get some of the "forbidden" Covid meds to have on hand, just in case.  Yes, most people get over it just fine, but sometimes it randomly goes bad.  You want to have this to take at the ​first ​sign of symptoms, that means order it now, especially if you have any health issues or high risk factors!  (I earn nothing from you ordering by the way.)
The following was shared from a good friend, she explains how she obtained the meds that many doctors have had great success treating Covid with, but local docs, in my area anyway, are not prescribing them when other friends have asked.  I don't understand why this is the case, yet here we are.
So my friend got the meds to have on-hand just in case–I love that her telemedicine docs were willing to do that, because once your symptoms start it's best to get right on it.
In our crazy world, I would suggest doing this NOW, just in case this option is shut down at some point.  Already it's getting more difficult to get these as they are back-logged, so do it soon!
These meds are not free, obviously, but it's not too high-priced for the peace of mind it gives!  More about the exact cost is below…
SHORT STORY on how to get Ivermectin:
So here's what my friend was so sweet to share with me about obtaining the "forbidden" Covid meds:
Hi Kelly,
It all started out with my desire to obtain Hydroxychloroquine–to have on hand just in case. I didn't want to struggle or delay finding it AFTER I'm sick. I have been researching that, as well as Ivermectin.
There are essentially 2 parts to this–the process for obtaining Hydroxychloroquine, then Ivermectin, both through a telemed doctor.
PART 1:
Keep in mind the cost is $90 for the consult (not including the meds)–less than what an in-person office visit would be.  I paid using my HSA card/pre-tax dollars.
The following steps are self-explanatory–basically a health history and reason for visit–I just put that I was interested in either or both, Covid prevention/treatment protocols, but not sure if I wanted Hydroxychlor or Ivermectin.
There is an option to omit the phone call from the doctor and go straight to him calling in the Rx for you to their partner pharmacy in FL; however, I wanted to ask him about the difference between the two and his opinion.
I finished and waited for the call. Within four hours I got a call from Dr. K, who turns out is a pediatrician, but works for AFLD (American Frontline Doctors) on the side.  He strongly felt prophylaxis (preventative treatment) was unnecessary, especially if I you eat healthy and supplement with Vitamin D, Vitamin C, Zinc, along with Quercetin (apparently this helps Zinc get into your cells, that one has vitamin C too as well as Bromelain, which is contraindicated for certain people, be sure to talk to your doc and/or research this first)–Quercetin is also in many fruits, vegetables, leaves, seeds, and grains; especially red onions and kale.
He highly recommended the Hydroxychloroquine Covid treatment bundle/protocol to have on hand just in case. That way if you get symptoms, you get started right away on Day 1. He has treated hundreds of Covid patients, including himself, and everyone feels much better already by day 2-3.  So, I went with that.
He called in the Rx, the pharmacy (a member of Good Neighbor Pharmacy) called me the next day for allergy screening and payment (for which I used my HSA card again), and shipped my meds for free 1-2 day UPS.  Note that they do not bill any insurance. Med cost was $90 total for:
Hydroxychloroquine Sulfate
Azithromycin
Zinc Sulfate
I repeated the entire process for my husband and got another treatment bundle for him.
So total cost per person for the telemed consult and meds was $180 per person, which qualifies for HSA or FSA use.
PART 2–how to get Ivermectin!
(Note that I'm adding later:  PushHealth.com is awesome and fast and less expensive!)
So after having that completed, I couldn't stop thinking about "prevention" and Ivermectin. So I went back to the AFLD website to read more about it, and see about obtaining that to have on hand, so as to have all of my bases covered.
(***Note from Kelly:  Kent and I went through the same doc above for both–the hydroxychloroquine bundle as well as Ivermectin, so I skipped this next part, but many are having trouble getting through, so try this below if the link above isn't working…)
–> After reading all the trials and studies that I wanted, I clicked on the gray box "How to get Ivermectin."
It leads to a list of prescribing providers. I looked for one that covers MI or "All over US." I checked out a few of their websites and fees, and ended up choosing Dr. Haider, and going to his website.  Click "Get Rx" at the top.
I clicked on the red "Covid 19" in the upper righthand corner. He takes you through a series of questions/forms to fill out, then emails you an invite to the Push Health platform to streamline your profile, communications with him, and Rx call-ins… It's like a patient portal or "My Chart."
Follow his instructions carefully–once you sign up, he instructs you to send him a message first, rather than just go straight to "request a prescription." I had an extremely informative, pleasant, and smooth "private message consult" with him. I also did everything from my desktop, as my phone is old and newer apps won't download.
I decided to get BOTH the prevention protocol, as well as the treatment one.  He advised me of the cost-saving coupons from goodrx.com and that CVS was the best deal. So I made my profile pharmacy the closest CVS. The next day they called and said they didn't have enough Ivermectin to fill the rx but will get more the following day. They told me it would be over $200 for just that med, and that is when I said I had a GoodRx coupon for all 4 meds he called in. She said, "Well, let me look them up on GoodRx and I can adjust the costs right now…. WOWWWW! Now your total for all for meds comes to $58!!! That brought it down SIGNIFICANTLY!" I said, "Yup, my doctor knew about it and made sure to tell me!" Ha ha! So the next day I went to the drive-thru window and picked up my 4 prescriptions.  The total cost for this was $115 for the text chat consultation + $58 for the meds = $173, again, paid through HSA.  Here's what I got (see the above links for more on these and here):
Ivermectin
Fluvoxamine maleate
Promethazine hydrochloride
Mirtazapine
More info from Dr. Haider:
Hydroxychloroquine has been unfairly maligned. It is safe and effective for prevention and early treatment, but is much less effective later in the course of illness–same as IVM. One of the most convincing sources of proof of its efficacy is the largest natural observational drug trial ever conducted totaling about 2.5 billion people that shows a 69% reduction in death. The most comprehensive meta analysis of worldwide studies confirms that result. Side effect risk is higher than Ivermectin, especially with long term use, it requires monitoring of various labs. If concerned that Ivermectin may run out it may make sense to get Hydroxychloroquine just in case. Ravkoo online pharmacy will dispense, most others do not.
Ivermectin is unmatched at preventing infection, and treatment kills the virus within 48 hours but inflammation and micro-clotting can still occur. These are treated with Fluvoxamine, the anti-inflammatory colchicine, and blood thinner aspirin.  It is an extremely safe medication one of the safest medications in the world and has been used in millions of people for 30 years now.  IVM appears to be close to 100% effective in preventing Covid 19. 788 front line health workers in Argentina took it for 3 months and none of them got Covid 19 compared to about 58% Covid infections in the group that didn't take IVM. It also reduces the severity of Covid 19 when taken in acute infection and reduces death from severe Covid 19 by 85%. In one study it was also 95% effective for long-haul Covid symptoms.
To those of us prescribing Ivermectin the chance it is not beneficial at all in Covid 19 appears to be vanishingly small, one group said there's a 1 in 4 billion likelihood it doesn't help at all. Still studies may be published in the future with poor trial design that appear to discredit Ivermectin. It is also possible that excellent quality studies are published in the future that prove Ivermectin doesn't work. However Ivermectin does have a 30-year history of safe use in humans and the side effect profile appears mild for the most part, so we believe it is probably at least as safe as using over the counter painkillers for a headache (over the counter painkillers have been associated with some serious side effects like liver failure, heart failure and even heart attacks, but this has not outlawed their use so far).  Still there is a small but also unknown risk that taking ivermectin long term weekly (as a preventative) could cause some previously unseen problems, we don't know because it's never been done before this past year.  Using alcohol with Ivermectin may increase the risk of mild to moderate side effects. These are the common side effects reported with ivermectin in general :Cardiovascular: Tachycardia (4%), peripheral edema (3%), facial edema (1%), orthostatic hypotension (1%), Central nervous system: Dizziness (3%), Gastrointestinal: Diarrhea (2%), nausea (2%). Not to be used in pregnancy, or by those who might become pregnant–sexually active women should use contraception.   So all medications do carry some risk that you should be aware of and in our judgement the risk is acceptable given the disease being prevented.  Trials show this prevents severe disease and reverses Covid symptoms within 3 days if started early. It also seems to reverse long Covid within days. Dr Drew a media personality just took it for long Covid and was 80% better within hours of the first dose and 100% better in 12 days.  
For proper absorption Ivermectin is taken with food or after eating. The pharmacy may tell you to take on an empty stomach with water – this is incorrect.
Ask Dr. Haider for information about taking these meds as a preventative too.  I have prescribed ivermectin to over 1600 patients who have been taking it every 2 weeks since last December and of them none have caught Covid 19.  It has become apparent that for the majority of "low" patients, the risk is not of acute hospitalization and death, but of developing Long Haul Syndrome, which actually appears to preferentially strike the young and middle aged who are healthiest and most active – oftentimes it is even triggered by exercise. So given the poorly quantified long Covid risks it is prudent for even "low" risk patients to consider taking Ivermectin as many of you have. 
The most common personal health risk factors for severe Covid that make someone a high risk patient are overweight/obesity, smoking, substance abuse–alcohol and drugs, diabetes, pregnancy, chronic kidney, lung or liver disease, history of stroke, dementia, heart conditions including failure, blocked arteries or history of heart attacks, and hypertension, HIV, weak immune system including transplant recipients, sickle cell anemia.
Avoid exercise, alcohol, red meat and fast carbs completely for 30 days from the start of symptoms as the body is still inflamed these will both prevent full healing and can trigger long Covid symptoms.
Time is of the essence, it is not worth waiting long enough to confirm it is Covid 19.  Start treatment ASAP and confirm it later. The longer you wait the more damage will be done and higher the risk of long Covid developing. Also the longer you wait the more important other medications like colchicine and fluvoxamine become. To be extra cautious I would recommend getting in touch for those prescriptions if you don't have them should you get sick and also to check if any changes have been made to recommended protocols.
Vitamin D3 will take 2 weeks to become activated in the body, it is important your D3 levels are normal before you get infected. Unless you know you have normal D levels or you have been taking at least 3000IU of D3 daily for at least 3 months, assume you may be low and take a one time dose of 100,000 IU D3 right away, then start on 3-5k IU per day. Also important for general health is to combine vitamin K2 with vitamin D. (Note from Kelly:  this is amazing to hear a doc recommend this, most docs don't know how important that is!)  If you get sick I would switch to this if you can get it: Life Extension Enhanced Zinc Acetate lozenges. Upon the first sign of Covid or a cold (such as a sneeze, cough, fever, runny nose, scratchy throat, etc.), keep lozenge in your mouth all day long, when one dissolves replace it with another (dissolves in about 1-2 hours), continue for 48-72 hours stopping sooner if symptoms resolve.
Remember that many who had the shots are still getting sick, hospitalized, and even dying, so if you chose that route, you'll still want to get these meds.  
It is now also evident that fully vaccinated people are testing positive for the SARS-CoV-2 virus in numbers that may not have been imagined possible a few weeks ago. These so-called "breakthrough cases" are increasingly being reported throughout the U.S. For example, as of last week nearly 10,000 breakthrough coronavirus cases were reported in Massachusetts, 5,600 in Minnesota, and there were more than 1,000 cases reported in Tennessee.7 8 9
And then there's this:  COVID Vaccines are No Guarantee Against Hospitalization or Death
That is the new mantra: "Vaccines may not prevent you from getting and spreading coronavirus, but at least they will keep you out of the hospital and save your life." But that is not necessarily true either.
Of the breakthrough coronavirus cases in Massachusetts, 445 cases resulted in hospitalization and 106 in death.7 17   Of the cases in Minnesota, 514 fully vaccinated people ended up going to the hospital and 57 died.8   Of the ones in Tennessee, 272 required hospitalization and 39 died.9   These are only a few examples.
(Source for the above quotes.  Also see below for more about that from Dr. Peter McCullough.)
A couple of BIG disclaimers and a note about our family doc…
1. I'm not a doctor–and no where close.  I'm including the info in this post from a friend who consulted with a telemed doc, THIS IS NOT MEDICAL ADVICE in any way.  I'm just sharing information so you can make informed choices about your health and so you can also obtain what you might need should you get sick. See my full disclaimer page here.
2. I've always been vocal about my preference to avoid pharmaceuticals if at all possible and utilize natural health options first.  I've had good friends who have gotten Covid and treated it 100% using homeopathy and the natural options listed here and they came through completely fine with no complications.  However, I did also order these meds just in case we get it and the situation became serious, and if our natural options weren't helping, which does happen sometimes.  I want to have these on-hand, but don't plan to take them unless it's absolutely necessary, knowing that very often they have side effects that wreak havoc on your body.  (The antibiotics for one example, they mess up your gut flora and your health for months or longer–if you do end up having to take them though, be sure to do these things to support your gut health!)  As I've said many times, as much as I'm against pharmaceuticals, because they often just make things worse, there have been a very small number of times in my life where I've definitely been grateful for them, my kidney stone incident being one!
NOTE:  I'm adding this part after speaking with the telemed doc myself today.  I asked him, "I've always known how important it is not to take an antibiotic unless you really need it, so should I only take the antibiotic you're prescribing if I got Covid and symptoms were getting worse?"  He said, "Yes, that's very true about antibiotics, however this is a different situation.  With Covid it can turn to pneumonia quickly then you're on a vent and in two days you're dead.  With these meds you can take them at the first sign of Covid then you don't have to worry at all."  Those were his exact words.  I still think that personally I'd use ALL of the other options first (I may feel differently if I got it), but YOU have to do what you feel is best and as always, I just want you to know the thinking on all sides of the issue.
A side note about docs and why they aren't prescribing these Covid meds…  
I went to our family doc this morning, it was the first time I've seen him in 5 years–thank you Lord for good health and the natural healing remedies that have kept us out of there!  I went to get a lovely wart on my wrist frozen off.  (Yes I DID try these natural wart remedies, which have worked for me before, but this was a stubborn one.)  He's been our doc for 20 years, so we had a great chat as we always do, for 20 minutes or more, about our kids, his parents, Covid stuff, etc.  I've always felt like he was more a friend than our doc.  He's used to me so I asked, "Do you prescribe Ivermectin or Hydroxychloroquine when needed for Covid?"  He said no because he hasn't seen any data on it.  I asked if his higher ups wouldn't let him?  He said it's not that they wouldn't let him, they just don't encourage it, but that they do use "BAM" IV therapy (Bamlanivimab Antibody Infusion Therapy) IF patients meet certain high-risk criteria.  He told me a sad story about a patient and her sister who died from Covid and I said, "Aren't you tempted to try these meds?  And isn't it sad that I've heard from multiple doctors about their effectiveness, yet you haven't heard anything about them due to all of the censorship and politics?  Why are there two entirely separate worlds getting totally different information?!"  He totally agreed how wrong that is and said it should be about healthcare, not politics.  Plus he said he'd check out the Frontline Doctors site!  I truly love this guy, he's SO COOL about putting up with me.  On the way out I thanked him for that as I always do, and for how he offers me "all the things" (vaccines, mammograms, etc.), but never pressures me and truly doesn't seem to care when I decline.  I asked, "Do you have other patients like me?"  He answered, "Yes, a few.  But I don't see myself as a 'Paternal' type of doc, where you have to do what I say.  I see us as a team.  I did my job to tell you what I recommend and you can do what you want."  I said, "You are RARE and I'm so grateful!"  (Yes I wish he was more on board with me on everything, but this is second best:  even though we're not on the same page, we can discuss it and agree to disagree.)
You HAVE to watch this video below:  Why aren't we talking about how to TREAT Covid?
If you're short on time, just increase the speed so you can watch it faster, but I highly recommend the entire video.  I don't agree with everything here, but even if you're not a Tucker fan, this is SUCH important information about what's been happening in our world… (If the video here gets censored and removed–this doctor has been censored off Youtube before so it's a possibility–you can also watch it here or watch a couple shorter clips here.)
This next video is another interview with Dr. Peter McCullough:  "Media censored Covid 19 early treatment options that could have reduced fatalities by 85%".
With such an aggressive suppression of information on early treatments, and the default policy in Covid-19 testing centers to not offer any such resources to those who test positive for the infection, McCullough said, "No wonder we have had 45,000 deaths in Texas. The average person in Texas thinks there's no treatment!"
And the blackout of such vital information goes well beyond the blatant censorship of big tech companies. McCullough said, "What has gone on has been beyond belief! How many of you have turned on a local news station, or a national cable news station, and ever gotten an update on treatment at home? How many of you have ever gotten a single word about what to do when you get handed the diagnosis of Covid-19? That is a complete and total failure at every level!" 
—
"People who develop Covid have complete and durable immunity. And that's a very important principle: complete and durable. You can't beat natural immunity. You can't vaccinate on top of it and make it better. There's no scientific, clinical or safety rationale for ever vaccinating a Covid-recovered patient. There's no rationale for ever testing a Covid-recovered patient," he continued.  It's ridiculous for Covid-recovered patients to be huddling in fear, wearing masks.  They can't give the virus, they can't get the virus."
—
In normal circumstances, 50 deaths reported to VAERS would result in a drug being taken off market immediately. In the case of the Covid shots, thousands have already been reported, and yet the mass vaccination programs continue to be pushed.  (Watch at minute 13:43 to hear more on that.)
—
Watch at minute 19:50 where he explains why the Covid numbers are flawed and inflated by the huge number of false positives with the PCR test, which was never FDA cleared for asymtomatic people.
—
Cases are growing with those who are fully vaccinated:
At minute 22 he tells about reports from the UK showing 60-70% of Covid patients are those who were fully vaccinated!  He also says that 60% of patients in his own clinical practice in the last 2 weeks were fully vaccinated, because the vaccine is only partially effective.
And it does have safety issues, "which we knew from the clinical trials and we now know from the CDC VAERS system."  He recommends going here to learn more:  OpenVAERS.com.  "That's the only place where America and policy makers are going to get a fair shake in understanding safety.  We have over 80 colleges now who have announced mandatory vaccinations, we have employers and others, and the only way that these organizations can possibly see the implications of their decision making is to see this safety data."  "The CDC says this is elective, but as soon as we tell kids that in order to go to school or in order to work or to be employed that they have to undergo vaccines, that's either pressuring, coercion, or fear of reprisal, and that's violating all forms of medical ethics, violating the Nuremberg Code, the Belmont report, violating the principle of autonomy, the long arm of the law is going to have a field day against those entities that will force individuals into mass vaccination against their will with emergency-use or even FDA-approved vaccines.  
We don't make Jehovah's Witnesses get blood transfusions, we don't force people to do things against their will, unless by law they're an imminent threat.  Meaning we could force a patient with tuberculosis out of the workplace and have them undergo treatment, but an asymptomatic person in NO WAY could be considered an imminent threat for Covid 19."
"The CDC just announced that starting on May 14th, 2021 they will change how vaccine breakthrough cases are reported, according to a statement on their website, "to help maximize the quality of the data collected on cases of greatest clinical and public health importance". It will stop reporting Covid breakthrough infections in vaccinated individuals unless the infection results in hospitalization or death. This comes at a time when thousands of Covid 19 breakthrough cases are being reported in the fully vaccinated.
So in other words we've been including asymptomatic cases in the case count in order to dictate policy that locked you down, bankrupted your business, and drove your Uncle Jerry to suicide, but now that we have the magic vaccine we no longer concern ourselves with such trivial things as asymptomatic infection.
This means that starting on May 14th, Covid infections among the vaccinated will drastically decline while Covid infections among the unvaccinated will continue to steadily rise, all due not to the miracle of vaccines, but to a quick change in reporting protocol." (Quoted from this video. Read more here.)
Save time:  scroll down in that article to where it actually starts, under: "Doctor Deaths".  Also in this article they show you how to navigate the VAERS site where vaccine injuries are reported.
Wow you guys, this post took forever to pull together.  
If you see any mistakes or have a disagreement about anything you see here, as always, I welcome your comments as long as they're kind and respectful.
More you might like: