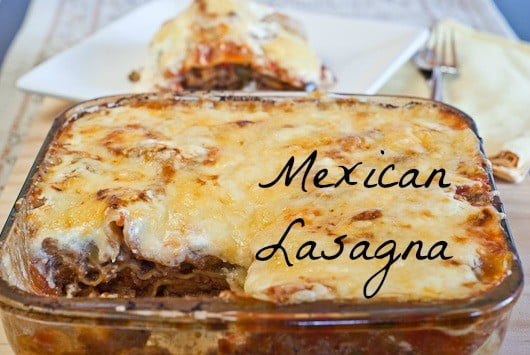 This delicious and simple meal is from my friend, Jenn.  You can easily make this Mexican lasagna recipe ahead and throw it in the freezer for a busy night!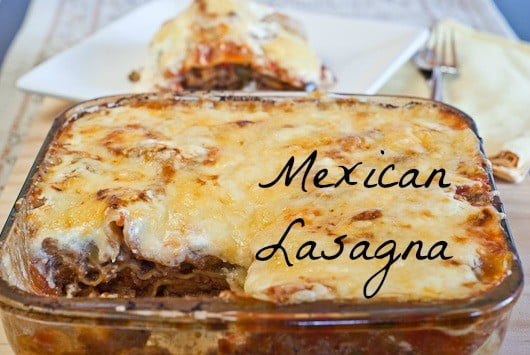 Print
Mexican Lasagna Recipe
Ingredients
1 pound ground beef (you don't need to brown it)
1 (16 ounce) can refried beans
 1 packet taco seasoning — use organic or here's a recipe for homemade taco seasoning
 12 uncooked lasagna noodles
1 cup water
 2 1/2 cups picante sauce or salsa
 1-2 cups sour cream
 3 cups shredded Monterey Jack or Cheddar cheese (or mix together).
You can also add ½-1 cup of pureed veggies to the meat mixture for added nutrition without affecting the flavor. Try carrots, cauliflower or squash.
Instructions
Preheat oven to 350 degrees F (175 degrees C). In a large bowl, combine beef, beans, and taco seasoning. Then layer 4 uncooked noodles in bottom of a 9×13 inch pan. Spread half of beef mixture over noodles. Layer with ¾ cup of cheese. Top with 4 noodles. Spread with remaining mixture and top with remaining noodles.
In a medium bowl, mix water and picante sauce. Pour evenly over layers. Cover tightly with foil and bake 1 1/2 hours in the preheated oven, or until noodles are tender. Spoon sour cream over lasagna, and top with remaining cheese. Bake uncovered until cheese melts, about 5 to 10 minutes
Did you make a real food recipe?
I want to see it! Tag @KitchenKop on Instagram and hashtag it #KitchenKopRecipes OR share anything you know I'll love by tagging @KitchenKop and hashtag #KitchenKop -- see you over there!
Meal Planning Help!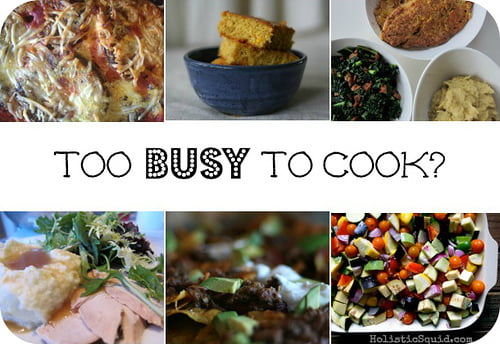 Sick of planning meals and answering the question, "What am I going to feed these people?" No matter what kind of eater you are (traditional, GF, paleo, vegetarian)… Check out these affordable interactive easy-to-use meal plans where the work is done for you.  NOW recipes also available from Nom Nom Paleo, The Paleo Mom, and Wellness Mama all in one spot!  You can read over my review here.