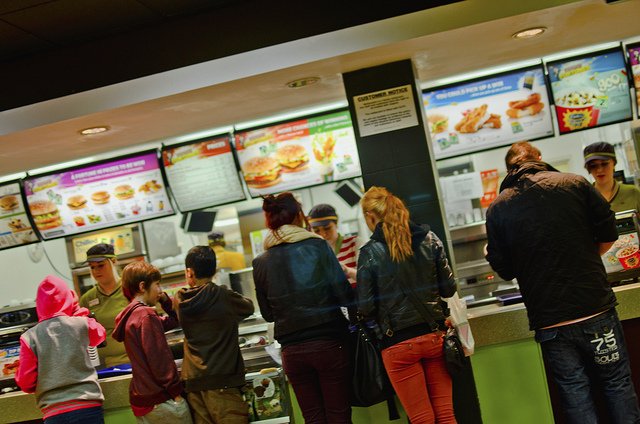 FAST FOOD FEAR
If you fear fast food and what it does to our bodies, that's great, because you should. If not, then I'm hoping some of the disgusting information I have to share might help you along.
I love America and am truly thankful to live here, but there are some aspects of what America has become that I'm not proud of. We (myself included) are all so stuck on convenience, the fast and easy way to do things, that we're getting too lazy and/or too busy to think ahead a little and cook nutrient-dense, delicious meals at home for our families. I have to admit, I'm just as frazzled as any busy Mom on any busy evening, but since I know now that fast food isn't an option, it's amazing what other quick meals I can come up with. (Check out this post with our versions of fast food these days – with healthy and super-quick meal ideas.  Also see my newer post, How I got lazy and 5 ways I've recommitted to real food.)
Do any of these excuses for eating fast food sound familiar?
"It's cheap and it just tastes so good!"
"I don't have time to cook."
"It can't really be that bad for us."
"I'm too busy, how else am I supposed to get everyone fed on our crazy evenings?!"
"I work hard/I had a crazy morning/It's going to be a crazy afternoon/I'm so tired/I just got a promotion/I didn't get my promotion/the kids are driving me nuts… I deserve something easy and hot for lunch"
"I don't have time to pack a lunch"
If you've used any of these excuses recently, keep reading…
First, I'll fess up
As I've shared in my "food conversion" story, we used to eat fast food a lot. When our oldest son was little we'd think nothing of eating fast food 2-3 times a week! I pray he isn't harboring some nasty festering condition in his body from all the years we were so lazy and ignorant about the dangers of eating out so much.
If you read about My Dark Secrets, then you know that these days we might still order a pizza now and then from a local place when we have friends over, and once in a while we hit Panera (they've taken all preservatives and fake colors/flavors out of their foods though, so that's a step up!), but it's not often.
Read an excerpt from a book written a while ago, "Fast Food Nation, The Dark Side of the All-American Meal" By Eric Schlosser:
Over the last three decades, fast food has infiltrated every nook and cranny of American society. An industry that began with a handful of modest hot dog and hamburger stands in southern California has spread to every corner of the nation, selling a broad range of foods wherever paying customers may be found. Fast food is now served at restaurants and drive-throughs, at stadiums, airports, zoos, high schools, elementary schools, and universities, on cruise ships, trains, and airplanes, at K-Marts, Wal-Marts, gas stations, and even at hospital cafeterias. In 1970, Americans spent about $6 billion on fast food; in 2000, they spent more than $110 billion. Americans now spend more money on fast food than on higher education, personal computers, computer software, or new cars. They spend more on fast food than on movies, books, magazines, newspapers, videos, and recorded music – combined.
SANTA CLAUS, JESUS, & RONALD MCDONALD
According to the book above, Fast Food Nation, only Santa Claus is recognized more than Ronald McDonald, and the golden arches are now more widely recognized than the Christian cross – what a great job McDonald's marketing department has done through the years. (I even found some McDonalds play food in our kid's toys the other day…I threw it away.)
Is it really cheap?
A 99 cent burger may seem cheap, but when you get your pop and fries to go with it, and you do it very often, it adds up fast. Add in the future health care costs and the price becomes much higher. Is that short-term fix really worth it? When you're done your stomach may be full, but don't you ever think, "I paid how much? I don't even feel so good. And I wonder how many pounds I just put on or how much closer I am to cancer, diabetes or heart disease after ingesting all the chemicals preservatives, pesticide toxins, vegetable oils/trans fats, MSG and high fructose corn syrup? Nothing but a bunch of empty calories!" OK, maybe you aren't thinking that, but that's the kind of twisted thoughts in my head these days. (I'm beginning to sound like a food snob after all…!)
How much is too much?
Personally, I think anything more than rarely is too much. Once you are educated about what crap fast food is, then it's not so difficult to drive right on by those joints. When you start eating healthier foods and start to enjoy the taste of real food, then the junk isn't even appealing anymore. Besides, it's not like you're getting it for FREE, you're PAYING people to feed you food that will make you fat and unhealthy! It doesn't make sense. I try to train our kids early – when our daughter was 2 or 3 and we'd go by a fast food place, she'd say, "Dats bad for our bodies." What a proud Mom I was! 🙂 Too bad our teenager doesn't say the same things!
Need more convincing?
If you still aren't convinced about how gross fast food is, you've got to rent the movie, "Supersize Me", and be sure to watch it with your kids (only the PG version). It will surely help you even more to fight the temptation for a "quick fix" on the dinner problem. I learned a lot from watching it, but here are a couple of the more disgusting tid-bits:
One fast food burger could easily have meat from 1000 different cows.
They did an experiment and set out a few different foods out to see how long it would take to mold and get all nasty; after a couple days most things started to mold and by a week or two the sandwiches were almost all black, but the McDonald's poison sticks (french fries) looked EXACTLY the same, even after MONTHS! That is how nasty and full of chemicals they are and how much they are not even REAL FOOD! (Be sure to click on the link below to watch the french fry experiment on YouTube.)
WHEN IS YOUR TEMPTATION THE STRONGEST?
For some, they're most tempted on busy nights when running the kids around, and for others it's during their workday. Whenever you're biggest temptation occurs, start trying to think ahead more – I know it's not always easy, but it IS ALWAYS WORTH IT!
"I don't have time"
How much extra time and energy would it take to grab a few healthy lunch items while you're at the store and take 10 minutes before bed to put them into a lunch sack? If that doesn't fit into your schedule, is it really a time issue? Could it be a lack of self-discipline or a need to re-examine your priorities? It's true that we make time for the things that are important to us. If you don't the have time now to think ahead a little, think of how much more time it will take when you're old before you need to be and it takes triple the time to get up a set of stairs than it should because your pumper can't work like it used to, or because your arthritis is so bad. All the years you sucked down soda pops with high fructose corn syrup or fries and buns with nasty vegetable oils and trans fats really does catch up with you.
Let's all step up
Who doesn't enjoy instant gratification? But we need to have the mental maturity to look ahead a few years for our family's sake – they will be the ones caring for us when we're too unhealthy to take care of ourselves. We don't have to feel 20 years older than we are, it's not just something we have to accept. Let's commit to leaving the next generation better off than we are. It's not our parent's fault that they were fed so much bogus information for years, but now look at us! Many of us are overweight, we lack energy, we're depressed, our joints hurt, our digestive systems are messed up, we're infertile, we look much older than we are, and we're on all sorts of medicines.
Make it stop!
More you might like:
Feature Photo, photo by rensenbrink78, another photo by ElektraCute