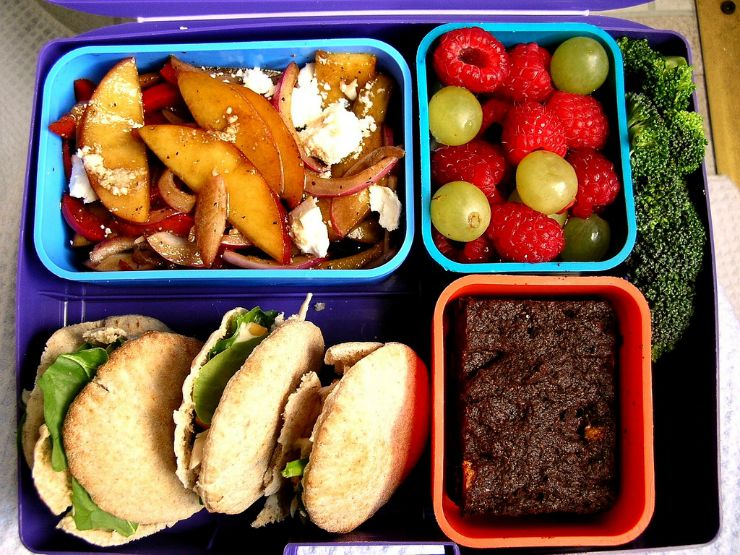 Healthy School Lunch Ideas
Since it's that time of year, I'm reposting this article to help you plan for a healthier year for your kids!  If you homeschool like we do now, you can read all those articles here.
Before I give you some practical alternatives for healthy school lunch ideas that kids love (skip below if you just need the list), first I want to answer the question, "Do fresh, healthy foods have any impact on learning and behavior?"
In the movie "Supersize Me", they tell about a school in Appleton, Wisconsin:
Walk down the hallways of the Appleton, Wisconsin, Central Alternative High School and you will see students focused on their education, interacting successfully with each other and with their teachers. Notice the calmness and purposefulness that sets these teens apart from others.
You will notice that the hallways are different in another respect. They aren't lined with soft drink and junk food machines. Then check out the cafeteria. There is no smell of grease. Burgers, fries and burritos have been replaced with salads, meats prepared with old-fashioned recipes, and whole grain breads. Fresh fruits and vegetables are offered and the students drink water.
Grades are up, truancy is no longer a problem, arguments are rare, and teachers are able to spend their time teaching."
It comes down to money, as usual
If this school can pull that off, why can't all school districts do it?! I know that school lunch programs are similar to hospital food programs: they're both dealing with limited funds. I also know they probably do the best they can with what they have, but come on! It's sad, and ironic too, that quality food isn't a higher priority for both institutions. When I was in the hospital after our youngest son was born, I was shocked at the junk that came up on those trays! For one example: they still served margarine — a hospital of all places! And the meat smelled like processed, TV dinner food. It may cost more for better quality school lunch food up-front, but the money society is saving down the road (crime and aggression is rare with these kids), more than makes up for it!  I'd bet the same would be true in hospitals. The extra money spent up-front would surely be made up for in decreased health care costs, because people would get better quicker when their bodies are being nourished with healthy foods.  It just makes sense.  (But we're dealing with people who don't have a lot of common sense, obviously…)
The most important point…
You just can't trust schools to feed your kids healthy foods. Our kids need nutrient dense meals, but most of what is offered for hot lunches still has trans fats, high fructose corn syrup, MSG and who knows how many other chemicals and preservatives, colors, etc.  Besides the fact that most dietitians in charge of school lunches still buy into the "low-fat is better" mentality, so they don't realize they should be using healthy fats for our kids, either!
It's just best to send a lunch with your child every day!
Once it's a habit, it's no big deal.  Get into the habit of having your kids make their own lunches the night before school. Our Kindergartner even makes her own lunch. Keep only healthy options around so you don't have to worry about what goes in.
Here are some ideas, including a few no-brainers and also some you may not have thought of:
And don't miss the comments below for more great lunch box ideas!
Cheese sticks are a hit with my kids.  (Grass-fed is best!  You'll likely have to buy some and cut them into pieces yourself.)
Yogurt, made with whole-milk only – it's getting easier to find these days now!  Just watch the sugar content in the flavored yogurts.  You could also add raisins or maple syrup to plain yogurt.
Two of my kids love Deviled eggs. Also, just hard-boiled eggs, are a good snack that you can get by some kids.  Maybe sprinkle on some sea salt.
Turkey or ham roll-ups (if you can find some good lunchmeat) with cheese inside or veggies if your kids will go for that.  We also do this with the ham or bologna we buy from our pasture-based farmer.
Don't send juice boxes, and I hope it goes without saying not to send them with pop! I try to give our kids juice only on special occasions, and then it's the kind with 100% juice. If they want pop, I'll let them have an occasional "Izze" – the only ingredients are 100% juice and sparkling water. Otherwise all they drink is water or milk (read about healthy milk choices here), and I also have organic chocolate syrup I let them mix into their milk once in a while for a treat.  Update: try making your own homemade soda pop!
Organic packets of carrots and dip, or other veggies with a little cup of organic ranch dip are fun for kids to bring to school.  (But I make my own ranch dip or dressing and it's SO simple, fast and delicious!)
Sandwiches with egg salad, leftover meat from last night's dinner, organic nut butter/organic jelly (no trans fats or high fructose corn syrup), tuna fish, a slice of all-natural cheese (no "American" slices, and even better is cheese from grass-fed cows!), read about lunch meats, hopefully you can find some without MSG, nitrates or preservatives from your local farmer like we can. Try to use whole-grain bread, organic and fermented/sourdough/soaked bread if you can, but at least the kind without high fructose corn syrup or trans fats.
Fresh fruit, organic if you can. You could cut up some apple slices (with a little fresh lemon juice to keep them from turning brown) and send a little container with peanut butter dip. (My kids love this.)
If you'd like to give them a treat in their lunch, I buy organic fruit leather through my buying club, or keep extra homemade cookies in the freezer. (I always make double or triple batches.)
Bagels, plain or with cream cheese. Or you could do various bagel sandwiches. 100% whole-wheat  – even better if it's made with a soaked flour or sourdough recipe.
That's all I can think of right now, because my kids typically take the same thing every day! Do you have more ideas?  Share them below!
Here's my post on water bottles and plastic safety – some are made with rotten plastic that can leach chemicals into your drink. I found these made by Nalgene and they're made of a safe plastic, HDPE – although as little plastic you can use, the better.  (I'd gotten some at Target once for $6 each that I had to take back when I found out they were made with one of the bad plastics: polycarbonate.) These are also wide-mouth, so they get clean in the dishwasher. We use them for soccer practice and school lunches. Always refill these each morning, don't leave water in it for a long period.  ***Some even healthier kid's cup alternatives are in the links below.
Or get my Real Food for Rookies book to help you make good decisions for your kids at the store.
Do you have more healthy lunch box ideas? PLEASE comment below!

One important last note:
If your child occasionally asks to eat hot lunch, let them! In my opinion, if you make a huge issue of it, they'll just want it even more. My 3rd grader and Kindergartner have never even asked – probably because they know they get out to recess faster when they don't have to go through the line. Also since they've never had it, it's just not familiar to them. If they did ask for it, though, I'd do what a friend does: let them pick their favorite hot lunch food and only eat it on those days. When the kids are older the crappy options increase, with some schools offering various choices right from fast food restaurants! It's not easy, but when my teen will occasionally say, "I'm going to get lunch at school tomorrow, OK Mom?", I'll always say OK, because he only asks once every month or two at the MOST, and I just know better than to make it become something bigger than it needs to be…even though he's getting their burgers, with meat from who knows where, fries a.k.a. "poison sticks", and a soda pop…oh boy – I try not to think about it!  Also I try to just remember how little of that junk he has compared to some teenagers.
Do you agree or disagree with that?