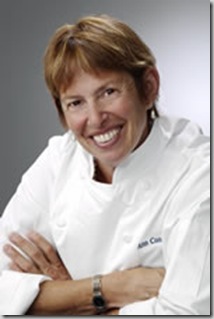 We live in a great school district and they do a lot with what little funds schools get these days.  But one area that really needs help is the school lunch program.  Our elementary school has one lunch lady who pretty much opens cans or pre-packaged foods for lunch every day.  Sad, huh?
When I came across this video with Chef Ann Cooper (the "Renegade Lunch Lady"), I knew what I needed to do.  I sent our school superintendent this email:
Good morning,
I have a health & nutrition website and am passionate about healthy food.  I came across something that I'd love for you to look at:
Chef Ann Cooper page – be sure to watch the short video from 2/09 on ABC news.
"This is the first generation in our country's history that will be dying at a younger age than their parents because of this obesity crisis," says Cooper. "We have to change this. We don't have a choice. We really have to make a difference."
If they can do it, there must be a way we could pull this off here, too.  Yes, it costs more, but it costs them more, too, and it's still happening.  I know we're making cuts like crazy right now, so you're probably thinking there's no way this would work.  However, in the video they said that since the more nutritious meals have been offered (no processed foods!), a lot more kids have participated, so the government pays the schools more money.  I'm sure the answer isn't that simple, but I still think that it's at least worth looking into and finding out exactly how they make this happen.
As it is, only very rarely do we let our kids eat hot lunch, but if this program was implemented here, they'd eat hot lunch every day!
If I can get you more information or help to make this happen, I'd love to.  Just say the word.
Thank you for your time.
(End of email and I never heard back, by the way.)
If you live in a school district where they're doing a good job at feeding our kids homemade, local, whole foods, let us know how they afford it?!  ("How can they afford not to?"  This is a better question, I know…)
Local readers: if our superintendent says he wants to look into this more, WHO WILL HELP ME? I'm sure it will take a lot of us working together to make this happen.  Please comment or email to let me know your thoughts!
Have you seen my other post about school lunches with ideas for healthy alternatives?  There's also a great story there about a school that saw radical changes after sprucing up their school lunch program:  "Grades are up, truancy is no longer a problem, arguments are rare, and teachers are able to spend their time teaching."
One more video with Ann Cooper