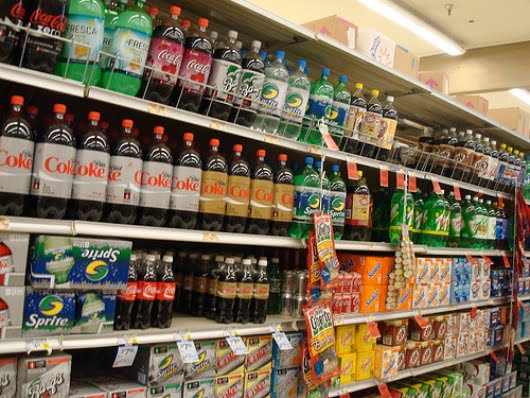 ROOKIE TIP #3:
Drink less soda pop, with the goal of stopping completely, unless you make your own! Whether it's "regular" or "diet", both are terrible for you. The fake sweeteners full of chemicals in diet pops are no better than the heart-killer ingredient, high fructose corn syrup, found in non-diet pops. (Not to mention all the fake chemical additives and preservatives.)  When people ask me which is better I say, "It depends, do you want heart disease or cancer?"

Even though 100% fruit juice sodas are still full of sugar, if you can instead switch to those (be sure and check the ingredient label for preservatives or fake colors or flavors), that would at least be a small improvement, as long as you're not drinking a lot of it. (The kind we drink is 100% juice with sparkling water so it tastes just like a pop and it has the fizz some people crave; my kids love them for a treat.)  NOTE: I just added a comment below about "concentrated fruit juice" – please take a look and add your comment if you have more information. Thanks!
Now, I realize that for some, this is like asking me to give up my beloved chocolate. But I don't eat chocolate everyday! (Not lately anyway.) Or several times a day like some people drink pop. In past years when I used to want a pop (I don't even want it anymore), I often realized that it wasn't the pop I wanted so much, I was just plain thirsty. I'd get a big drink of water and be satisfied. Give it a try!
Lastly, at the very least, don't let your kids have pop regularly! I can't stress that enough! (Our kids have just milk or water most days. A pop, Izze or 100% juice box is only for special occasions.) Read more here about the dangers of kids drinking soda pop.
RELATED POSTS/LINKS: