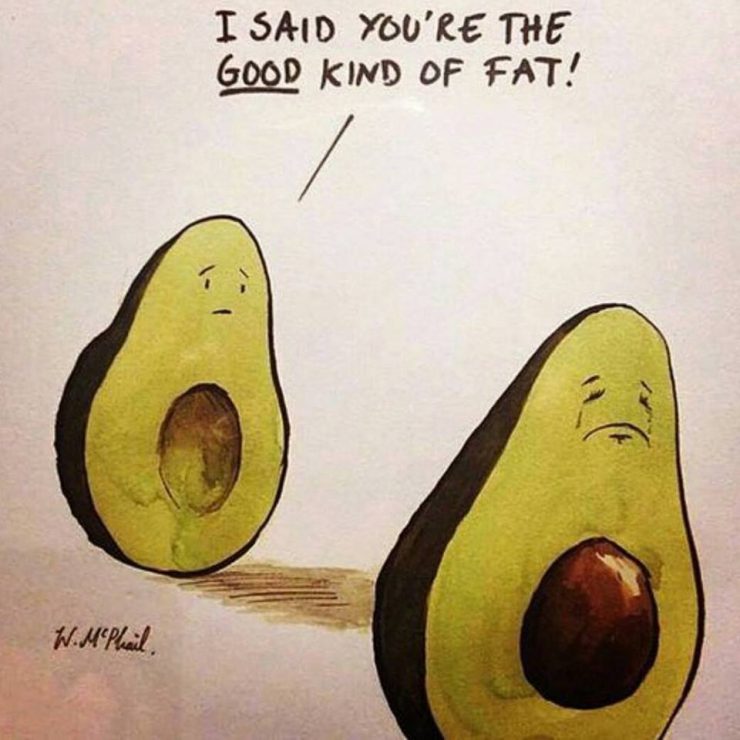 Does fat make you fat?  Dieting Answers Part 2
Could healthy fat actually be good for us? Believe me, I'm aware of how "politically incorrect" I am when it comes to this topic!
Two-part series on fats and dieting:
Let's get to the nitty-gritty with some dieting answers
It's true; gram for gram, fat has more calories than proteins or carbs. BUT ALL CALORIES ARE NOT THE SAME! As I said before, I'm not suggesting we sit down to a meal of butter, but a diet with 35-40% of calories from fat is nothing to fear, instead we should enjoy it. NOT by counting how many grams of fat we eat per day, either. Just don't be shy about cooking with healthy oils, and slathering some butter on your fresh veggies!
Fat helps us to feel full, this is important for obvious reasons. It satisfies us – we crave cholesterol and fat because they're essential to our health and they help our bodies to digest and USE what we've eaten.
What do fats, protein and fiber all have in common? They all slow down the insulin response in our bodies, which is spiked after eating carbs (bread, pasta, rice, any sugary foods, including fruit, etc.)
What does insulin have to do with weight loss?
Read some excerpts from this Diabetes Health article by Jamie Bailes, MD, The fat-free fallacy, obesity's enabler?:
"I researched and relearned the physiology and biochemistry behind low-carb diets. As I began to take a closer look, my findings were not what I expected. It all came back to insulin. Insulin is what causes fat storage. Insulin is what drives weight gain. Insulin is what is secreted when we eat carbohydrates."
"Let me say this again: insulin promotes the production and storage of fat. That's right, even without eating fat, our body produces fat from sugar." (All carbs convert to sugar in our body.)"
"In the appropriate amount, insulin keeps the metabolic system running smoothly and everything in balance. However, in great excess it becomes a dangerous hormone wreaking havoc through the body. Mountains of scientific evidence implicate insulin as the primary cause or significant risk factor for high blood pressure, heart disease, arteriosclerosis and high cholesterol. It may also have a causative role in type 2 diabetes."
"But I lost weight on a low-fat diet!"
We all may know someone who has great self-discipline and lost weight on Weight Watchers or other low-fat diets. But what if it had more to do with how they were cutting down on portion sizes and sweets consumption and had nothing do with dietary fat? What if they instead had watched their carbs and portions, ate enough healthy fats (to slow down the insulin response in the carbs), and were sure to include exercise into the plan, could they have had an easier go of it? And a better chance of keeping the weight off? Not to mention a healthier body overall with a stronger immune system, better regulation of insulin levels, healthier liver function, etc.
Read an excerpt from this article, "The fat that can make you thin":
"The simple truth is that low-fat diets don't work-not permanently. You can lose weight on them if you starve yourself. You're hungry and miserable the whole time. In order to keep the weight off you must continue to limit what you eat and go hungry. Few people are willing to live a life of constant discomfort. For this reason, low-fat dieting is difficult to maintain for any length of time. Consequently, most people eventually revert back to old eating habits. When they do, the weight comes back."
Bottom line for weight loss
If you want to drop extra pounds and enjoy great health, here are 7 suggestions:
Get over your fat phobia and add healthy fats back into your diet. Don't hesitate to put them on things like plenty of yummy local, preferably organic, veggies! (Healthy fats are traditional fats such as: full fat dairy products – best from grass fed cows, egg yolks, cod liver oil, animal fats like lard & tallow, cold-pressed extra virgin olive oil, coconut oil, butter, and small amounts of sesame or peanut oil. Unhealthy fats include: all hydrogenated and partially hydrogenated oils/trans fats, margarine, corn, safflower, rapeseed/canola, sunflower, and soybean oils, especially when refined or heated.)
Watch your carbs and portions – I'm not always great at this part either, but I try to keep an eye on the scale and when I see I'm creeping up a little, I'll make the decision (that's often the toughest part), then watch the carbs for a couple weeks, and that's all it takes to get me back where I need to be. I never cut out meat or healthy fats. (Self-control is never easy, but I try, with God's help, to control my body, and not let cravings, desires, etc. control ME. I fail often!)
When you do eat carbs, try to eat more of them properly prepared and whole grain.  (When I don't serve properly prepared or whole grains, I do use mostly einkorn flour and einkorn pastas though!  Read what is einkorn and why is it better.)
AVOID trans fats and high fructose corn syrup! If you find items in your cupboards or frig with those ingredients, if at all possible, I suggest you toss them straight into the trash. Start reading labels so you can avoid them.
Limit or eliminate the sweets — and hopefully you're better about this one than I am!
Don't forget your OMEGA-3'S, especially if you're pregnant or nursing!  Eating more fish and taking Cod liver oil are both great sources. These are very important for everyone, but especially for proper brain development in your baby and the avoidance of childhood illnesses! Here's an article on the importance of omega-3's for pregnant Moms and children:  proper brain development.
Exercise – find something you love to do! I may not limit the sweets as much as I should, but I am going for a run in a few minutes on this gorgeous spring day!
DISCLAIMER:
As with anything and everything you see on this blog, be sure to do your own research and talk with your doctor before you make any drastic changes in your life. I don't know what your specific health issues might be and I don't know your health history. However, don't JUST talk to your doctor without researching it yourself, too. Most doctors' main area of expertise is in the field of medicine. I'm not saying that is all bad, but nobody can know everything, so what would be especially helpful is if you had a doctor who is knowledgeable about the natural ways of looking at things, too, and who doesn't necessarily use medicine as a first line of attack.
RELATED POSTS/LINKS: