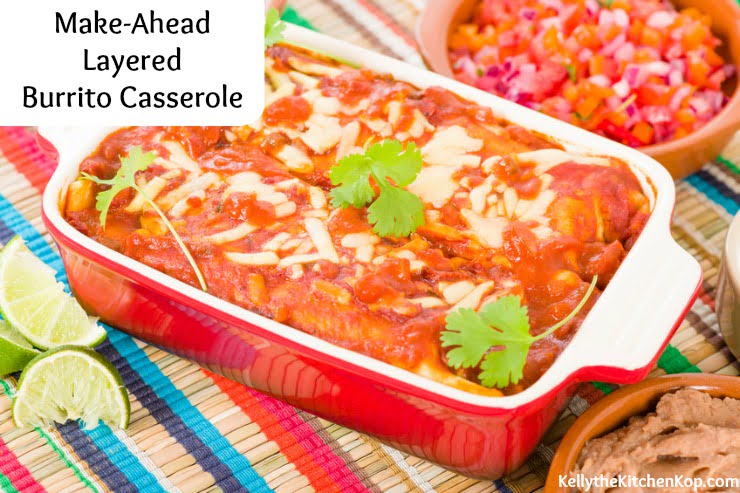 This make-ahead layered burrito casserole is another one of those great dishes that can SAVE you on crazy days when you need a fast-food dinner.  It's easy to make make up an extra pan for later, because it comes out of the freezer so well.  For some reason these seem to come together faster than spooning the filling into each burrito and rolling them up, as in this creamy baked mexican wet burrito recipe.  And in case you haven't noticed from my recipes lately, I loooooove sour cream and cream cheese together, it gives any dish an extra shot of dreaminess.  I always use full fat versions of course because only people in the dark ages are still using low-fat "foods".  You can't even call them food, they're just fake versions of the real thing, and most everyone knows by now that they cause weight gain and chronic disease.  There I go again, ranting about my favorite topic, FAT.  🙂  Read more about healthy fats here.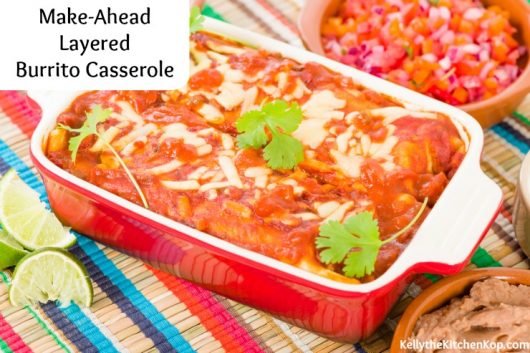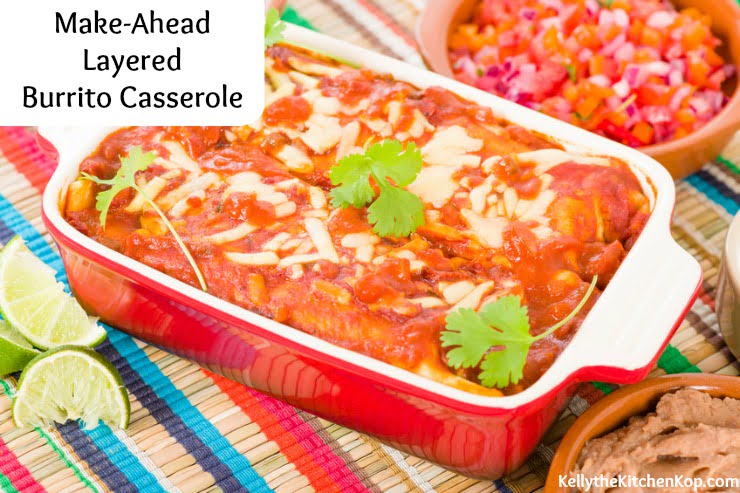 Print
Make-Ahead Layered Burrito Casserole with Garlic Red Sauce
Yield 9 x 13 pan
Ingredients
Burrito sauce ingredients:
6 Tablespoons butter, pastured butter is best
6 Tablespoons of your thickener of choice – I like einkorn flour, or you could use arrowroot flour for a grain-free option
4 cloves Garlic, chopped small, or 1 1/2 teaspoons garlic powder
1 cup whole milk or cream ("whipping cream" if you're buying it at the store, be sure you don't get ultra-pasteurized, just 'pasteurized' – read more about healthy dairy options here) — you could also use sour cream.
2 cups (or so) of liquid:  chicken or beef broth – homemade broth if you have it AND/OR milk
1 jars organic tomato paste
1-2 teaspoons cumin or some of this yummy homemade taco seasoning mix
I always add a scoop of this collagen to my sauces for a nutrient boost!
Shredded cheese for the top — I usually shred my own because I can't stand the preservative they put in shredded cheeses.
Your favorite tortillas — you could make homemade tortillas or get some like these spelt tortillas with a not too bad ingredient label.
Sour cream for the top
Chopped lettuce and/or cilantro
Instructions
Cook your meat on the stove or my new favorite way is to do it in bulk in my pressure cooker.  (See this post for how.)
Chop any extras that you're using, see the options above.
Make the sauce:  melt butter in a saucepan and add chopped garlic.  Sauté until the garlic starts to get lightly golden.  Add the flour and whisk until smooth.  Cook on medium heat for 3-4 minutes, keep whisking and be careful to watch closely so it doesn't burn.  Add the cream, and keep whisking.  As it thickens, keep adding more milk and/or broth.  Add the tomato paste and seasonings, and keep whisking it in as the flavors all come together and it thickens.  If this is done before you're ready to assemble, just turn your heat off and let set.
Start assembling in a buttered baking pan, see the pictures below.  Start layering meat, beans, and the vegetables you're using, along with the sauce and 2-3 layers of torn tortillas so they'll lay flat, but if they overlap some it's fine.  Always have the tortillas touching some sauce so they don't dry out.  Dollop some cream cheese around if you'd like.  Basically keep layering everything in whatever order, and as you get to the top, just use up whatever you have left.  Remember to make two pans at once if you have enough, because it really is a great time-saver later!
Add shredded cheese all over the top then cover well if you're freezing it, or put into the oven on 350* for about 30 minutes, just to get hot through.
Serve with sour cream and lettuce and/or cilantro on the side for extra dreaminess.  Our family LOVES this meal!  Don't forget to see the pictures below.
Note that this may look like a lot of sauce, but it soaks up when baking!
Did you make a real food recipe?
I want to see it! Tag @KitchenKop on Instagram and hashtag it #KitchenKopRecipes OR share anything you know I'll love by tagging @KitchenKop and hashtag #KitchenKop -- see you over there!
More recipes/posts you might like: