It's official.  This simple taco soup is everyone's favorite around here.  
It's also the best way to get more nourishing bone broth, pastured meats, and even some yummy vegetables into my family.  We all have seconds and thirds, it's THAT good.
You could make it in the crock pot, which is what I usually do, or you could even throw all of these ingredients into your pressure cooker for about 15 minutes if you're in a hurry!  It wouldn't take long in there since you're using cooked meat.  If your meat isn't cooked it'll take a little more time; just do that part first (see this post for how), and then add the rest.  By the way, the pressure cooker link goes to the one I got because it's bigger for our family, but now this one comes in a bigger size too — they're both often on sale.
Simple Taco Soup
Ingredients:
Note that none of these simple taco soup ingredients need to be exact, it's a very forgiving recipe!
2 or more cups cooked meat of your choice:  You could use leftover pulled pork, hamburger that is already browned, or I usually use shredded or chopped chicken the day after we have baked chicken for dinner.  Just pick the extra meat off the bone and set aside, and don't forget to cook the bones all day for the broth!  Pasture raised chicken is best.  Click here if you don't have a good local source for healthy pastured meats.
1 can organic black beans, drained — I love the beans at that link, they're already soaked for you!
1 cup fresh or frozen organic sweet corn
4 cups of your favorite organic salsa OR if you don't have salsa on-hand, add approximately 2 cups organic canned tomatoes plus 2 cups tomato sauce with extra spices like 1 Tablespoon cumin, 1 Tablespoon garlic powder, maybe a few shakes of dried oregano and parsley if you'd like — fresh herbs are even better if you have them, and for all of this just adapt to your own taste preferences.)  Here's my homemade salsa recipe – this can be made ahead or I do buy it at the store sometimes.
4-6 cups homemade chicken broth.  (I now know how quick and simple pressure cooker broth is so I can make some mineral-rich broth more quickly in a pinch.  If you just don't think you will make it or want some on hand for when you're really crunched for time, try this bone broth — it's 100% grass-fed with a bunch of gelatin, organic ingredients, and it's shelf stable!  I love keeping their beef and chicken broth on-hand for quick recipes because they make it just like I do here, and without the nasty msg-like ingredients, additives, or preservatives that store-bought has.)
Optional – we like all of this in there too:  chopped celery, peppers, jalapenos, onions, tomatoes, cilantro, fresh garlic, etc. – but a lot of that is probably already in your salsa if you're using that, that's why this is such an easy recipe.  If you add any of these, just be sure you give them time to cook in the broth for 10-20 minutes or so to get soft.
Sea salt to your taste
For the top:
1 cup shredded cheese – Monterey Jack, cheddar, whatever you like
Tortilla chips (optional) – I buy organic to avoid GMO ingredients and other nasties!
A couple limes, organic if you can find them
Instructions:
Throw it all together, simmer 'til it's hot and the flavors are blended together nicely.  Once any veggies you added are tender, it's time to serve, or keep on low in the crock pot or pressure cooker if you have the multi-function kind that we have.
Top with whatever goodies you like:  A dollop of sour cream or a hunk of cream cheese, crushed tortilla chips, and shredded cheese.  I love a squirt of lime juice on top.  Let me know if you love this simple taco soup too?!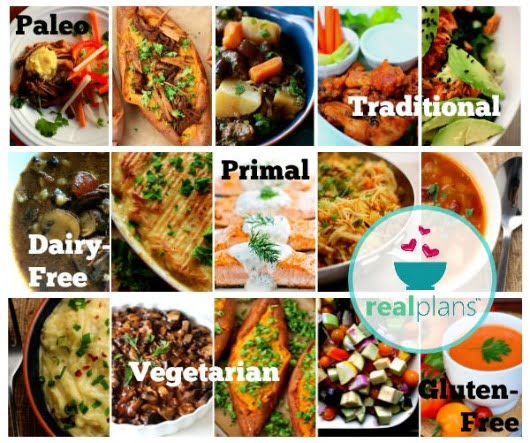 Meal Planning Help!
Sick of planning meals and answering the question, "What am I going to feed these people?"  No matter what kind of eater you are…   Check out these affordable interactive easy-to-use meal plans where the work is done for you!   Also read over my review to see what I thought of it.