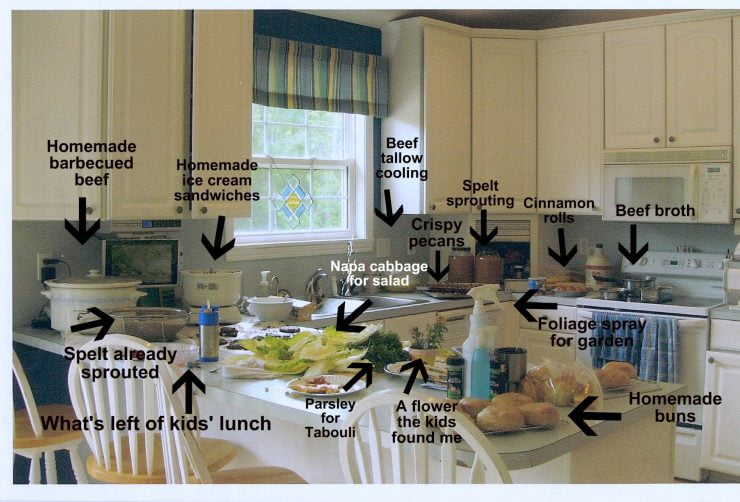 Do you do batch cooking or once-a-month cooking very often?  Every now and then I'll have a kitchen marathon where I just go nuts and do a whole bunch of cooking all at once.  I'll usually flip on the TV and watch something that I never get to see and just motor through there.  The picture above shows the mess that can result from one of these big batch cooking days.  (Click the pic to zoom in and see it better.)
I've labeled everything you see there in the picture, and you'll find the corresponding links to each food listed below:
That day I was sort of helter skelter all over my kitchen, as you can see by looking, but I know that many of you do "monthly cooking marathons" or something similar quite a lot.  I'd love your tips for doing this in a more organized fashion, or for getting the most done in a day as possible.
Here's a newer photo of another big bulk cooking day: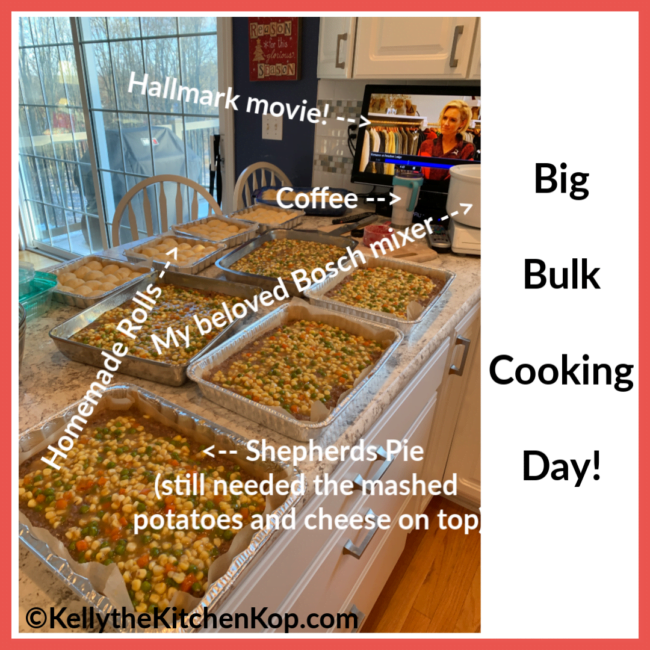 And here's some info and links to go along with that photo…
Some recipes are PERFECT for big bulk cooking days, because there are a lot of people out there who probably need your nourishing food! It's a great way to show love to friends when they're sick or when their loved one has passed away, or maybe life just is just too busy for them at the moment. It's also a good way to love on yourself a little too, by throwing extra food into the freezer for your crazy days ahead!
So on this day I turned on a Hallmark movie and got to work making 5 batches of my Mom's homemade rolls and 5 batches of Shepherds Pie. (Although nowadays I only watch the Great American Family Channel or PureFlix instead.)
Links you might want are here:
More posts you may have missed: